This will be the fifth consecutive year of capacity growth in the market, with the expected rate of growth up on last year (6.6%), but down on the five year average (7.7%). The expected summer growth follows a 5.9% increase in winter capacity during the current winter 2017/2018 schedule (versus winter 2016/2017).
CHART - Scheduled two-way summer capacity between Europe and North America has grown 41.6% over the past ten years with an additional 21 million seats being added since summer 2008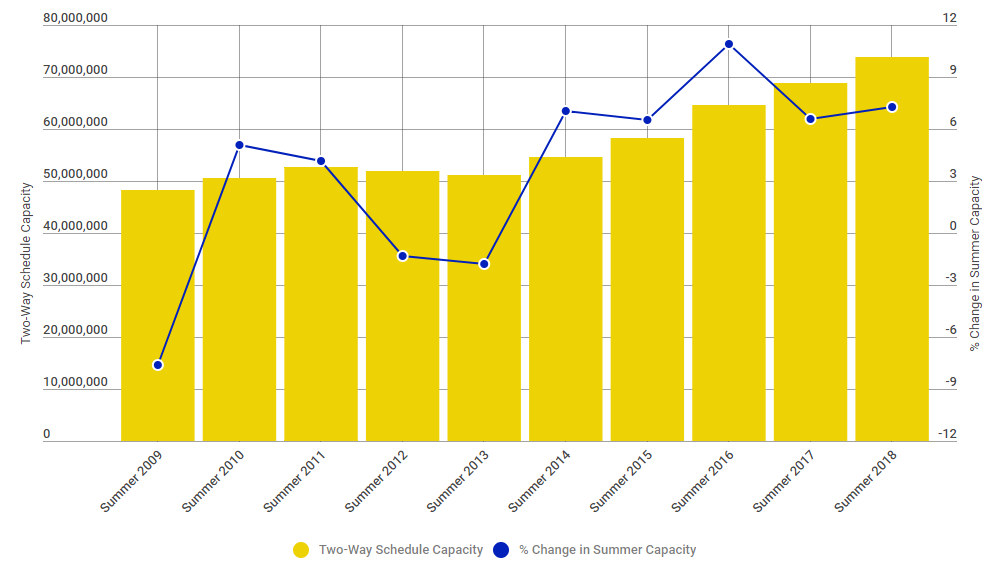 Source: The Blue Swan Daily and OAG
The planned flight schedules for the coming season highlights the continued maturity of the trans-Atlantic air corridor, which is partly being driven by the continued emergence of the low cost long haul market. Whether utilising modern fuel-efficient widebodies, or increasingly over the past couple of years, new generation single aisle airliners, low cost carrier (LCC) penetration in the trans-Atlantic market is rising.
While nothing new and following the lead of the likes of Braniff Airways and Laker Airways, airlines such as Norwegian, WestJet, WOW air and shortly, Primera Air, are now opening up additional trans-Atlantic opportunities, delivering new city pair options and using low fares to stimulate established markets.
Our analysis shows that LCC capacity between Europe and North America will grow a massive 70.3% in summer 2018 and account for 7.8% of the trans-Atlantic seating capacity, up 2.9 percentage points on summer 2017. Norwegian will more than double its trans-Atlantic capacity across its business units offering more seats than Air France and positioning itself as the seventh largest trans-Atlantic carrier.
CHART - The LCC share of trans-Atlantic summer capacity and flight operations will see its greatest annual rise in 2018, based on published schedules, with one in almost 13 flight departures between Europe and North American being flown by a LCC in summer 2018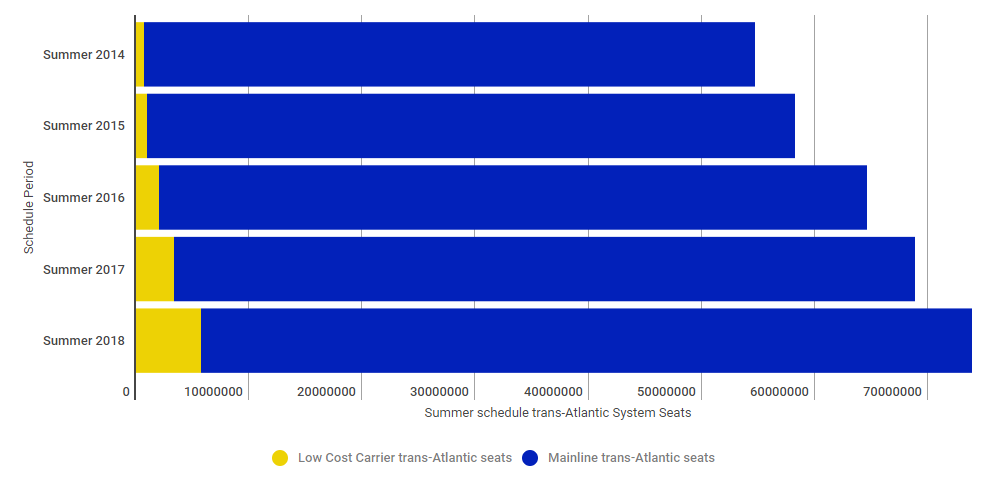 Source: The Blue Swan Daily and OAG
The provisional schedules for summer 2018 show growth from all the leading carriers in the trans-Atlantic market with the exception of small reductions at SAS Scandinavian Airlines (-2.2%) and leisure specialists Condor (-4.2%) and Thomas Cook Airlines (-5.8%). LOT Polish Airlines (+33.2%) and Iberia (+25.4%) show the largest inventory increases among the flag carriers with double-digit growth also expected from Aer Lingus, Air Transat, Alitalia, Icelandair, KLM, WestJet and WOW air.
CHART - The trans-Atlantic market continues to be dominated this summer by the European and US majors supported by their joint venture business partnerships, but Norwegian is increasing its presence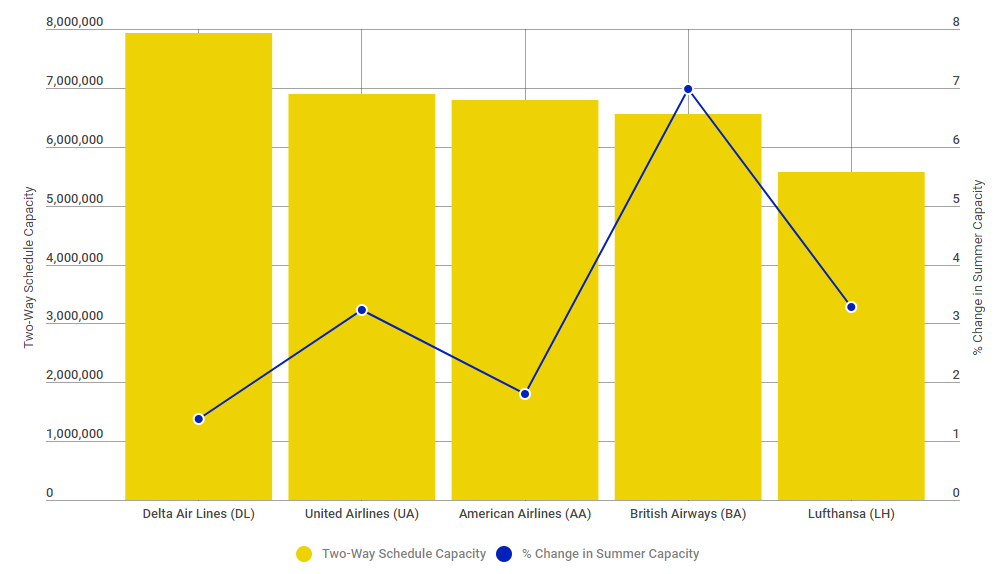 Source: The Blue Swan Daily and OAG
Highlighting the continued maturity of the trans-Atlantic market, five of the ten largest country markets by capacity are expected to see double-digit summer 2018 rises in seat capacity versus the same period last year. Iceland, buoyed by growth from Icelandair and WOW air will grow by more than a quarter, while France, Italy, Republic of Ireland and Spain are the others recording double-digit growth. The largest markets, USA (+6.9%), United Kingdom (+5.5%) and Canada (+9.1%) will all see healthy growth together adding more than 3 million seats (more than the sixth ranked country's schedule)
CHART - The trans-Atlantic landscape continues to be dominated by USA, UK and Canada, with the USA alone responsible for 39% of the additional capacity available this coming summer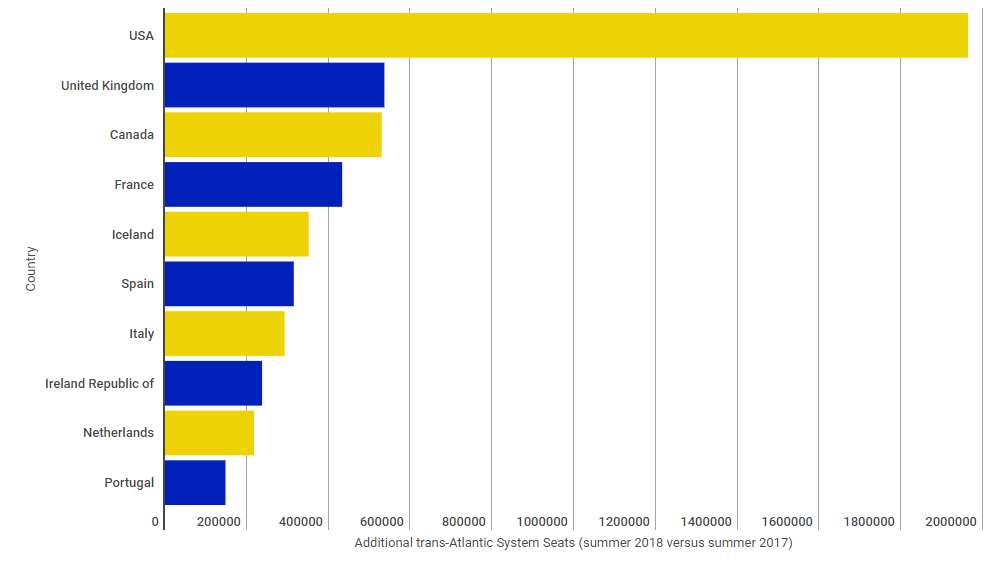 Source: The Blue Swan Daily and OAG
The maturity of the trans-Atlantic market is delivering brand new city pair options or the return of older markets that can now be sustainably served with modern equipment. In summer 2017, five airports welcomed new - or the return of - non-stop trans-Atlantic schedules, notably Bristol, Krakow John Paul II International , New Orleans Luis Armstrong International, Petropavlovsk-Kamchatsky and Stewart International airports. In 2018 this list will include Bucharest Henri Coanda International, Cleveland Hopkins International, Indianapolis International, Kansas City International, Nashville International, Rzeszów-Jasionka and St Louis Lambert International airports.