These findings are from Roy Morgan's Single Source survey of over 50,000 Australians in the 12 months ending Mar-2018 and included in-depth interviews with over 1,900 people who had been involved in making a business travel accommodation decisions. The results cover a very wide range of demographics so as to enable a better understanding of the profile of these important decision makers.
Key above average business travel and accommodation decision makers
With 810,000 Australians involved in making a decision over the last 12 months that related to business travel or accommodation, it is important to understand who the key decision makers are within this group. The following chart shows that three quarters (75.2%) of these decision makers were full time workers, well above their population proportion of 37.9%, 69.9% had a diploma or degree (population 45.2%). Other over represented segments among these decision makers were men with 57.9% (population 49.2%), and the A/B socio-economic quintile 50.2% (population 20.0%).
Decision Makers for Travel and Accommodation for a Business or Organisation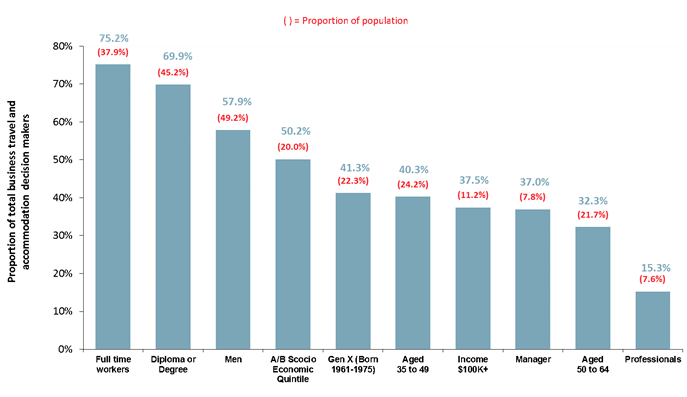 Source: Roy Morgan Single Source (Australia) 12 months ended Mar-2018
Median value of business accommodation and travel decisions
It is important to understand not only who makes these business decisions but the value of those decisions, because there is considerable variation across segments in their average value.
The median value of the major decision making groups was AUD21.1k for managers, followed closely those earning more than AUD100k per annum (median AUD20.4k). Both of these groups are close to being four times the market average of AUD5.9k. Other segments with high median values were, the A/B socio-economic quintile ($13.6k), full time workers ($10.9k) and those aged 50 to 64 ($10.7k).
Median Value of Travel and Accommodation Decisions for a Business or Organisation Made in the Last 12 Months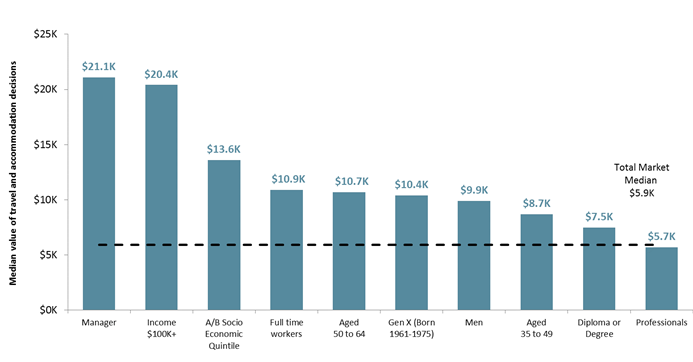 Source: Roy Morgan Single Source (Australia) 12 months ended Mar-2018
Roy Morgan Industry Communications Director Norman Morris, says:
"Like all good research, this topline analysis raises more questions than it answers. Are these people making decisions about their own travel or someone else's? Who are the decision makers with really big travel budgets and how are they different from the smaller budget decision makers? Thankfully all these and many more questions can be answered from the in-depth interviews. It's also possible to learn what football team they support, or whether its ballet and theatre that they're passionate about. Whether they love to unwind and relax with a magazine, or whether they are happy to get ads on their mobile phone that are relevant to them.
"This research highlights the need to understand the diversity of businesses and business decision makers in this market when it comes to decision makers and their needs in accommodation and travel. Business not only needs to consider the differences in requirements across industries and business sizes but have a deep understanding of the people making the decisions in those segments.
"The data used here only covers a small part of what is available to understand the decision makers in this industry. Roy Morgan collects more than 60 demographic and psychographic variables for business decision makers across travel and accommodation as well as those involved in more than 20 other functions in areas such marketing, purchasing, R&D etc."