In fact in Boeing's 2021 Market Outlook, released this week, its analysis of long-term market dynamics, projects a USD9 trillion market over the next decade for aerospace products and services, up from USD8.5 trillion a year ago, and USD$8.7 trillion in the pre-pandemic 2019 forecast, reflecting what Boeing describes as the market's continued recovery progress.
The new Commercial Market Outlook (CMO) from Boeing reflects that the global market is recovering largely as the aircraft manufacturer had projected in 2020. Demand for domestic air travel is leading the recovery, with intra-regional markets expected to follow as health and travel restrictions ease, followed by long-haul travel's return to pre-pandemic levels by 2023 to 2024. Within the Boeing Market Outlook, the CMO projects 10-year global demand for 19,000 commercial aeroplanes valued at USD3.2 trillion. Boeing's 20-year commercial forecast through 2040 projects demand for more than 43,500 new airplanes valued at USD7.2 trillion, an increase of about 500 planes over last year's forecast.
In a significant area of growth, projected demand has increased for dedicated freighters, including new and converted models. With sustained demand for air cargo tied to expanding e-commerce and air freight's speed and reliability, the CMO projects the global freighter fleet in 2040 will be 70% larger than the pre-pandemic fleet.
Boeing acknowledges in its CMO that the global aviation industry "continues to address headwinds in the near-term market dynamics" but indicates that the industry has made important progress towards recovery over the past year as vaccination rollouts progress around the world.
"Following a decade of above-trend traffic growth COVID-19 has presented challenges never seen before in the aviation industry including many that remain today," it explains, but while the "current market conditions remain dynamic," it adds that the past year has proven that "when there is confidence in the health and safety of air travel and when conditions allow governments to re-open borders "demand is resilient".
"People around the globe look to commercial air travel to stay connected to loved ones, conduct business face-to-face, and explore new places. Commercial air travel continues to serve as the backbone of global transport for passengers and cargo," it says.
The continued impact on air transport on a region-by-region basis is clearly evident in the below chart from the CMO that highlights passenger traffic flow trends by markets. It also indicates the return to expected trends as we progress through the 2020s and 2030s.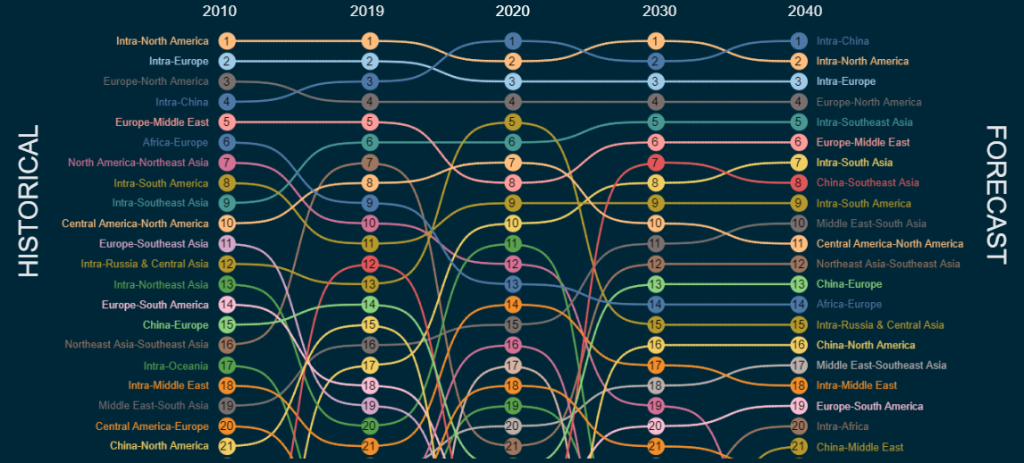 Looking out to 2025, economists project that GDP will be more than 15% larger than in 2019 and GDP per capita will have risen around 10%. "There will be more economic activity and higher global incomes. This global economy will need increased connectivity and participation, which will ultimately drive a return of traffic growth towards its long-run trend," says Boeing.
The connection between airlines, passengers and governments remains key to the recovery in Boeing's observations as the "views and evolving strategies of these stakeholders" help guide its projections. Its positive outlook for recovery has given it the confidence to revise up the expected demand for new aircraft (partly driven by environmental and sustainability desires) while passenger traffic growth remains at an average of 4% per year, unchanged from last year's forecast.
We may only now be starting to see airlines return many of their widebodied aircraft to service – and that remains a fraction of those that entered temporary storage at the start of the pandemic – but Boeing sees the global commercial fleet still surpassing 49,000 aircraft by 2040, with China, Europe, North America and the Asia-Pacific countries each accounting for about 20% of new deliveries, and the remaining 20% going to other emerging markets.
This count will be dominated by single-aisle airliners which will continue to lead the recovery as they support the domestic and short-haul markets that are recovering more quickly. The demand for more than 32,500 new single-aisle aircraft projected by Boeing is about equal to its pre-pandemic outlook and commands around three-quarters of deliveries in the 20-year forecast.
Airlines will need more than 7,500 new widebody aircraft by 2040 to support fleet renewal and long-term passenger and air cargo demand growth in longer-haul markets. These projections are up slightly compared to 2020 but remain down around -8% from 2019.
All these new aircraft add up to significant cost savings and environmental benefits with more than 3,000 aircraft identifies by Boeing as ready for near-term replacement. This will deliver USD9 billion in fuel savings, USD16 billion in cost savings and importantly, given the increased sustainability focus, a 36 million tonne emission reduction. Between now and 2040 Boeing expects around 80% of the world's aircraft to be replaced with 46% of new deliveries replacing older generation aircraft and 54% to support the growth in demand.