In the full financial year 2018, Isavia had reported EBITDA of EUR85 million (+15%) and net profit of EUR32.4 million (+8%) on revenues of EUR314.5 million, giving it an EBITDA margin of 27%, and return on equity of 12.9%. At the height of the tourist boom to Iceland with all airlines fully operational, in 2016, it had made an operating profit of EUR57.6 million and EBITDA of EUR74.3 million on revenues of EUR275 million and with an EBITDA margin, again, of 27% .
The fact that the EBITDA margin did not grow between FY2016 and FY2018 despite a big increase in revenues indicates a possible underlying problem.
MAP - The state-owned Isavia enterprise is responsible for the operation and development of all airports in Iceland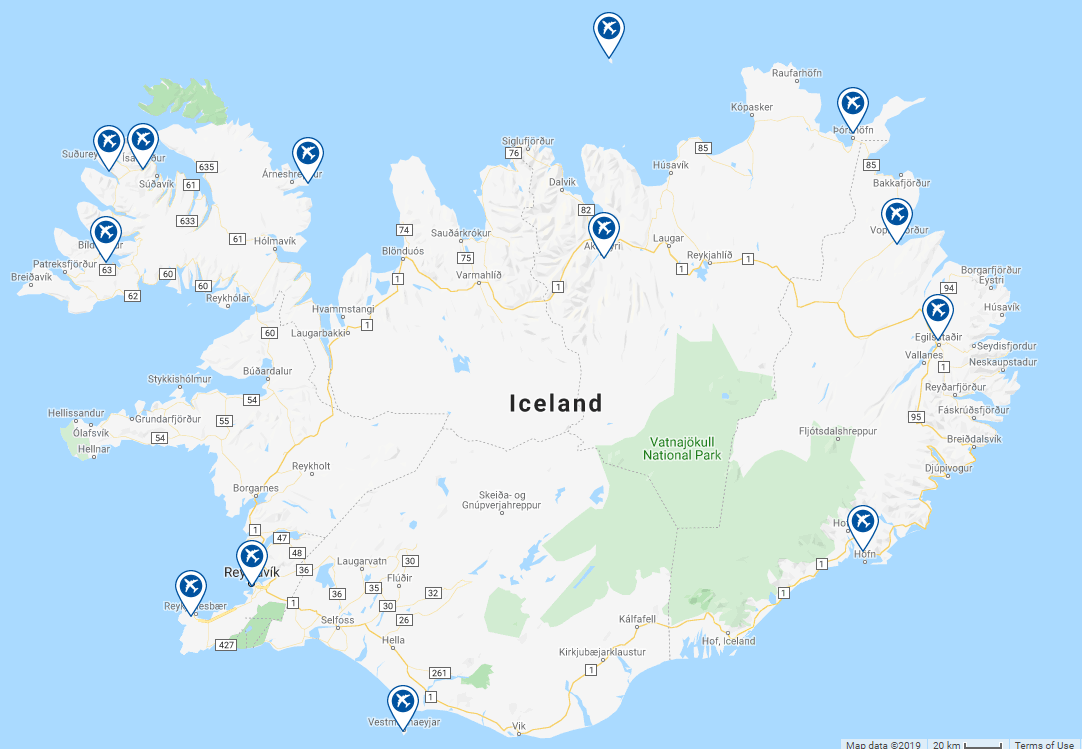 Source: CAPA - Centre for Aviation
WOW air, which provided services to destinations throughout Europe and North America, ceased all operations effective 28-Mar-2019 citing financial issues. An attempt to revive it is being made in the US but it seems to lack substance. WOW Air had been responsible for up to 30% of capacity at Reykjavik's Keflavik International Airport (KEF) in 2018, growing from virtually zero in 2012.
WOW air's demise left Icelandair with over 70% of the capacity at KEF as it shifted back towards the position of dominance it once held. That supremacy has grown to more than 75% partly because none of the other existing carriers has increased capacity substantially, many in fact reducing their offer.
CHART - Icelandair is by far the dominant carrier at Reykjavik's Keflavik International airport, Iceland's main gateway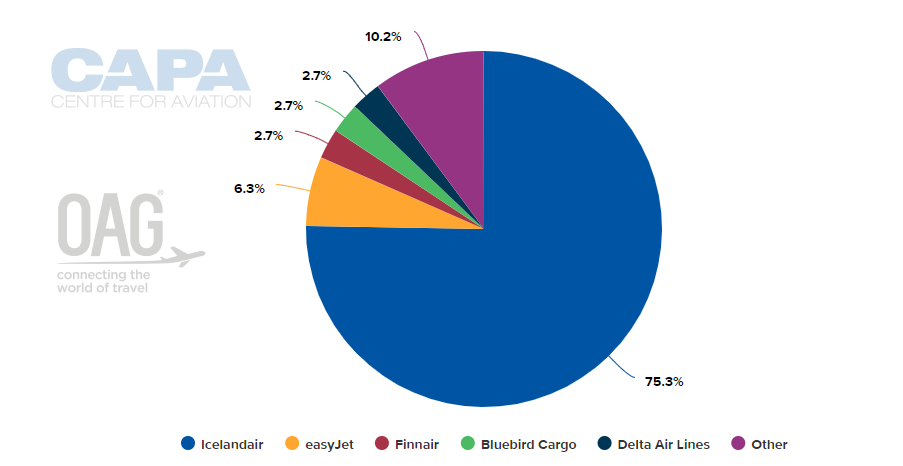 Source: CAPA - Centre for Aviation and OAG (data: w/c 14-Oct-2019)
Icelandair has been unable to take advantage of the situation because of knock-backs of its own which include the grounding of Boeing 737 MAX 8s, of which it has five with two on order. The impact from the grounding is estimated to be around USD50 million for 2Q2019. Also, its financial situation from operations. In 2018 both passenger and cargo revenues declined and it incurred both an operating and net loss of over USD50 million, having made USD131 million and USD98.5 million in profit only two years ago.
Matters haven't improved in 1H2019, when Icelandair Group recorded operating and net losses (-USD83.7 million and –USD89.4 million respectively) that were a third higher than in the comparable period of 2018.
In recent weeks it has said it would "remove" 87 pilots rather than put them on part-time hours or on operational duties and that it will discontinue San Francisco and Kansas City services in summer 2020. It's CEO, Bogi Nils Bogason, described the company as being in an "unprecedented' position."
And yet, as recently as Aug-2019 Icelandair, said it "has never transported as many passengers" to and from Iceland as it did between Jan-2019 and Jul-2019; 1.4 million of them, a year-on-year increase of +26%. While its trans-Atlantic passengers (which reduced) are important, Iceland is the main market by far, and domestic travel also increased considerably.
Furthermore, Icelandair's revenues in the same period increased by +7% year-on-year in the passenger network segment. On the other hand it lost revenue from decreased aviation operations as a result of a reduction in the number of charter assignments, aircraft maintenance and the impact of IFRS 16 (an aircraft leasing accounting standard).
Revenue from tourism operations decreased as a result of reduced sales of package tours by subsidiary Iceland Travel and the Icelandic króna was on average approximately a fifth (19%) weaker against the USD than in 2Q2018. Revenue from aircraft and aircrew leases declined by 35%, largely as a result of a reduction in the number of charter flight assignments and aircraft maintenance. The company's freight operations have been growing, with exports up by 24% and imports up 2%.
It is a mixed bag of results here for Icelandair. It can reasonably be concluded that if the 737 MAX issue is resolved and that aircraft is universally cleared to re-enter service (a big ask at the moment with so many regulatory authorities threatening to vet it themselves rather than merely take the FAA's word for it) then Icelandair's, and Isavia's problems at least will start to diminish.
Icelandair will quickly be able to re-establish the dominance it had held well into the 2000s, in terms of both point-to-point and transit traffic. There is still demand for tourism to Iceland but it is not the sort of place that attracts repeat visits from casual tourists so new routes need to be opened (and not necessarily in Europe and North America) and sustained.
Whether or not Isavia would be content to have a dominant Icelandair back in control at KEF is a different matter, but if it helped restore profitability that counts in its favour.
In the meantime, Isavia, which has seen a decline in traffic in each month of this year, will extend the date of publication of a contract notice for its EUR1 billion-EUR2 billion capital works programme to expand the current terminal facilities at KEF until 02-Dec-2019. The contract notice was originally scheduled to be published on 20-Sep-2019. The programme includes construction of a new east pier, and that of a new north terminal to increase capacity to 25 million passengers per annum by 2040.
As The Blue Swan Daily has speculated previously, in the light of events some of the above could possibly be scaled back.