When scheduled Kangaroo Route air services commenced between Australia and the UK back in 1947, it took four days and six stops. Qantas inaugurated flights between Sydney and London on December 1, 1947 using a Lockheed Constellation that carried 29 passengers and 11 crew with stops in Darwin, Singapore, Calcutta, Karachi, Cairo and Tripoli.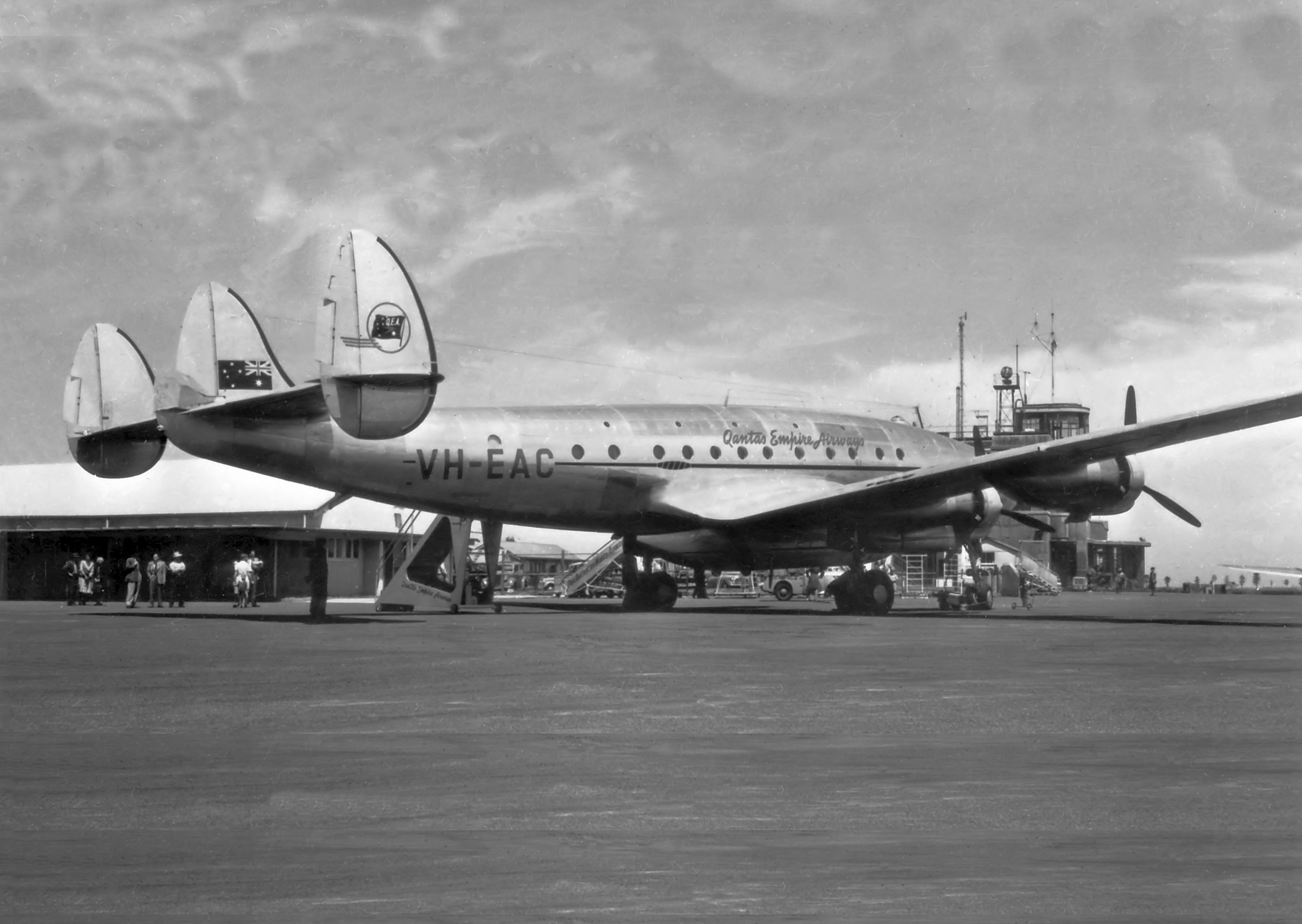 Qantas described the journey, which took more than 93 hours and included 55 hours in the air, as a history making 'momentous step in Australian aviation which literally brought Australia closer to the rest of world'. But, air links between the two countries actually pre-date the emergence of the Kangaroo Route marketing brand from Qantas.
The Australian flag carrier introduced de Havilland 86 flights from Brisbane to Singapore to connect to the London-bound flights of Imperial Airways from April 1935. This 12.5 day journey involved 31 stops and included a rail link between Paris and Brindisi, but represented a significant saving on the alternative, a six week long sea voyage.
The multiple hop introduced a new era for travel between Australia and its motherland and unlike today's mass travel and increasingly no-frills, there was only one class… First Class… and the passengers dressed accordingly: men in three-piece suits and ties, women in fur coats, high heels and pearls.
As aeroplane technology advanced the 'hop' quickly turned into a 'skip' with flights reduced to just a single stop and journey times reduced down to around 24 hours. Qantas historically served the market via the Asian hub of Changi Airport in Singapore, but in April 2013 commenced a ten-year major partnership with Emirates Airline to route its flights from Melbourne and Sydney to London Heathrow via Dubai International Airport.
Thanks again to further aircraft design and performance enhancements and improved engine technology, now that 'skip' becomes a single 'jump' with the launch next March of the first ever non-stop flights between Australia and Europe in the next stage in the evolution of the Kangaroo Route. The Qantas link between Perth and London will be flown by a Boeing 787-9 Dreamliner and will bring down journey times to just 17 hours.
"This is a game-changing route flown by a game-changing aircraft. Australians have never had a direct link to Europe before, so the opportunities this opens up are huge," Alan Joyce, chief executive officer, Qantas Group told members of the media on the sidelines of the IATA AGM in Cancun, Mexico in early June this year.
The Perth – London flight at 14,498 kilometres may not hold the title of being the world's longest when it is launched in March 2018, a position currently held by Air India after it switched its Delhi – San Francisco route to operate across the Pacific rather than the Atlantic to increase the flight distance to 15,127km, but it is certainly one of the most significant in terms of global aviation connectivity.
CHART - Main air routes between the UK and Australia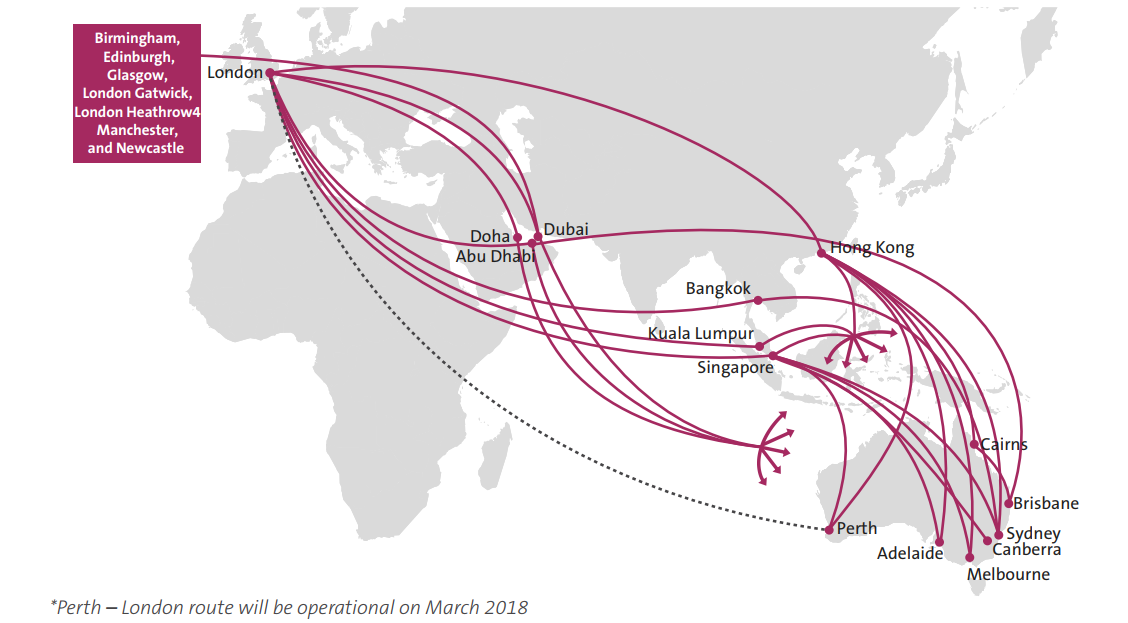 Source: Tourism Australia
In 2016, the UK was Australia's third largest inbound market for visitor arrivals and the second largest market for total visitor spend and visitor nights. Visitors from the UK generated $3.7 billion in total expenditure in 2016 and Tourism Australia's Tourism 2020 strategy estimates that the UK market has the potential to grow to between $5.5 billion and $6.7 billion in overnight expenditure by 2020.
The Blue Swan Daily analysis of O&D demand statistics from OAG shows that around one in three of these passengers are flying with joint venture partners Qantas and Emirates Airline via Dubai International Airport with notable flows also with Singapore Airlines via Singapore Changi, Etihad Airways via Abu Dhabi, Qatar Airways via Doha, Cathay Pacific via Hong Kong and Malaysia Airlines via Kuala Lumpur.
However, others such as Air China, China Eastern Airlines, China Southern Airlines, Royal Brunei Airlines and Thai Airways International are boosting their flights to offer more attractive schedules along the Kangaroo Route. This equates to almost 1,000 weekly services (with one-stop, maximum five hours transit) per week from UK to Australia via major hubs in Middle East and Asia. Up to 70% of this capacity flies through the Middle East with capacity from the three Middle East hubs of Doha, Dubai and Abu Dhabi to Australia growing 18.4% in 2016, reaching approximately 2.8 million annual seats.
CHART – Passenger flows between Australia and UK (2012 – 2016)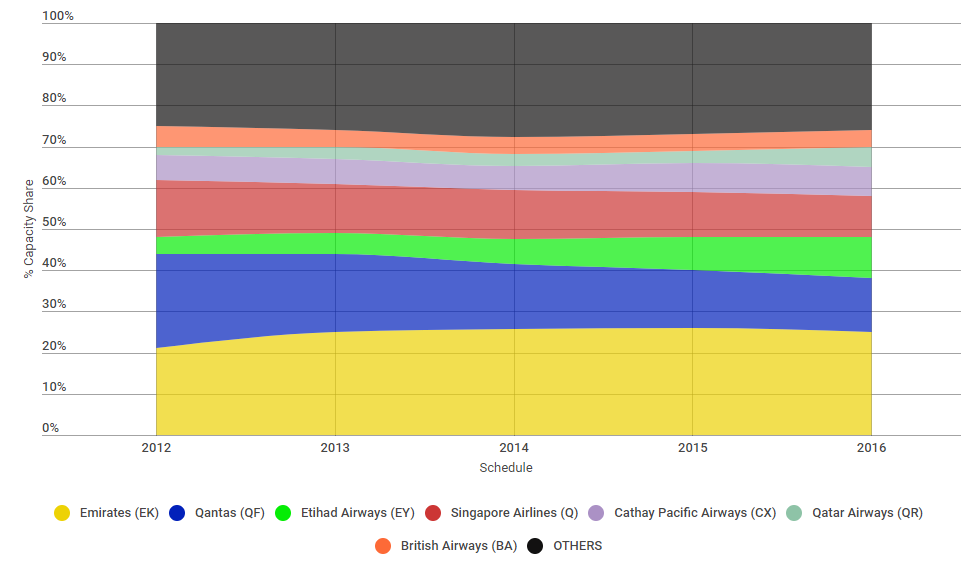 Source: The Blue Swan Daily and OAG
The much-publicised new non-stop long-haul link between Perth and London is likely to be just the first of a number of new non-stop flights linking Australia to Europe, Qantas senior executives have confirmed. The arrival of the Boeing 787-9 Dreamliner opens up a whole new range of routes for the flag carrier, but its management is already looking beyond the aircraft to models such as the ultra-long-range version of the Airbus A350-900 and new Boeing 777X which could allow future non-stop flights linking both Melbourne and Sydney to London in the future.
"We do believe aircraft technology is going to be our friend into the future," Alan Joyce, chief executive officer, Qantas told Blue Swan Daily and other representatives of the media on the sidelines of the IATA AGM in Cancun, Mexico. "We hopefully will be flying direct from Sydney to London in the future. At this stage though, we are still speaking to Boeing and Airbus about the capabilities of aircraft."
Gareth Evans, chief executive officer, Qantas International and Freight added: "We want an aircraft with the capabilities to do the missions we want like Sydney to London and Sydney to New York." Such range would open up numerous other direct route options such as Chicago, Boston and Washington in the US. Mr Joyce, added that the airline is holding on to its valuable slots at London Heathrow to facilitate such future operations. "We have kept four slot pairs at Heathrow. We would love to grow our direct services," he said.
Qantas has designed its 787-9 configuration with long-range missions in mind. The aircraft will seat 236 passengers in a three-class arrangement with 42 business class seats: an upgraded version of the existing Qantas' A330 Business Suite; 28 premium economy seats, split across four rows in a 2-3-2 layout; and 166 seats in economy, in a 3-3-3 arrangement with an extra inch of legroom compared to Qantas' A380s.
The Dreamliner is likely to be initially deployed on domestic flights from the final quarter of 2017 for crew familiarisation purposes before debuting on an existing route, substituting for a 747-400 on the afternoon Melbourne - Los Angeles service from December 2017.
Alongside the confirmed routes the type could ultimately be used on other ultra-long-haul missions such as Melbourne – Dallas and Sydney – Chicago. "We have built the aircraft with the capability to do Melbourne – Dallas in terms of full payload," added Mr Evans.
What is clear is that the arrival of new aircraft could certainly open the door to new non-stop flights between Australia and Europe. More than 4.4 million two-way passengers flew between Europe and Australia in 2016, according to MIDT data. After London, currently the sole Qantas destination in Europe, the largest passenger flows were from/to Paris, Manchester, Frankfurt, Rome, Dublin, Amsterdam, Zurich, Athens and Milan.