From poor transport connectivity to and from the airport – which famously has seen passengers abandon cabs along the highway to reach the terminal by foot with their bags in tow – to cramped, run-down conditions, poor terminal facilities, and lengthy delays at security, the issues have been far-ranging.
But, that is now beginning to change. Over the past couple of years travellers have started to report improvements as the fruits of a USD8 billion rebuilding programme start to push up satisfaction levels which has already seen a new Terminal B parking garage open in Feb-2018, the introduction of the first new gates and concourse in Terminal B in Dec-2018, followed by the first new gates and concourse in Terminal C in Oct-2019.
A massive step in this transformation – one of the largest public private partnerships in aviation history – was achieved on 13-Jun-2020 as a brand-new, state-of-the-art Terminal B Arrivals and Departures Hall was opened to travellers flying with American Airlines, United Airlines, Southwest Airlines and Air Canada on 13-Jun-2020.
The project is all about delivering what is described as a unified 21st century facility and will see the demolition and replacement of every terminal and concourse except for the historically landmarked Marine Air Terminal.
Opened in 1964, LaGuardia Airport's Terminal B serves the majority of its airlines and ahead of the current Covid-19 crisis had handled more than 14 million passengers per year, although it was originally built to accommodate 8 million. Last summer the airport recorded eight of its 12 busiest days, handling a total of 31 million passengers, a +3.1% increase over the previous record volume handled the previous year.
Obviously those levels will not be reached for a few years as a result of the impacts of the restrictions introduced to combat the spread of Covid-19. But, by virtue of its size, the terminal importantly presents greater opportunities to move passengers more safely and efficiently with improved distancing during and after the Covid-19 pandemic, including more space for check-in, security and baggage claim, along with new innovations in contactless technology and an increased focus on cleanliness and disinfection.
The new 850,000-square-foot, four-storey Terminal B Arrivals and Departures Hall is a key milestone in the project which now provides New York travellers with a entirely new user experience that includes local concessions, large, modern restrooms and a New York-inspired shopping district. The new facility even showcases permanent public art installations curated by the Public Art Fund, enhancing the passenger experience and underscoring New York's position as a beacon for arts and culture.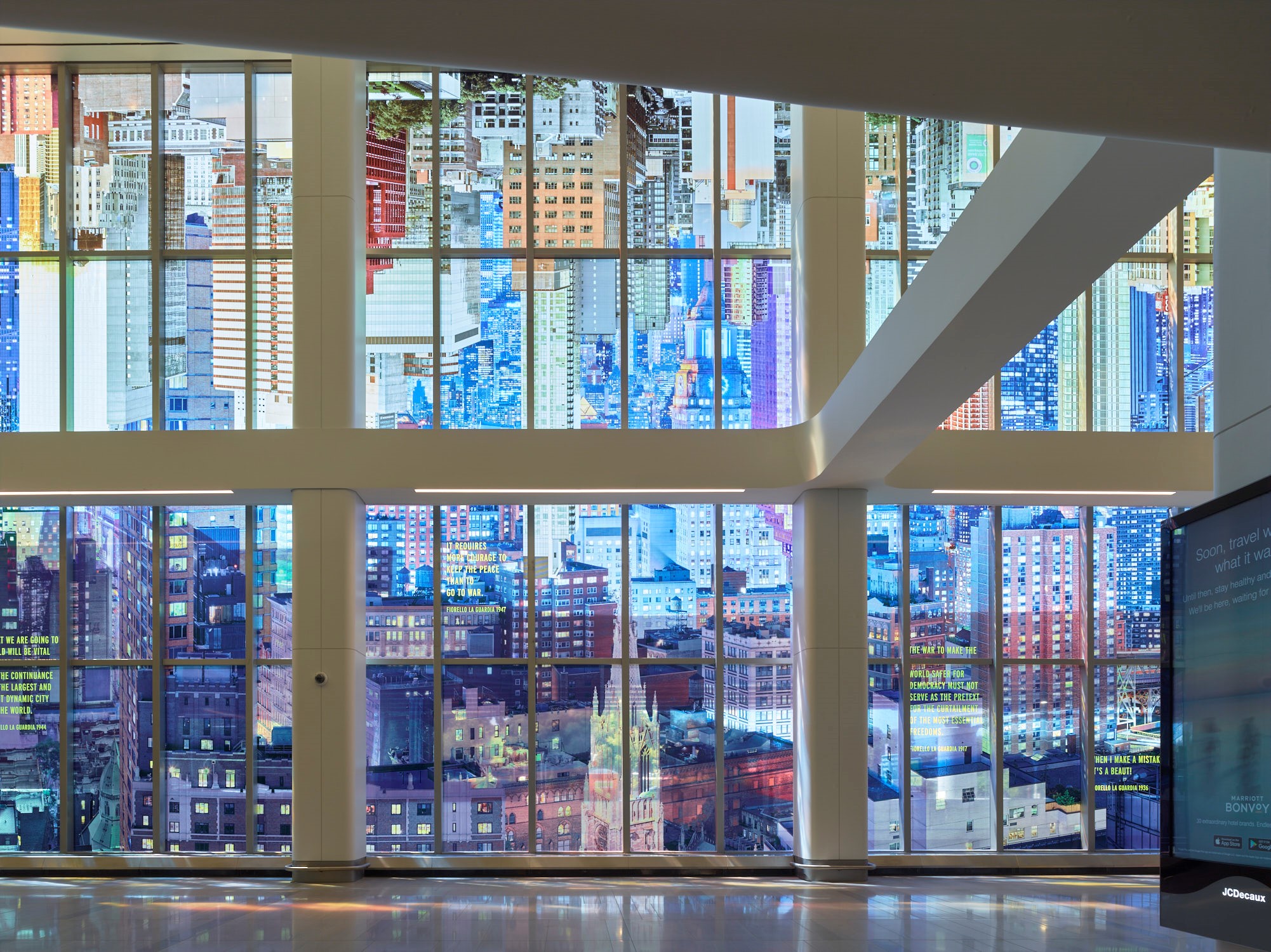 The new Terminal B departures level is dramatically larger and offers four check-in islands with 75 individual check-in kiosks and a central oversize bag check-in station. There are 16 designated security lanes – three times the space for security checks. Dynamic signage in the TSA queue displays passenger wait times and allows queue zones to be adjusted based on passenger demand.
Security screening at LaGuardia's new Terminal B now includes three state-of-the-art technology systems to expedite screening while prioritising the safety of passengers. Checked baggage is screened more efficiently using an Artificial Intelligence-based, robotic assisted convenience system which quickly troubleshoots and diverts high-risk baggage for deeper inspection.
Passengers with carry-on baggage will notice a new automated bin sequencing and retrieval system as they go through the TSA check point. New body screening and metal detecting equipment is user friendly, has larger screening areas that eliminate the need to raise arms overhead and features the most advanced imaging technology.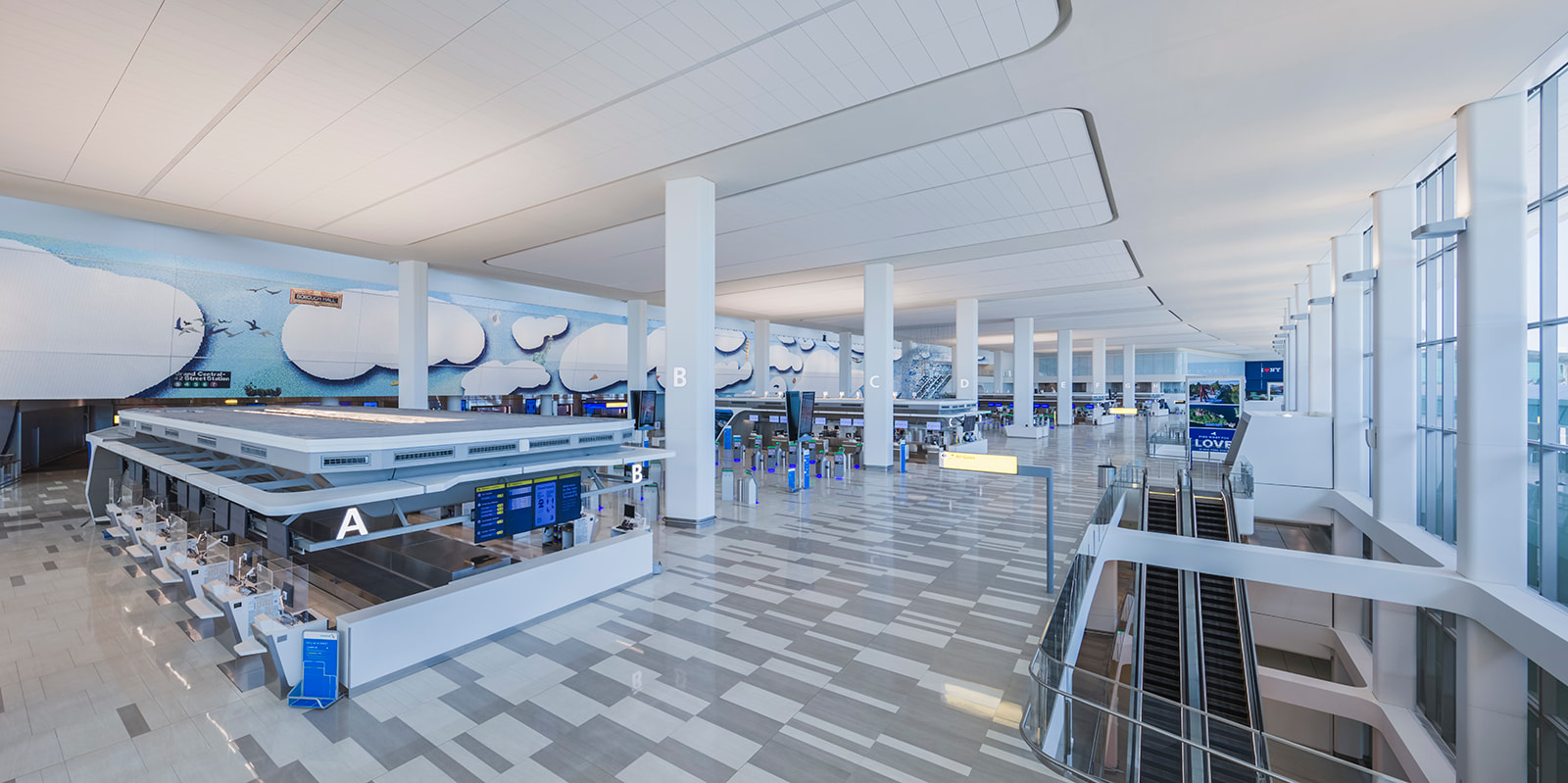 At the arrivals level, nine new large baggage carousels offer additional space for distancing at baggage pick up, while there are 17 new large bathrooms across the new Arrivals and Departures Hall, featuring touch-free entry, sinks and hand dryers, to create greater opportunities for distancing when compared to the old Central Terminal Building.
While New York's John F Kennedy International and Newark's Liberty International airports grab the headlines about international connectivity into the city, the downtown LaGuardia Airport plays a critical role in supporting strong domestic flows in and out of the Big Apple.
It is the largest domestic gateway into New York and despite its infrastructure constraints provides approaching 40 million scheduled seats in and out of the city. Last year, its largest operator was Delta Air Lines with a 41.7% capacity share, ahead of American Airlines (26.8%), Southwest Airlines (9.1%), United Airlines (7.8%), JetBlue Airways (4.1%), Spirit Airlines (4.1%) and Air Canada (3.9%).
CHART – LaGuardia is the largest domestic gateway into New York and had seen annual system seats almost hit the 40 million capacity level in 2018 and 2019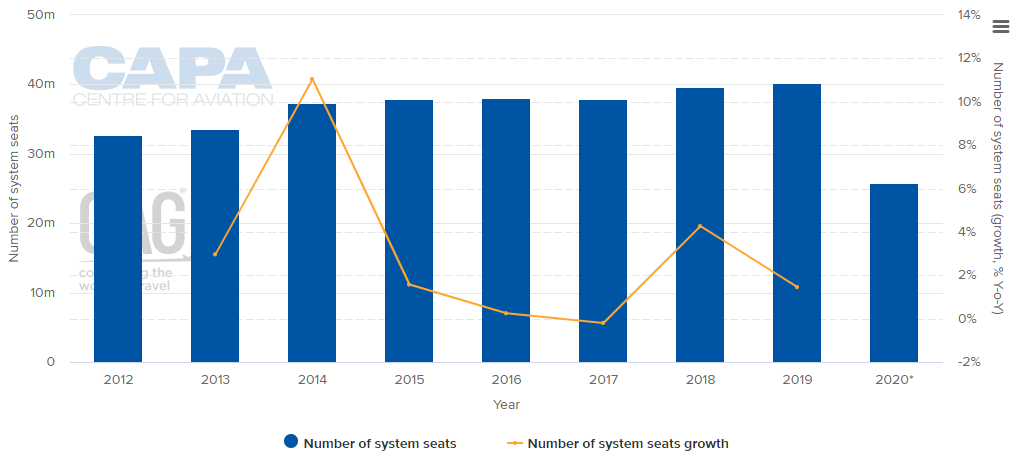 Source: CAPA – Centre for Aviation and OAG