---
Summary:
Germany's Hamburg Lübeck Blankensee Airport looks set to secure commercial flights again from 2019 as it seeks to return traffic levels to the highs seen in the mid-2000s;
The airport previously was popular with LCCs as an alternative gateway to Hamburg, but as had a difficult history, changing ownership several times;
It now has stable ownership and its location has a lot of plus points that should help it secure the return of commercial operations;
Finally, planning approval is close for extensions and expansions that airlines need to commit to adding and growing operations.
---
While Blankensee Airport is 54km (34 miles) from Hamburg, it is regarded as Hamburg's second airport, Hamburg itself being the second largest German city after Berlin and, like Lübeck, a Hanseatic city. The Hanseatic League was founded by north German towns and German merchant communities abroad to protect their mutual trading interests. The league dominated commercial activity in northern Europe from the 13th to the 15th century.
MAP - Lübeck is the second largest city in the state of Schleswig-Holstein, located over 30 miles northeast of Hamburg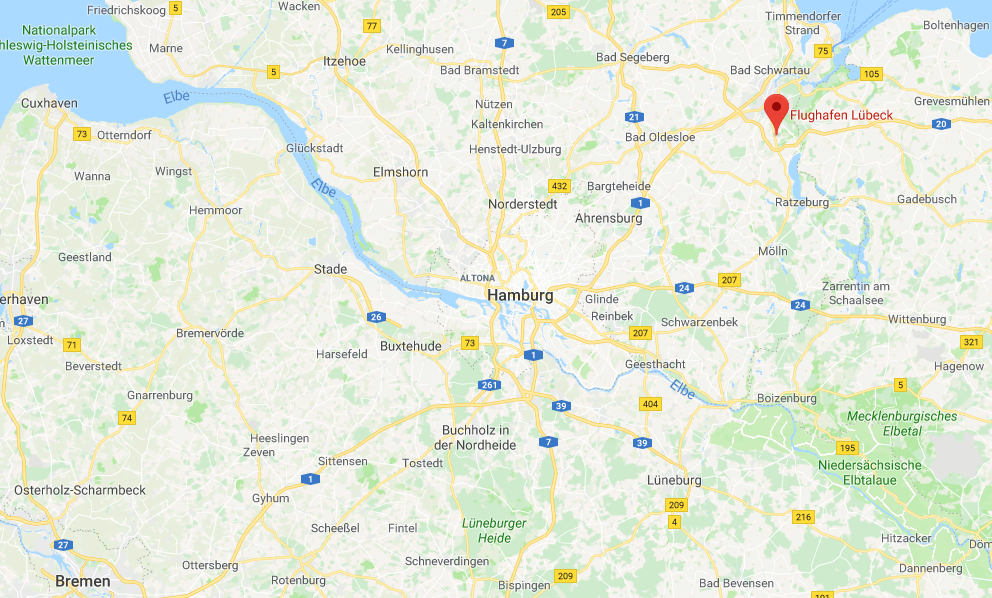 Source: Google Maps
Lübeck Blankensee's best period came in the mid-2000s when it recorded its highest ever passenger total (715,000 in 2005). It had repositioned itself as a 'low-cost' airport during the LCC boom of that period and attracted Ryanair from 2000 and Wizz Air from 2006. The New Zealand investment fund Infratil (Morrison & Co) took a 90% shareholding from late 2005 until Oct-2009 when it sold the equity back to the City of Lübeck as part of its wider withdrawal from Europe.
But a series of factors including the global economic crisis from 2008, the Icelandic volcano eruption of Apr-2010, the reluctance of Ryanair to expand owing to disagreements over a runway extension and several contra-expansion lawsuits led to a downturn in passenger numbers. By 2014 that 715,000 had become 168,000 and Ryanair took the decision to leave owing to the airport's uncertain future, shifting instead to Hamburg Helmut Schmidt Airport where it has since built up to 8.6% of seat capacity, the third highest share after Eurowings and Lufthansa.
Wizz Air followed in Apr-2016, some of its services also relocating to Hamburg. Then, all commercial operations (scheduled and charter) ceased at Lübeck and the airport only offered general and business aviation services.
The airport filed for bankruptcy and was subsequently sold to an Egyptian entrepreneur and then to a Chinese investor. But the German subsidiary of that company also declared bankruptcy in Sep-2015, leaving the airport without an operator. Then, following the completion of a purchase agreement with the City of Lübeck, Stöcker Airport GmbH & Co KG took over as operator of the airport on 13-Jun-2016.
Stöcker Airport is a spin-off of Lübeck-based companies connected to Prof Dr Winfried Stöcker, including EUROIMMUN Medizinische Labordiagnostika AG, which had previously been a prospective buyer of the airport with other entrepreneurs from the region, "in order to protect it", i.e. not to use the land for other purposes.
That original bid was withdrawn in favour of a start-up airline, Lübeckair, which would have flown regional services to major airline hubs and domestic destinations in Germany but it never got off the ground and attention was refocused on the airport.
Lübeck Airport languishes without commercial services but with ownership and operational management that are conducive to its future success - within reason. Along with many other such examples of secondary, low-cost airports in Europe from 10-15 years ago it was and is never going to reach overly-ambitious targets.
It is well situated for access by private vehicle from the A1 motorway which runs from Hamburg and the A20 from the state of Mecklenburg-Vorpommern to the east. The airport has its own rail station. Regional trains run every hour between Kiel and Lüneburg, stopping at the station as well as at the city's main station and connecting trains are available at Lübeck Hauptbahnhof or in Büchen to Hamburg and other destinations.
The runway extension dispute is not settled but in Jun-2018 a Higher Administrative Court dismissed a second round of appeals brought by a local municipality against planning approval for expansion of the airport including a runway extension to 2257 metres, improved supporting facilities and a new terminal building with "state of the art equipment and infrastructure".