---
Summary:
Economically, while it remains one of the poorest countries in Asia, traffic growth in Cambodia has been strong during the last decade;
Its three international airports are not expected to be able to accommodate traffic demand by 2025, with international passengers forecast to double to 12 million per annum;
Now, new airports are to be built in Siem Reap and Phnom Penh, while Cambodia's Prime Minister says the facility in Sihanoukville "needs to be improved".
---
Economically, while it remains one of the poorest countries in Asia, growth has been strong during the last decade, prompting the World Bank to reclassify Cambodia as a "lower middle-income country" in 2016. GDP grew at an average annual rate of over 8% between 2000 and 2010 and at about 7% since 2011.
Tourism, along with the textile, construction, real estate and agricultural sectors, accounted for the bulk of growth, with around 0.5 million Cambodians employed in the tourism sector, and a further 200,000 people in construction. However, that World Bank reclassification is a double edged sword as it will reduce Cambodia's eligibility for foreign assistance and will challenge the government to seek new sources of financing.
Hence a major economic challenge for Cambodia over the next decade will be fashioning an economic environment in which the private sector can create enough jobs to handle Cambodia's demographic imbalance (Over half the population is under 25).
MAP -The Kingdom of Cambodia is located in the southern portion of the Indochina peninsula in Southeast Asia, bordered by Thailand to the northwest, Laos to the northeast, Vietnam to the east and the Gulf of Thailand to the southwest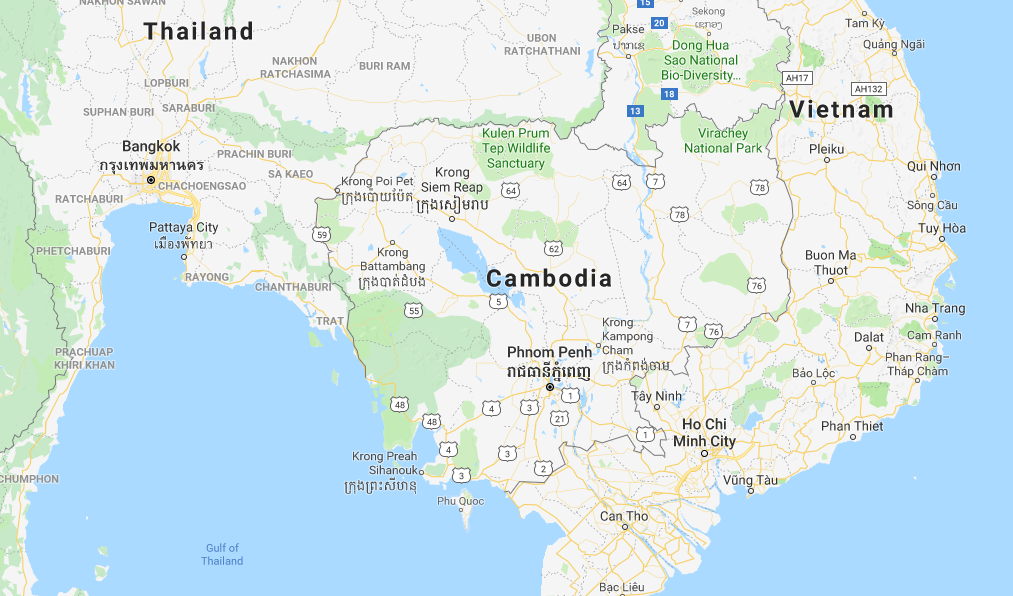 Source: Google Maps
Cambodia's Prime Minister, Hun Sen, recently said new airports in Siem Reap and Phnom Penh will need to be built to handle a projected doubling of international tourists, and that there is a need to improve Sihanoukville International Airport, to handle more traffic. Mr Sen stated Cambodia's existing three international airports are not expected to be able to accommodate traffic demand by 2025, with international passengers forecast to increase from six million to 12 million per annum.
All three airports are operated as a joint venture - Société Concessionnaire de l'Aéroport (SCA) - between Vinci Airports (France, 70%) and Muhibbah Masteron Cambodia (30%). Some parts of the operation of the airports are delegated to Cambodia Airport Management Services Limited (CAMS - a joint venture between Groupe ADP [Aéroports de Paris], Vinci Airports and Malaysian Airport Berhad), under an operating agreement with SCA.
These concessions are the oldest that Vinci has and were just about all that remained when it stepped back from the airport business for a time earlier in the 2000s.
Mr Hun Sen projected a "doubling" of international tourists. Tourist numbers have grown consistently in each year since 2004 as the chart below demonstrates, but very high growth came between 2010 and 2013; since then the rate of growth has decreased though it rebounded again to 11.7% in 2017. At that rate a doubling of arrivals would take about nine years.
CHART - Tourism arrivals in Cambodia have doubled this decade and more than tripled over the past ten years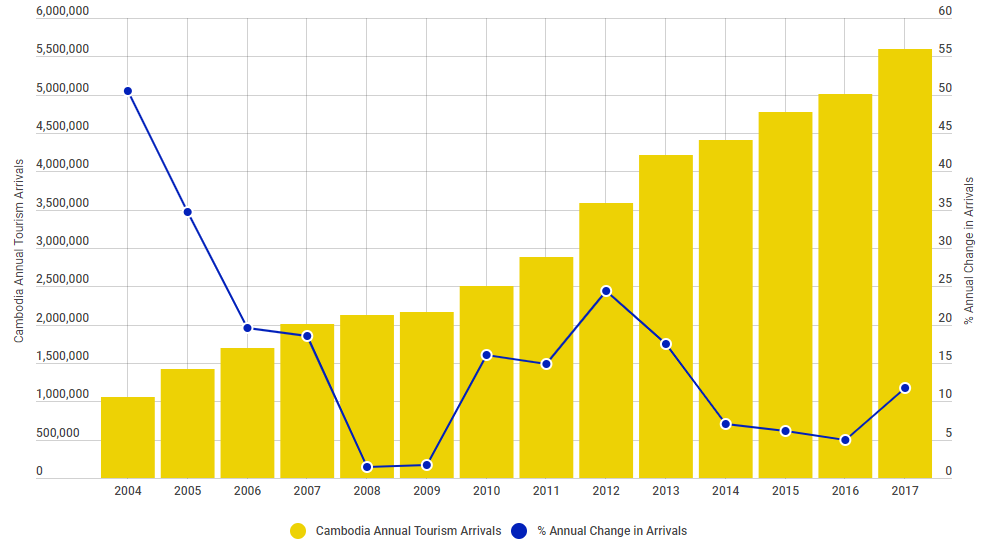 Source: CAPA - Centre for Aviation and Ministry of Tourism Cambodia
The vast majority of visitors are from China and neighbouring countries with the US providing the largest western contingent (257,000 in 2017, a 4.6% share). Tourist visits are seasonal, with a low (2017) of 369,000 in May and a high of 702,000 in December.
So what airport construction is under way to deal with the tourist boom? According to the CAPA Airport Construction Database the following projects are under way or completed at the three airports:
The new Siem Reap airport is under way, having first been mooted in 2010 as a means of protecting the World Heritage site at Angkor Wat from aircraft noise. It is 50km from the existing airport. The government selected China's Yunnan Investment Holdings Limited as the principal developer in Dec-2016.
It will have a maximum handling capacity of 10 million passengers per annum. Construction commenced in summer 2018 and is expected to last up to five years. It will cost up to USD1 billion. The government is required to compensate SCA for ending its concession prematurely.
The New Phnom Penh Airport will be located 30-40km outside of the city and is expected to be operational by 2025. Costing USD1.5 billion, it is at a less advanced stage and is a joint venture between Overseas Cambodia Investment Corporation (OCIC) and the Cambodian Government's State Secretariat of Civil Aviation, with OCIC to control 90% of the new airport. There has been some community opposition to it.
It is intriguing that the government has opted for a state solution for the new capital city airport and a private one for the main tourist airport. While some western investors have been attracted to Vietnam (including Groupe ADP), there has been precious little interest shown so far – apart from Vinci's historical one – in Cambodia.