---
Summary:
Avinor is considering adding a third runway at Oslo Gardermoen Airport by 2030 and will invest up to NOK2 billion (EUR207.8 million) in its existing infrastructure to remain competitive with the competitive Nordic and Scandinavian aviation system;
Oslo Gardermoen has the smallest runway count among the main Scandinavian capital city airports, but handles the second largest level of traffic;
Passenger demand is increasing at all of the main Scandinavian capital airports and even more quickly at Helsinki in Finland;
A third runway at Oslo Gardermoen and a further terminal extension following 2017's Terminal 2 would prepare the airport for Norway's increasing importance on the world stage
---
Oslo, like the other Nordic and Scandinavia capitals of Copenhagen (Denmark), Helsinki (Finland) and Stockholm (Sweden) is vying to be the leading market in the region with the main international airport gateways in each of the cities competing to attract air connectivity. Norway is actually the least populated of the Scandinavian countries but its main airport is the second busiest of the three primary capital city airports.
TABLE - Norway is actually the least populated of the Scandinavian countries but its main airport is the second busiest of the three primary capital city airports

Source: The Blue Swan Daily and CAPA -Centre for Aviation
This data may suggest that Oslo Gardermoen is in need of additional runway capacity, or is punching well above its weight from an air service development perspective. Both might actually be the case, but the airport systems in the Nordic and Scandinavian capitals actually differ significantly and are what are principally elevating Norway's main gateway higher up the ranking in terms of passenger demand.
The fact is the numbers do not take into account that Stockholm has a city centre-adjacent domestic airport (Bromma), a major low cost airport to the south (Skavsta) and a minor one to the north (Västerås). Similarly, Copenhagen actually has its own secondary, budget airport, albeit it is not actually in the same country, across the Øresund strait at Malmö Airport in Sweden, linked by the giant Øresund Bridge. Copenhagen and Malmö are actually part of the same metropolitan area even though they are in different countries and Malmö is Sweden's fourth busiest airport with 2.2 million passengers in 2017.
Therefore, it may appear slightly disingenuous to compare Oslo with these multi-airport domains around the other capitals. but on the other hand it does have a low-cost airport to the south at Sandefjord Torp, and there was another at Moss Rygge until 2017 when it closed down following the introduction of a new aviation tax in Norway. It may reopen in 2019.
This all my complicate comparisons by demand, but one clear area to compare is major airport infrastructure and that is where Copenhagen Kastrup and Stockholm Arlanda are ahead. Stockholm Arlanda has had three runways since the turn of the century and wants a fourth, but a neighbouring municipality, Sigtuna, has the right to block any expansion of the airport and exercises that right and it will be many years yet before a fourth runway is added. Copenhagen Kastrup has two parallel runways supplemented by a third one which runs perpendicular to the main two. There is no known intention to construct a fourth runway there.
Current passenger levels suggest these three runways, even the two in Oslo's case, should be adequate for the volume of traffic in the immediate future. After all London Gatwick Airport manages over 45 million passengers on just one runway, and Heathrow Airport 78 million on two, even if the aircraft mix is at variance with the Scandinavian airports.
But with passenger traffic increasing at all three airports and a renewed Nordic region challenge from Finland's Helsinki Vantaa Airport (+9.9% to 18.9 million passengers in 2017 and it also has three runways) none of these three airports can afford to be complacent about infrastructure.
That is why, apart from the runway planning, Avinor invested EUR900 million (Nordic and European Investment Banks funded) in its Terminal 2, which opened this time last year, and it is now considering an extension of other parts of the terminal area, specifically to provide permanent facilities for larger aircraft such as the Airbus A380.
To its credit, Avinor is planning for a future where the country could acquire greater importance, economically, touristically (it is yet to optimise its short-break appeal) or even politically, for example as part of a caucus of non-EU countries trading at a higher level between each other after Britain leaves the European Union. Sweden and Denmark are EU members but Norway is not. More importantly, while Norway is part of the European Economic Area it is not part of the European Customs Union, which Britain will also leave after 'Brexit'.
With the world's largest sovereign wealth fund and a reputation as a political deal-maker, Norway already punches well above its weight. And the UK is already the third largest market for Gardermoen aircraft capacity after Denmark and Sweden.
CHART - Unsurprisingly, Denmark and Sweden are the largest country markets from Oslo Gardermoen, but the United Kingdom, Germany and Spain follow closely behind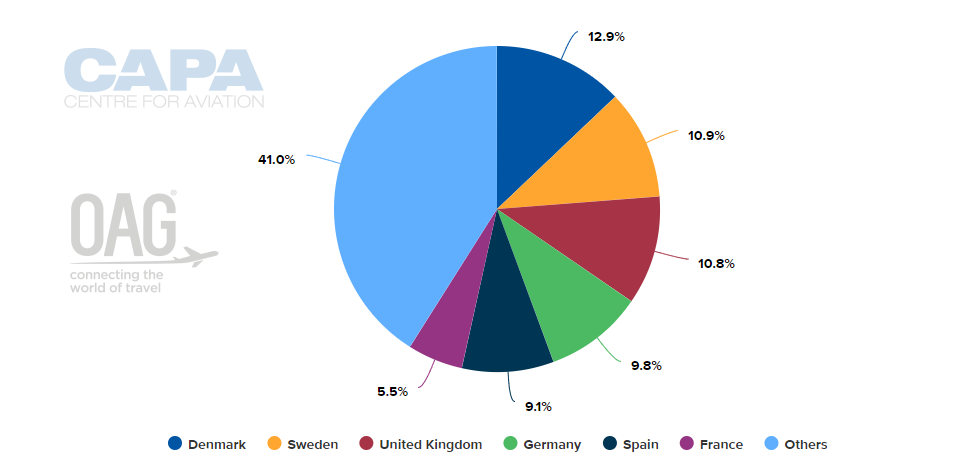 Source: CAPA - Centre for Aviation and OAG (data: w/c 30-Apr-2018)
By 2030, Avinor says it "will take all measures that extend the capacity of existing infrastructure - both on the airside and in the terminal". Its development concept aims to balance the need for increased capacity and the consequences for the environment and communities, including utilising existing flight paths where possible. Environmental considerations are paramount in Norway, as was indicated in a recent The Blue Swan Daily article on an airport city project close to Gardermoen Airport: Oslo aims to develop a 'sustainable' airport city.