The platform's AI-led travel assistant is focused purely on the family holidays sector, but could be adapted into other areas. It aims to reinvent the current standard booking flow into a highly personalised discovery journey, which led by machine learning, will enable tripAbrood to "deeply understand the complexities of each customer's interests and desires for their next holiday," it says. It can then utilise advanced AI technologies along with recommendation engines to match them accurately to the best option to fit their individual needs.
Its goal is to provide busy families with fewer but more relevant holiday options whilst streamlining and simplifying the whole process. There research shows these families often struggle to find the holiday they want, or default to a similar break year-on-year, as it is too difficult to find something that is new and that they feel confident will be right.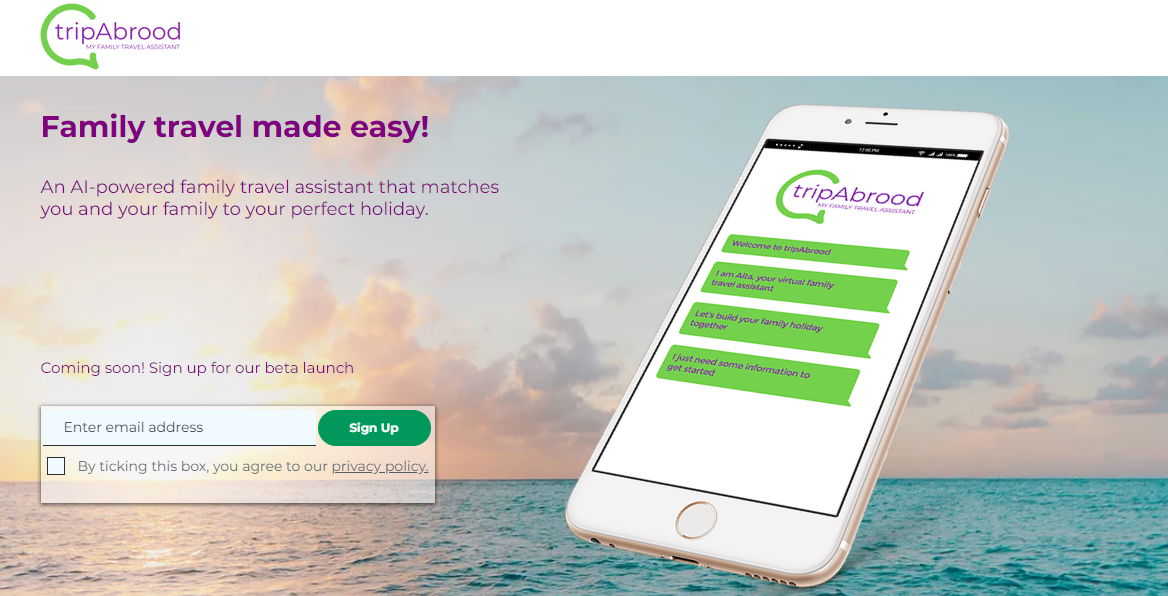 "They are families that are used to booking holidays online, but who are often frustrated by the overwhelming number of options they are presented with," the start-up says, with the promise to make the experience of finding a family holiday online "more fun and intuitive, reducing the amount of research time it takes to find a suitable holiday and giving families the confidence that they have found the right holiday for them, every time".
The concept of tripAbrood was born from the experiences of co-founder Alexa-Maria Rathbone Barker, who struggled last year to book the kind of holidays that she, her husband and three young children wanted, especially when both her and her husband were working parents.
She explains: "As a busy working mum with three children, I remember spending hours fruitlessly searching for the right family holiday for my specific needs. I wanted an online solution to help me find what I was after quickly and efficiently.
Thinking it should be much less stressful to research family holidays she decided to tour the country and see if she was alone in my assumption and after interviewing families across the UK and hearing the same stories time and again, realised there was a real potential gap in the market.
"The right solution however, needed a fresh perspective and building from the ground up. To do this I needed a tech-savvy team willing to radically shake things up," she adds, and thus the collaboration with her co-founders which together offer over 30 years of experience from industry leading technology companies, with extensive expertise in tech, travel and data.
The family holiday market is an underserved global market, with no single family-focused technology solution available to help families to research and book their ideal family holiday from start to finish. With the global family market worth an estimated USD429 billion, and GBP13 billion spent per year by UK families on holidays, the potential of this long neglected and globally expanding market is clear.