The detailed analysis of OAG schedule data highlights some themes that have been consistently visible for a number of seasons now and that downward unit revenue pressure is likely to continue through the winter. Continued growth at rates that may not be sustainable in the long run will continue to challenge viability in the European airline sector, suggests CAPA.
In airline terms, it shows that Wizz Air and TAP Portugal are the fastest growing European groups this winter, while Turkish Airlines, Pegasus Airlines and Finnair are also growing at double digit rates. In fact, all but two of the top 20 groups are growing seat capacity year-on-year this winter. While the closure of airberlin from 28-Oct-2017 may influence winter capacity in the short-term, much of its capacity will likely be reallocated before the end of the season.
The CAPA analysis also highlights that the Europe – Africa market will grow the fastest, but there will be above trend growth in almost every other region from Europe (including intra-Europe), apart from Europe - Middle East, where growth will be close to trend and Europe – Latin America where growth will be significantly slower than last winter.
Within Europe, Low Cost Carrier (LCC) seat growth will be almost three times non-LCC growth. On the North Atlantic, above trend growth is being driven by LCCs and other non-joint venture operators, reveals CAPA. On Europe-Asia Pacific, accelerating growth is mainly the result of Asian airline expansion.
This winter's 7.2% increase is the highest growth rate in winter seat capacity since 2007/2008, when it reached 7.9%. Since then, winter growth has not exceeded 6%. It is also a faster rate of growth than we have just seen in summer 2017 which grew 7.0% compared with last year's summer schedule.
The CAPA analysis suggests that continued above trend capacity growth may drive further consolidation. It says the outlook for European seat capacity growth in winter 2017/2018 is "clouded a little by the uncertainty" surrounding recent bankruptcies, in addition to "the habitual uncertainties at the start of a season", which often means that plans are adjusted as the season unfolds.
READ MORE INSIGHTS FROM THE ANALYSIS... Europe 2017/2018 airline capacity outlook: highest winter seat growth in 10 yrs despite bankruptcies
Our own analysis at The Blue Swan Daily of OAG schedules shows that winter capacity in 2017 will grow at all major countries across Europe, albeit reductions are expected in the principality of Monaco and the overseas territory of Gibraltar - the latter purely driven by the recent collapse of Monarch Airlines which was the largest operator at the headland, on Spain's south coast. At more than 70% of the countries (33 out of 47) the rate of growth will exceed that seen in winter 2016.
Winter capacity will grow by more than a quarter from smaller markets such as Bosnia and Herzegovina (+34.0%, up from a -1.4% reduction last year) and Faore Islands (+30.5%, up from +11.3%); up more than a fifth from Georgia (+28.7%, up from +22.3%), Iceland (+21.7%, down from 47.1%) and Montenegro (+20.3%, up from 4.5%), with double-digit rises from 22 countries in total, with Turkey (+10.6%, up from -5.5%), Portugal (+10.9%, up from 10.4%) and Poland (+17.9%, up from +10.0%) the largest nations in terms of overall capacity.
CHART - European winter departure capacity has risen 19.6% over the past five seasons with the 'Top 10' nations accounting for more than three quarters of the total seats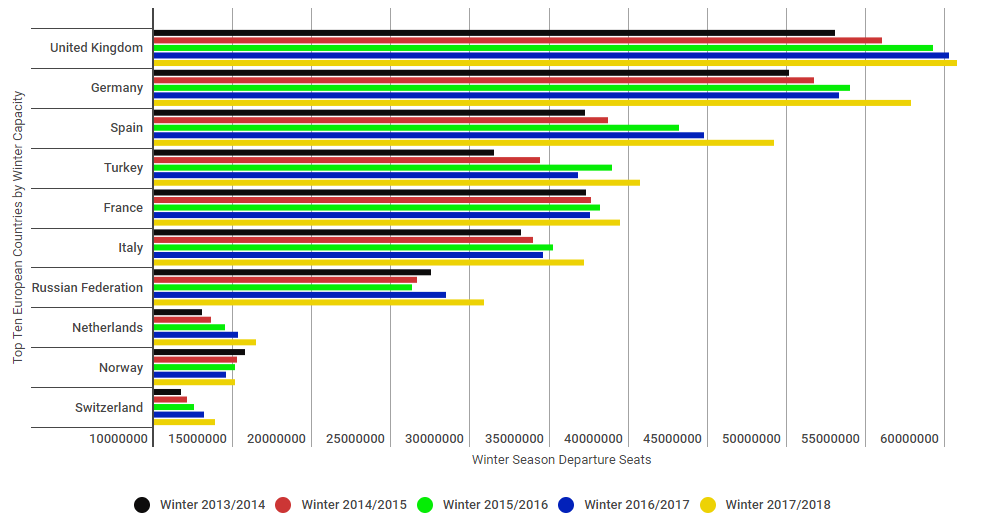 Source: The Blue Swan Daily and OAG