The rate of growth had been increasing and the top-ten most connected countries in the world mostly saw significant increases over the 2014-2019 period. The United States remained the most connected country, with growth of +26% over the period. China, in second place, grew connectivity by almost two-thirds (+62%), while other standout performers in the top ten included fourth-place India (+89%) and ninth-place Thailand (+62%), according to the data in the 'Air Connectivity – measuring the connections that drive economic growth' report.
This 'stable' period for air travel has allowed IATA to explore the benefits of increased air connectivity and some key pre-COVID trends that could provide some optimism for the future. One is the positive link between connectivity and productivity – a 10% rise in connectivity, relative to a country's GDP, will boost labour productivity levels by 0.07%, according to IATA.
The impact is even greater for developing countries. IATA discovered investments in air transport capacity in countries where connectivity is currently relatively low will have a much larger impact on their productivity and economic success than a similar level of investment in a relatively developed country.
Air transport has also contributed to greater employment opportunities and wider economic benefits through the tourism catalytic effects, particularly in small island states. "In emerging market economies, there may be a structural shortage of demand, so tourism spend can fill in the gap," identifies IATA. Air connectivity also facilitates economic activity and growth in a given country, which may have a positive impact on government tax revenues, its findings show.
Before the COVID-19 pandemic, economic development worldwide was getting a significant boost from air transport and improved connections between cities. The number of unique city-pair connections with scheduled air services was set to exceed 23,000 in 2020, more than double the connectivity by air twenty years ago, notes IATA.
But right now, things are very different and the COVID-19 crisis has had a devastating impact on international connectivity. As of the end of Oct-2020, the number of unique city-pairs was 36% lower than its level of at the beginning of this year. The change is most evident in a comparison of city connectivity between Sep-2019 and Sep-2020 which highlights that a year can deliver monumental change when you are enveloped by a global pandemic.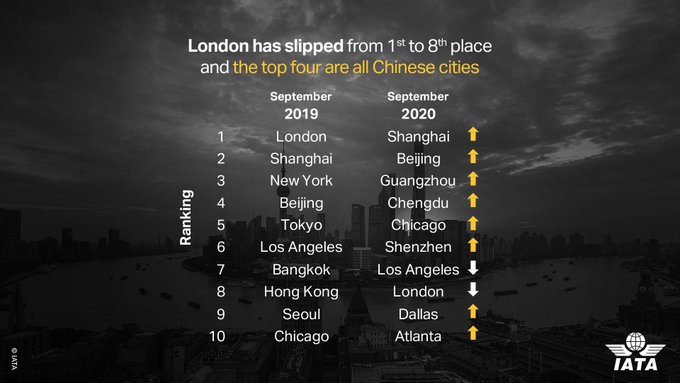 London, a long time the world's most connected city, has seen a -67% decline in connectivity since Sep-2019 that has seen it fall to be the eighth best connected global city in Sep-2020. That was before the United Kingdom started seeing increased COVID-19 infections ahead of its second pandemic wave and the reintroduction of government mobility restrictions through Nov-2020. A comparison between Nov-2019 and Nov-2020 will not make positive viewing.
With the strong recovery of China's domestic market and its huge scale it is no real surprise to learn that its major cities are now the world's best connected. In fact, they hold the top four positions with Shanghai – the second best connected city last year – leading the way ahead of Beijing, Guangzhou and Chengdu.
Shenzhen almost made it a clean sweep for the top five positions, but Chicago edged it out to sixth. The Chicago story is a positive one, rising from tenth to fifth, while Dallas (ninth) and Atlanta (tenth) show it isn't just the Chinese cities that are being strengthened by strong domestic connectivity.
London isn't alone losing ground on its city rivals. New York (-66% fall in connectivity), Tokyo (-65%), Bangkok (-81%), Hong Kong (-81%) and Seoul (-69%) have all exited the top ten. Alongside London, and Chicago, Los Angeles is the only non-Chinese survivor from last year's top ten, falling from six to seven.
This simple comparison highlights the current trend with cities with large numbers of domestic connections now dominating, showing the extent to which international connectivity has been shut down by the pandemic. The dramatic shift in the connectivity rankings demonstrates the scale at which the world's connectivity has been re-ordered over the last months.
But IATA's senior vice president for member external relations Sebastian Mikosz, a former CEO of LOT Polish Airlines and Kenya Airways, notes that the "important point is that rankings did not shift because of any improvement in connectivity. That declined overall in all markets".
"There are no winners, just some players that suffered fewer injuries. In a short period of time we have undone a century of progress in bringing people together and connecting markets. The message we must take from this study is the urgent need to re-build the global air transport network," adds Mr Mikosz.
The door is now beginning to reopen to start this rebuilding exercise. However, what is sure is that it will take a lot longer