---
Summary:
New Zealand's Commerce Commission says "concerns remain" with Auckland International Airport's targeted profitability after proposed pricing level review;
It says while investment in terminal and aeronautical infrastructure redevelopment is justified, proposed pricing levels are above its own benchmark figures;
The A4ANZ airline lobbying group says more must be done to protect airport users from "the market power exerted by monopoly airports" across Australia and New Zealand.
---
According to the report, while ComCom is "broadly satisfied" with pricing levels at Christchurch International Airport, "concerns remain" with AIAL's targeted profitability. It acknowledges Auckland Airport's passenger numbers have grown significantly in recent years and could continue to grow justifying the need for the airport's planned NZD1.8 billion (USD1.2 billion) terminal and aeronautical infrastructure redevelopment. But it notes the airport is estimated to earn an additional post tax return of NZD37 million (USD24.6 million) on the majority of its regulated service, the equivalent of NZD0.50 (USD0.30) per passenger per flight over the five years, compared to ComCom's benchmark.
"We consider that the risks associated with the investment programme could justify a return that is slightly higher than our benchmark estimate. However, we aren't persuaded that the full extent of Auckland's targeted return is warranted," says ComCom's deputy chair Sue Begg.
CHART - Auckland International Airport has seen passenger levels grow at stronger annual rates in 2015 to 2017, and while growth levels are down slightly across the first nine months of 2018 , it remains on track to pass the 20 million annual passenger milestone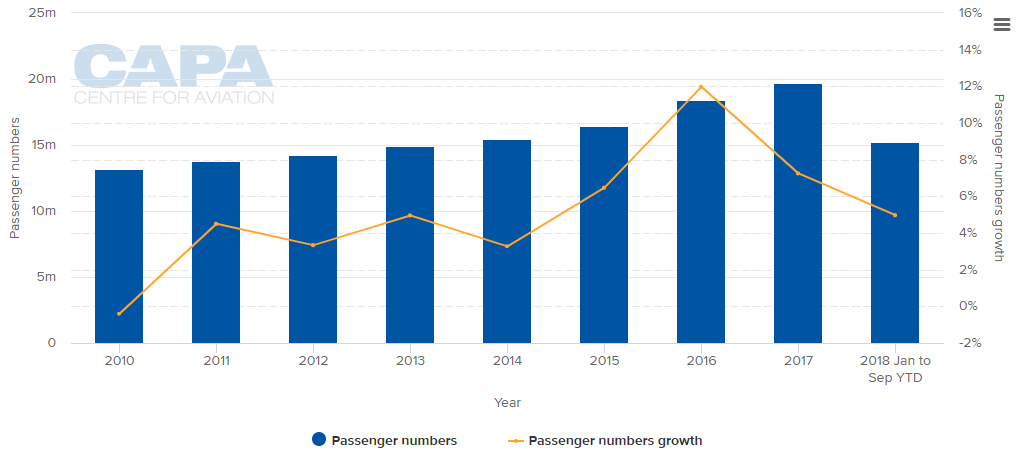 Source: CAPA - Centre for Aviation and OAG
A4ANZ chairman Professor Graeme Samuel believes AIAL has set prices that are not in the long-term interest of consumers. He calls for a stronger regulatory framework for airport charges in New Zealand and says the ComCom report affirmed the serious concerns raised by airlines and other airport users that they were being overcharged.
"The Commerce Commission's analysis reached the conclusion that AIAL was targeting excessive profits, and they were unconvinced by the airport's attempts to justify their pricing. AIAL's decision to again target returns above the Commerce Commission's mid-point WACC estimate makes it clear that New Zealand's light-handed regulatory regime is not appropriately constraining the airport in its ability to extract excessive profits," he says.
A4ANZ says that a stronger regulatory framework would help develop airport-airline negotiations to produce better outcomes for consumers, through improved efficiency in allocation of resources and targeted investment, although the NZ Airports Association (NZAA) argues that the airport's profit is "fair and reasonable".
Responding to the NZAA's description of the charges as 'modest', Professor Samuel says: "Under the light-handed regulatory system, AIAL has clearly been able to exercise its market power to extract excessive profits from airport users."
CHART - Air New Zealand is the largest operator at Auckland International Airport and accounts for more than half of the available seats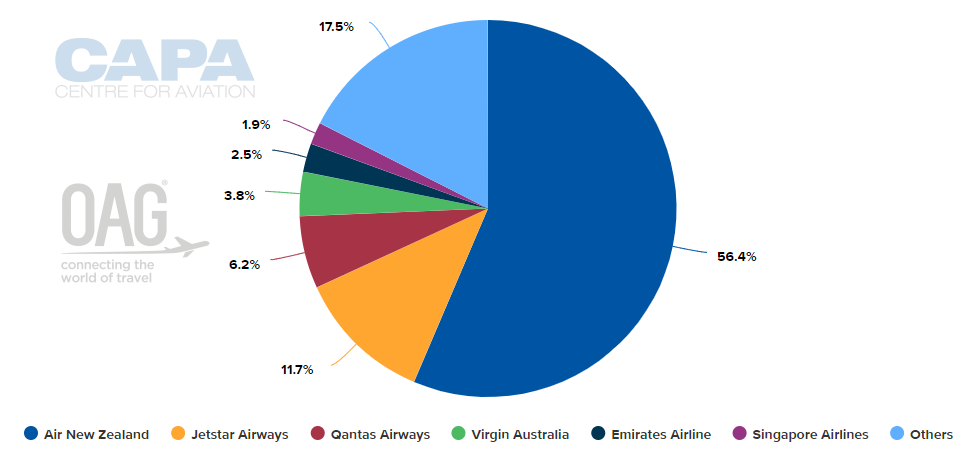 Source: CAPA - Centre for Aviation and OAG (data: w/c 05-Nov-2018)
"It is a fact that an airport or indeed any business with market power has the ability to sustain prices for its services above efficient costs or deliver a poor quality of service. This comes at a cost to the New Zealand community, both financially and through lost opportunities for improving the quality and efficiency of airport services," he adds.
Just a couple of months ago A4ANZ said effective regulation of monopoly airports would deliver over AUD18 billion in economic benefits in Australia and that passengers and the country's economy were paying the price of a failed regulatory system that is powerless to curtail the monopoly power of airports. In a submission to the Productivity Commission's Inquiry into the Economic Regulation of Airports, it claimed a fit-for-purpose regulatory framework for airports would unlock significant benefits to the Australian economy.
These include a consumer surplus of approximately AUD5.9 billion; travel time savings valued at AUD819 million, created by connectivity improvements; and GDP benefits of AUD10.9 billion, due to productivity gains through increases to trade and foreign investment.