While growth moderated slightly compared to 2017, passenger traffic remained resilient "in the face of the global uncertainties affecting many major economies". The 2018 increase is still above the +5.8% compounded average annual growth rate for passenger traffic from 2010 through 2018.
Even with these "short-term challenges", however, ACI World's global medium-term forecast show almost +30% growth in passenger numbers from 2018 to 2023. Over the longer term, passenger traffic worldwide is expected to double in 17 years and projected to grow at an annualised rate of +4.1%, reaching 20.9 billion by 2040.
The key global regions performed as follows in 2018:
Asia Pacific recorded 3.3 billion passengers, up +8.1% year-on-year;
Europe recorded 2.4 billion passengers, up +6.4%;
North America recorded two billion passengers, up +5.0%;
Latin America-Caribbean recorded 651 million passengers, up +5.0%;
Middle East recorded 396 million passengers, up +0.7%;
Africa recorded 214 million passengers, up +9.4%.
The interesting statistic here is the small growth recorded in the Middle East and the much larger one recorded in Africa. While it is still growing from a fairly small base this statistic confirms the view taken in The Blue Swan Daily and CAPA – Centre for Aviation reports that Africa is the continent to watch in the coming years, and particularly so if it can - at last - solve its regulatory conundrum and install something at least approximating to 'open skies'.
Atlanta's Hartsfield-Jackson International, Beijing Capital International and Dubai International were the global top three airports for traffic volume respectively, followed by Los Angeles International and Tokyo Haneda. However, Dubai International was notable for being the slowest growing of the Top 50 airports and in 1H2019 it has seen a shortfall of -5.6% - Beijing Capital's total also fell slightly in 1H2019 after growing by +5.4% in 2018.
Indeed, Dubai International has slipped two places to fifth in the rankings already this year, to the benefit of Los Angeles International and Tokyo Haneda. It could possibly be overhauled by Chicago O'Hare in the full year.
The report found that the air cargo market did not fare as well as passenger traffic in 2018. Global year-over-year volume fell -1.7% in Dec-2018 against the previous year, bringing growth for 2018 overall to +3.4%. It then contracted by -3.2% in the first half of 2019.
Hong Kong International, Memphis International, Shanghai Pudong International (currently the world's eighth busiest passenger airport in 1H2019, up one place from 2018), Incheon International and Ted Stevens Anchorage International Airport were the top five airports respectively for total cargo volumes in 2018. Of those the fastest growing was Memphis (+3.1%) but of the Top 20 it was Doha's Hamad International (+8.8%, 11th position).
ACI World's Annual World Airport Traffic Report, 2019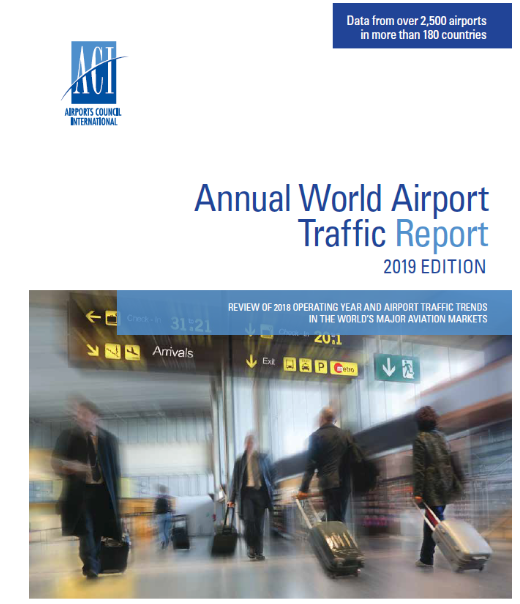 Industry economists review the 2018 operating year and present airport traffic trends including regional commentary, an in-depth analysis of the world's major aviation markets and more.
There is a rather strange aspect to the report. After acknowledging that 2018 growth was greater than the compound average growth rate for 2010-2018 and that growth at an annualised rate of +4.1% can be anticipated through to 2040, ACI takes a swipe at the "protectionist rhetoric - fuelled by isolationist policies…which have swept several major economies in recent times…which has translated into a dismantling of established open trade relationships and regimes". Such policies, it says, are "slowing the global economy" and geopolitical tensions represent the most pressing downside risks over the near-term for continued growth.
It concluded, "A resolution to the trade disputes will help put aviation markets back on track." But these policies have been around for a while, certainly since President Trump took office in 2016, the same year the UK voted to leave the European Union, and the proposition does not really stack up against the facts.
In 2018 all of the top 30 airports, which are distributed through North America, Europe and Asia Pacific, recorded growth. In 1H2019 (Jan-Jun) just four of them did not.
They are Beijing Capital as mentioned above (-0.6%, but Shanghai Pudong International grew by +4.2%); Dubai International, which has its own problems (as featured in this recent insight: Dubai Airports is reviewing its long term master plan, but is it heading up the creek?); Delhi Indira Gandhi International (-7.8% mainly because of the suspension of Jet Airways services); and San Francisco (-0.8%). The average growth rate for the Top 30 in 2018 was +4.93%. In 1H2019 it was +2.8%. Hardly conclusive evidence to back up the observations.
Obviously, there are many ways of interpreting statistics. Germany slipped back into negative economic growth in 2Q2019, having narrowly avoided recession last year. But traffic results for its airports in Aug-2019, just released, show wide disparities in growth rates in both passenger and cargo segments and an overall growth rate of +1% passenger and -5% cargo. Even then, Hamburg airport managed +8.5% passenger, reversing a previous downward trend and Hannover airport managed +25% cargo growth. There is no consistency on which to base broad brush statements.
In our opinion, ACI might better serve its members by focusing on the real and present dangers to air transport, one that transcends the ephemeral one of macroeconomics, namely the proposed increases in aviation taxes and the frightening evolution and advance of the flight shaming movement.