Adelaide, a relatively small destination and capital of the "Festival State" of South Australia, boasts important direct connections to several Asian destinations, including Hong Kong, Singapore and Kuala Lumpur. Markets including India, South Korea and most importantly Japan however are noticeably not currently on the Adelaide route map, and are potential new opportunities for each country's respective flag carriers or LCCs.
CHART - Adelaide airport has had steady capacity increases over the last four years, though is expected to see a slight decline in 2019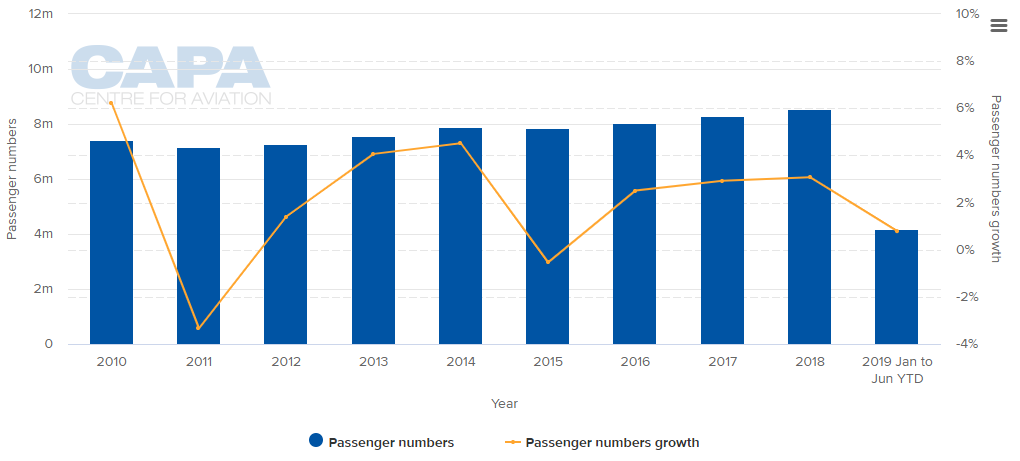 Source: CAPA – Centre for Aviation and OAG
Japan was Australia's fifth largest inbound market for visitor arrivals and for total visitor spend in 2018, and eighth for visitor overnight stays, according to Tourism Australia. Inbound traffic from Japan increased +5.1% year-on-year to a touch under 900,000 passengers, over a third of which flew to Sydney from Tokyo Haneda or Osaka with Qantas, All Nippon Airways (ANA) and Japan Airlines (JAL). Japan was the second largest inbound Asian market (behind China in first place), making it a market with the most amount of potential other than China for new connections such as Adelaide.
Adelaide is Australia's fifth largest city by population, with an immediate catchment area hovering around 1.3 million people within an hour's drive from the city centre. Its numerous tourism offers, its potential for growth and its affordability compared with the Australian major cities Sydney and Melbourne, would certainly mean a portion of inbound traffic could benefit from convenient nonstop service to Adelaide over a transfer from Sydney's international to domestic terminal.

While foreign air carriers could see Adelaide as an option, it is the Qantas group that is best positioned to take the risk on Adelaide, given its dominant market share in Australia-Japan markets. ANA has already committed to the capital of Western Australia by launching Perth-Tokyo service in Sep-2019, boosting the state's tourism industry and potentially attracting tens of thousands of new visitors in both directions and so likely rules out Adelaide any time soon.
The Airbus A321XLR will hep unlock a variety of possibilities for destinations such as Adelaide. With its 8,700km range, the A321XLR is being promoted with the potential to unlock smaller point-to-point routes and improve response to seasonal demand, currently not feasible in terms of demand on offer served with widebodies and markets not operable with existing narrowbodies.
https://corporatetravelcommunity.com/qantas-group-signs-up-for-the-new-a321neoxlr-but-will-they-fly-under-the-mainline-or-jetstar-brand/
Qantas' LCC business Jetstar could justify expanding direct services from secondary but fast-growing Australian capital cities, in particular Perth but also Adelaide. Following announcements at the Paris Airshow, Jetstar is to receive at least 36 of the type delivered from 2024 onwards.
For Qantas, there is a cost. It would involve diverting traffic away from Sydney and Melbourne services and losing some of the advantage of concentrating higher hub volumes. But then, a direct service always has the impact of stimulating new traffic; and looking three or four years out, the potential for service will intensify as time passes.
What is clear is that Adelaide will not have a better opportunity to showcase its home market than when the air service development community descends on the city for the World Routes network development forum in just seven weeks time. With executives from airlines across the world spending time in Adelaide, the airport, city and region will be hopeful the experience will help them colour some of those white dots on their network map and the A321XLR could be the vehicle to achieve it.