Our regular round-up delivers some of the latest key aviation and travel news stories from across the Continent.
---
Africa World Airlines and Cape Verde Airlines launch new partnership
Africa World Airlines (AWA) and Cabo Verde Airlines (CVA) announced a partnership to enable passengers to connect between the airlines via Lagos on a single ticket, effective 01-Feb-2020. AWA customers will be able to connect with CVA via Sal to destinations in Cape Verde, Brazil, France, Italy, Portugal and the US. CVA customers will be able to connect with AWA via Accra to destinations in Ghana, Ivory Coast, Liberia, Nigeria and Sierra Leone.
---
Jambojet launches group booking product
Jambojet has launched the 'Shukrani' group booking product for groups of 15 or more passengers. The product includes one free seat per group, a dedicated check in desk, meet and greet services and assigned group seating. CEO Allan Kilavuka stated: "We have seen an increased interest in special requests from groups and a need to offer a tailor made product for this customer segment".
---
SAA to cancel and consolidate services, third party contracts under review
South African Airways (SAA) reported the airline's business rescue practitioners will develop and publish a business rescue plan by the end of Feb-2020 for presentation to creditors "shortly thereafter". Other developments under its business rescue proceedings is seeing the carrier cancel and consolidate selected scheduled services where there is low demand based on forward bookings and accommodate affected passengers on alternative services operated by SAA and its Star Alliance partners. The business rescue practitioners will also continue to review all third party contracts with the intention to cancel any "onerous" contracts and renegotiate other contracts "into commercially accepted terms". SAA stated: "The conservation of cash through various cost reduction measures is critical to running an efficient airline and to create a platform on which a future for a restructured entity can be built".
---
Akwa Ibom Government to list Ibom Air on stock exchange
Akwa Ibom's Governor Udom Emmanuel said the state government intends to list shares in Ibom Air on the Nigerian Stock Exchange. Residents of Akwa Ibom would be given first preference in acquiring shares. Mr Emmanuel said the share listing would enable "interested Nigerian investors to buy into the success of the company as co-owners with the State Government".
---
SA Express interim CEO notes 'pressure' on government owned airlines
SA Express interim CEO Siza Mzimela has stated businesses remain affected by "the bleak economic forecast" and the aviation industry in particular is "under much scrutiny as even more pressure is being exerted on government-owned airlines such as SA Express, whose validity of existence is increasingly questioned". Ms Mzimela added: "While it is easy to make unfair and unrealistic comparisons as a case to do away with the airline, there's so much more to be considered. There is a huge contrast between SA Express and private competitors because they are purely commercial without any of the crucial nation-building subtleties required of this airline".
---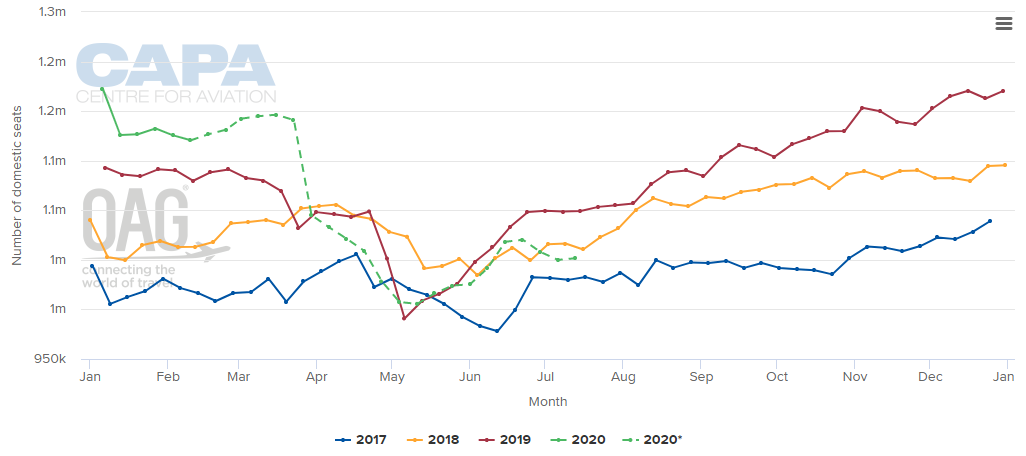 CAPACITY SNAPSHOT: African Domestic Seats (as at 03-Feb-2020)Source: CAPA – Centre for Aviation and OAG (NOTE: *These values are at least partly predictive up to 6 months ahead and may be subject to change)
---
News Briefs
Rwanda is considering removing visa fees for citizens of countries in the African Union (AU), the Commonwealth of Nations and Organisation Internationale de la Francophonie in what would be a significant move to helping liberalise mobility across the continent.
International Air Transport Association (IATA) reported FTKs continued to grow by double digits in Africa with a 20% year-on-year increase in Nov-2019. Performance was supported by "brisk" growth of 40% in the Africa-Asia market.
Morocco's National Tourism Confederation stated Morocco recorded nearly 13 million visitor arrivals in 2019, up +5.2% year-on-year. France was the largest source market for visitors, accounting for two million visitor arrivals during this period.
---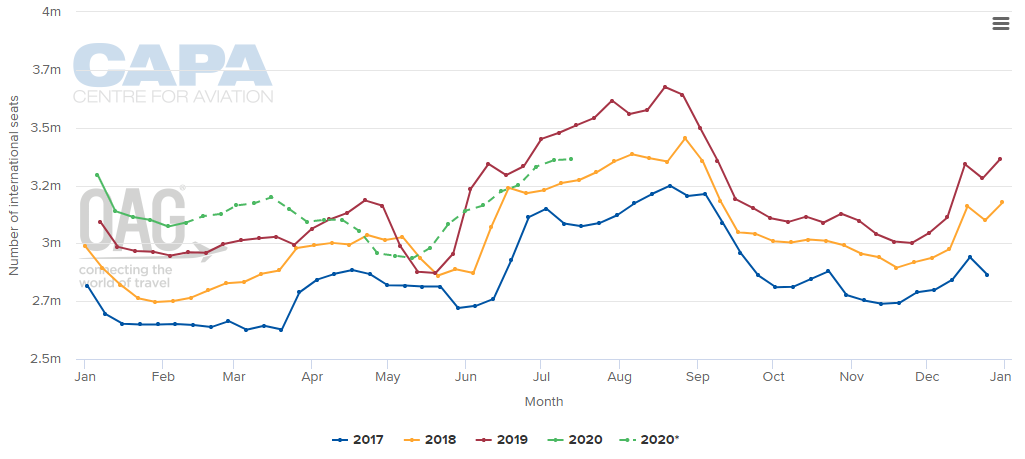 CAPACITY SNAPSHOT: African International Seats (as at 03-Feb-2020)Source: CAPA – Centre for Aviation and OAG (NOTE: *These values are at least partly predictive up to 6 months ahead and may be subject to change)
---
Aircraft News
South African Airways (SAA) replaced A340-600 with A350-900 on daily Johannesburg-Frankfurt service, effective 02-Feb-2020.
EgyptAir is scheduled to receive two A320neos (SU-GFK, MSN 9519 and SU-GFL, MSN 9526) and one A220-300 aircraft (MSN 55077) in Mar-2020, according to the CAPA Fleet Database. The two A320neos are owned and managed by AerCap.
---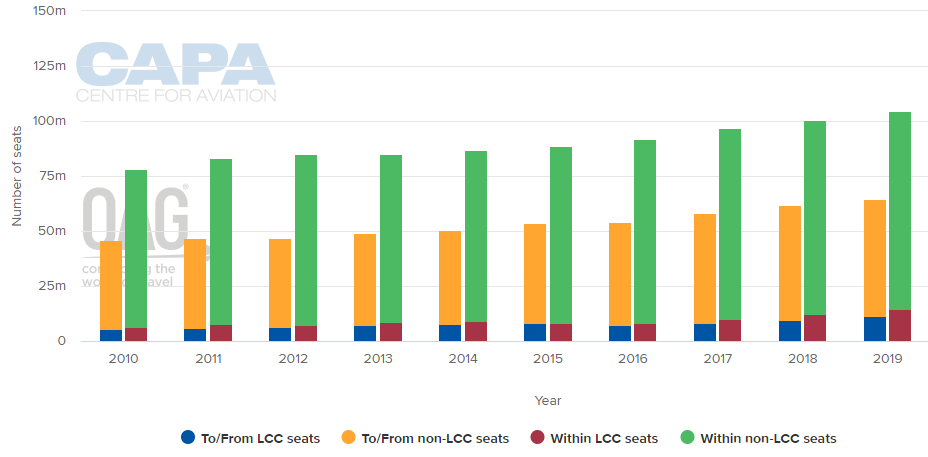 MARKET SNAPSHOT: Africa LCC penetration (2010 – 2019)Source: CAPA – Centre for Aviation and OAG
---
Route Update
Royal Air Maroc plans to launch twice weekly Laayoune-Rabat service, effective 30-Mar-2020. The carrier plans to operate the route with Boeing 737-800 equipment.
Air Mauritius plans to increase Cape Town and Johannesburg frequency in Apr-2020, according to reports. The airline operates twice weekly Mauritius-Cape Town and daily Mauritius-Johannesburg services, based on current flight schedules.
EgyptAir has adjusted the operational dates for Boeing 787-9 service on Cairo-London Heathrow route, reports Routes Online. The carrier plans to operate three of 14 weekly frequencies with 787-9 aircraft from 29-Mar-2020 to 13-Sep-2020, replacing 737-800 equipment.
Misha Travels has reportedly launched an Abuja-Kaduna service with 50-seat Bombardier CRJ to meet demand driven by safety and security issues impacting road and rail travel between the cities.
Air Peace plans to commence Mumbai service by the end of Mar-2020. The carrier also plans to commence Tel Aviv service later in 2020 after receiving approval to operate the route from Nigeria's Government.
Comair plans to add seven weekly frequencies to Harare, introducing a second daily frequency. The airline operates seven times weekly Johannesburg-Harare service, according to OAG.
Ukraine International Airlines (UIA) plans to increase Kyiv Boryspil-Cairo frequency from three to seven times weekly, effective 03-Mar-2020. The service operates with Boeing 737, according to OAG.
Nouvelair Tunisie plans to resume weekly Djerba-Berlin Tegel scheduled charter service, effective 30-Jun-2020 after a two year hiatus. The carrier plans to operate the route with A320 equipment.
ASKY Airlines plans to commence three times weekly Lomé-Cotonou-Bamako service on 03-Feb-2020, according to the CAPA Route Changes Database. Overall Bamako frequency will increase from four times weekly to daily.