Our regular round-up delivers some of the latest key aviation and travel news stories from across the Continent.
---
Africa is Lufthansa Group's fastest growing market but held back by infrastructure investments
Lufthansa Group chairman and CEO Carsten Spohr said Africa is the group's fastest growing market, registering growth of 10% per annum in recent years. He noted that some of the group's "bottlenecks" related to infrastructure limitations in the continent. Commenting on the development of Kigali Bugesera International Airport, Mr Spohr stated: "Infrastructure is a key issue in Africa and globally and we welcome the move to build a new airport in Rwanda as it will enable us to expand our activities in Rwanda and Africa".
---
Egypt and Djibouti discuss enhancing air transport ties
Egypt's Minister of Civil Aviation Mohamed Manar has met with Djibouti's Ambassador to Egypt Mohamed Dahr Harsi in Cairo to discuss ways of enhancing joint cooperation in the field of air transport. Both parties also discussed enhancing cooperation in the field of maintenance and ground services as well as studying a direct passenger and cargo service between both countries.
---
Air Seychelles considers the A321XLR after its A320neos help it return to positive cash flow
Air Seychelles CEO Remco Althuis said the airline is potentially interested in acquiring the A321XLR, but added: "First we have to deliver on our turnaround plan". Mr Althuis commented: "The XLR would be a fabulous tool to scale up. We could do destinations in a 10 hour circle around the Seychelles". He said potential destinations could include Cape Town and Perth. The airline expects to start generating positive cash flow once its second A320neo enters service. Mr Althuis stated: "The business is not generating cash yet, but that should be achieved within a year".
---
Kenya Airways to review plans for Tel Aviv service following opening of Sudanese airspace
Kenya Airways chairman Michael Joseph described the opening of Sudan's airspace to Israeli aircraft as "good news", which will enable the airline to review its plans to commence Nairobi-Tel Aviv service via Sudanese airspace. Mr Joseph commented: "I don't know when we can start but we are evaluating the possibility". As previously reported by CAPA, Kenya Airways applied to operate to Tel Aviv via Sudan's airspace in Jun-2018 but the request was denied.
---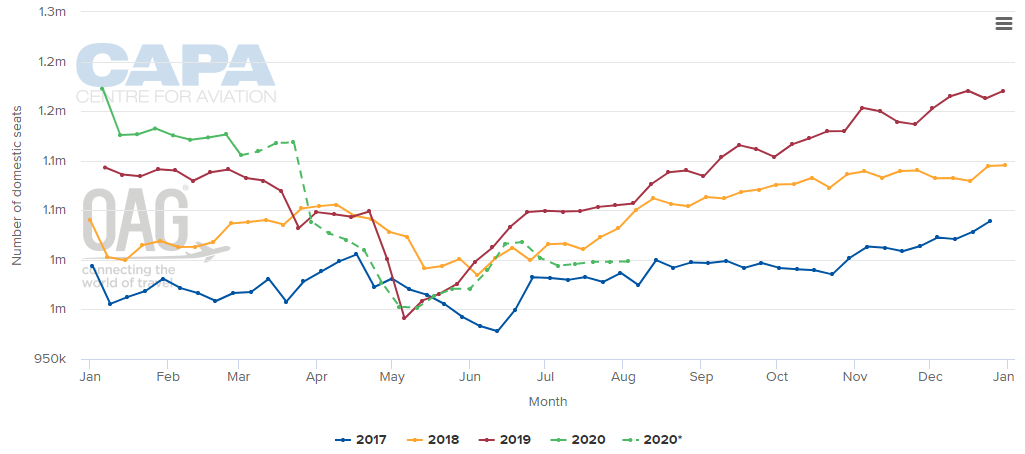 CAPACITY SNAPSHOT: African Domestic Seats (as at 24-Feb-2020)Source: CAPA – Centre for Aviation and OAG (NOTE: *These values are at least partly predictive up to 6 months ahead and may be subject to change)
---
News Briefs
Official data from Statistics South Africa shows visitor arrivals into South Africa for the 2019 calendar year were down -2.3% to 10.9 million. Arrivals from Zimbabwe and Swaziland both increased, but large markets such as Lesotho, Mozambique and Botswana all declined.
Ethiopian Airlines announced its mobile app reached one million downloads. The app enables passengers book, pay, check in, board as well as receive flight status notifications.
Kenya Airways' routes cuts to China has resulted in the loss of USD8 million in revenue, according to acting chief executive Allan Kilavuka. The airline like other global carriers suspended operations as a precaution against coronavirus.
Air Mauritius is launching new amenity kits for its passengers with environmental considerations at the heart of the project.
---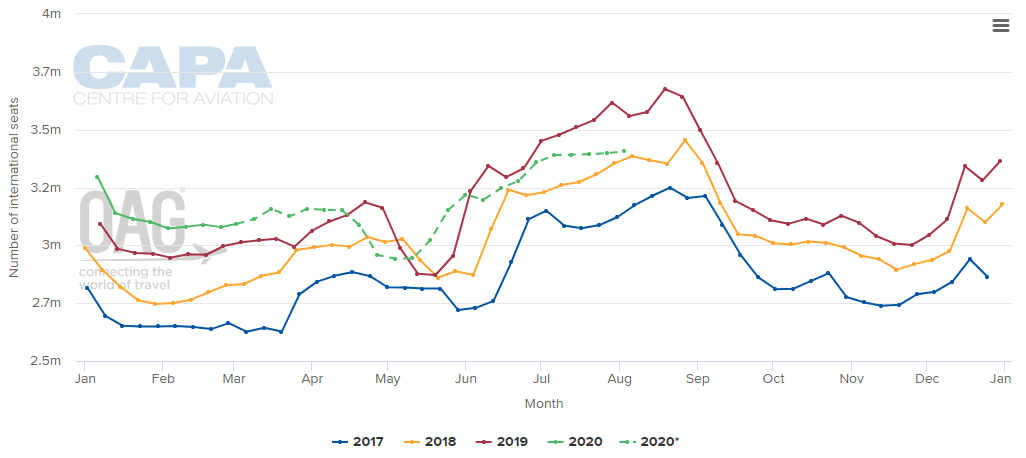 CAPACITY SNAPSHOT: African International Seats (as at 24-Feb-2020)Source: CAPA – Centre for Aviation and OAG (NOTE: *These values are at least partly predictive up to 6 months ahead and may be subject to change)
---
Aircraft News
Air Senegal plans to increase capacity on some of its intra-African routes. It will deploy A321 on daily Dakar-Abidjan service from 20-Apr-2020, six of seven weekly Dakar-Casablanca frequencies, also effective 20-Apr-2020 and on daily Dakar-Conakry service from 11-May-2020.
EgyptAir received one A320-200neo (SU-GFL, MSN 9526), as recorded by the CAPA Fleet Database. The carrier now operates three aircraft of this type. It has also received EgyptAir received a ninth A220-300 (SU-GFF, MSN 55077) with three additional aircraft still to be delivered.
Ethiopian Airlines has adjusted the schedule for its planned Addis Ababa-Chennai service, replacing Boeing 787-8 with the smaller 737-800, reports Routes Online. The three times weekly service is scheduled to launch from 01-Apr-2020 and the East African carrier will be the sole operator on the route.
Elix Aviation Capital Limited has delivered one Bombardier Dash 8 Q200 (MSN 510) on lease to Safarilink.
Air Zimbabwe reportedly plans to lease out its two recently acquired Boeing 777-200ERs to raise funds. The aircraft were both acquired from Malaysia Airlines, according to the CAPA Fleet Database.
---

CAPACITY SNAPSHOT: Africa – USA since 2015 (as at 24-Feb-2020)Source: CAPA – Centre for Aviation and OAG
---
Route Update
EgyptAir launched weekly Sharm el-Sheikh-Luxor service, effective 20-Feb-2020, as recorded by the Route Changes Database. The carrier plans to operate the service with A220-300 equipment.
Sichuan Airlines plans to launch weekly Beijing-Chengdu-Cairo service from 28-Feb-2020.
Air Senegal plans to increase Dakar-Barcelona-Marseille-Dakar frequency from three to four times weekly, effective 28-Jun-2020. The airline only commenced the service in Dec-2019.
British Airways is boosting its London Heathrow-Cape Town service from two to five times weekly from 30-Mar-2020 to 19-Apr-2020. This short-term increase has been made possible by the redeployment of aircraft resources previously committed to serving the Chinese market.
easyJet plans to launch twice weekly Toulouse-Essaouira service, effective 31-Mar-2020. The route is currently unserved, according to OAG.
TUI UK launched Birmingham-Sharm El Sheikh service with Boeing 737-800 equipment. As previously reported, the leisure carrier will also reintroduce package holidays and hotel bookings for Sharm el-Sheikh for the winter 2020/2021 and summer 2021 seasons.