Our regular round-up delivers some of the latest key aviation and travel news stories from across the Continent.
---
SPECIAL NOTE: Coronavirus
The COVID-19 outbreak has significantly impacted air service to, from and within Africa. Initially, this was on services into China and parts of Asia, more recently into Italy and wider across Europe, and latterly within the continent as an increasing number of cases have been recorded.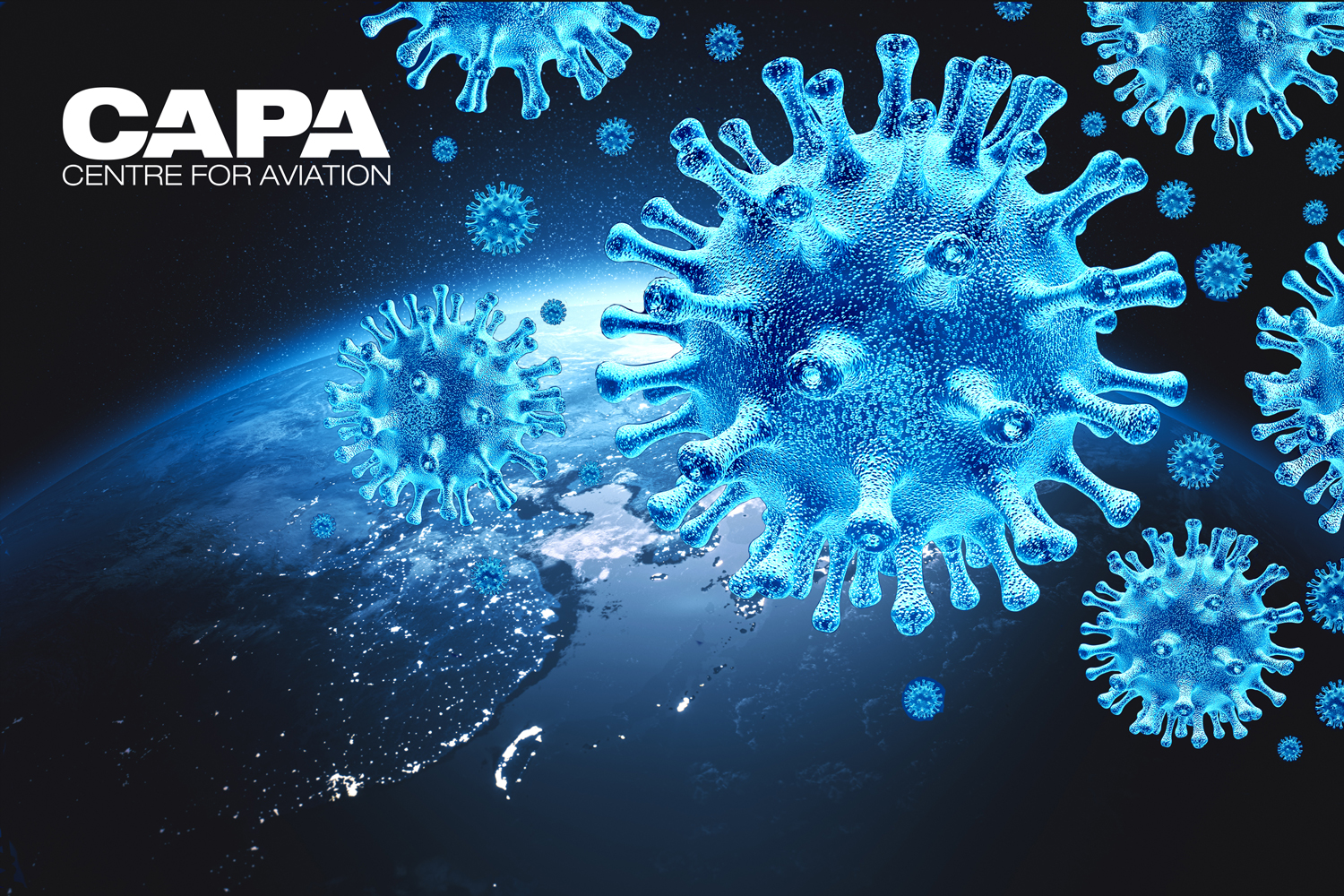 This has seen restrictions on arrivals, and cancellations of numerous flights across the region. This is a fluid situation that is changing by the day. To keep up to date on the devastating effect of the virus on the aviation and supporting industries, read this new essential daily update from CAPA – Centre for Aviation, which curates intelligence from the World Health Organisation (WHO) and myriad industry sources. Its mission is to help cut through the noise and provide a useful daily snapshot of the COVID-19 outbreak evolution, together with key industry developments.
---
SA Express temporarily suspends all operations due to coronavirus impact
South African regional carrier SA Express announced the suspension of operations from 18-Mar-2020 for an indefinite period, due to the impact of coronavirus. The carrier intends to review and optimise its network and operations during this period, and all non essential staff will be placed on compulsory leave.
---
African airlines challenged by high taxes, blocked funds and overpriced fuel
African Airlines Association (AFRAA) secretary general Abdérahmane Berthé, in a presentation to stakeholders, urged regulators to "closely engage with aviation stakeholders in order to establish and maintain a conducive environment for air transport growth", which will in turn lead to "better skies for African airlines and citizens". He noted that "high cost of operations due to high taxes and charges imposed by governments, poor market access, blocked funds and overpriced jet fuel" are just a few of the issues which challenge African airlines, meaning they are "unable to grow and offer competitive fares for more people to travel". However, Mr Berthé also acknowledged that airlines "need to cooperate more so the industry can advance and contribute significantly to national economies". He explained the African airline intercontinental market share is shrinking, with African Operators' market share now at 20% on average compared to 40% in the 1990s.
---
Air Botswana is 'trying to commercialise'
Air Botswana GM Agnes Khunwana said the carrier is "trying to commercialise", in order to "self sustain" in an interview with BBC News. "There's a lot of room for growth and improvement if airlines are run commercially as a business enterprise, rather than just as a government department", she stated. Ms Khunwana also noted that while operating an airline in Africa is a "struggle", with about "a third" of costs going to fuel, Air Botswana is now pursuing a "five-year turnaround strategy", and she is "confident" the carrier will "break even" by the end of 2021. In order to make profits, the carrier would need to operate "as a business", she noted, which would include optimising "in terms of process efficiencies" and fuel management.
---
fastjet Group trading 'slightly' below expectations in two months ended Feb-2020
fastjet Group stated trading for the two months ended Feb-2020 was slightly below expectations, driven primarily by an oversupply of capacity in the Harare-Johannesburg and Bulawayo-Johannesburg markets and the continued inherent economic challenges in Zimbabwe. fastjet Zimbabwe is therefore consolidating its schedule with reduced frequency where there is excess supply of capacity and weaker than expected yields for the next 100 days. The Zimbabwe domestic market is performing to management's expectations, it says.
---
Kenya to allocate USD5 million to aid recovery of tourism sector
Kenya's Government reportedly plans to allocate KES500 million (USD4.9 million) to support the recovery of the tourism sector following the negative effect of the coronavirus outbreak. Part of the funds are to be used to restore confidence in Kenya as a travel destination.
---
Air Zimbabwe is seeking to lease out 777, redeploy ERJ145
Air Zimbabwe acting CEO Joseph Makonese stated the airline intends to lease its Boeing 777 aircraft "because we do not have finances and human capital to operate the aircraft at the moment". Mr Makonese also said the airline hopes to redeploy one Embraer ERJ145 on 01-Apr-2020 following routine maintenance, but noted: "We are still having delays due to foreign exchange control issues".
---
Ghana's airport solar power infrastructure initiative in advanced stage
Ghana's Minister for Aviation Joseph Kofi Adda reported the nation's initiative for major airports to be fully solar powered is in an advanced stage. Mr Adda explained the initiative is estimated to cost USD10 million and aims to reduce power costs by 30%.
---
CAPACITY SNAPSHOT: African Domestic Seats (as at 16-Mar-2020)Source: CAPA – Centre for Aviation and OAG (NOTE: *These values are at least partly predictive up to 6 months ahead and may be subject to change)
---
News Briefs
Air Peace has launched a mobile app, available through the Apple App Store and Google Play Store. The app features booking, payment and check in functionality.
Tunisair CEO Elyes Mankbi stated the airline is expected to lose TND70 million (USD24.51 million) in Mar-2020 and TND80 million (USD28.01 million) in Apr-2020 due to the outbreak of coronavirus, according to a Reuters news article.
Mauritius reported a small year-on-year decline in visitor arrivals in Feb-2020. Statistics Mauritius says 111,560 arrivals were recorded, down -3.5% on Feb-2019. Its two largest source markets still reported growth: arrivals from France were up+6.2% and from Germany rose +1.8%.
Halsted's Aviation Corporation has opened a lounge at the domestic departures terminal of Harare's Robert Gabriel Mugabe International Airport.
Sudan's Sovereign Council declared a public health emergency and closed all airports, ports and land crossings, in order to reduce the spread of coronavirus. Only certain services, such as scheduled cargo services and humanitarian aid, will be allowed entry into the country.
---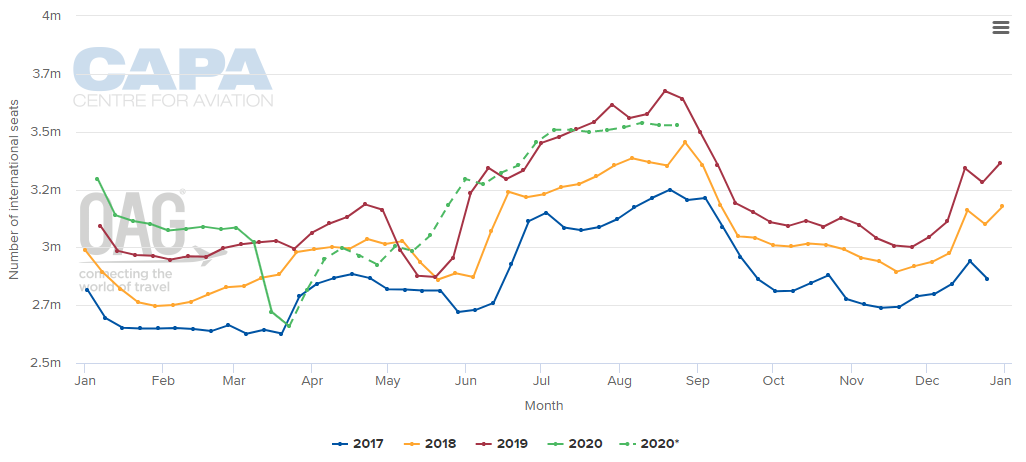 CAPACITY SNAPSHOT: African International Seats (as at 16-Mar-2020)Source: CAPA – Centre for Aviation and OAG (NOTE: *These values are at least partly predictive up to 6 months ahead and may be subject to change)
---
Aircraft News
Air Austral has scheduled the introduction of A220-300 equipment on Reunion Roland Garros-Mauritius service from early Jan-2021, according to Routes Online. The airline's three A220-300s are expected to be delivered from late 2020.