Our regular round-up delivers some of the latest key aviation and travel news stories from across the Continent.
---
SPECIAL NOTE: Coronavirus
The COVID-19 outbreak has significantly impacted air service to, from and within Africa. Initially, this was on services into China and parts of Asia, more recently into Europe, and latterly within the continent as an increasing number of cases have been recorded.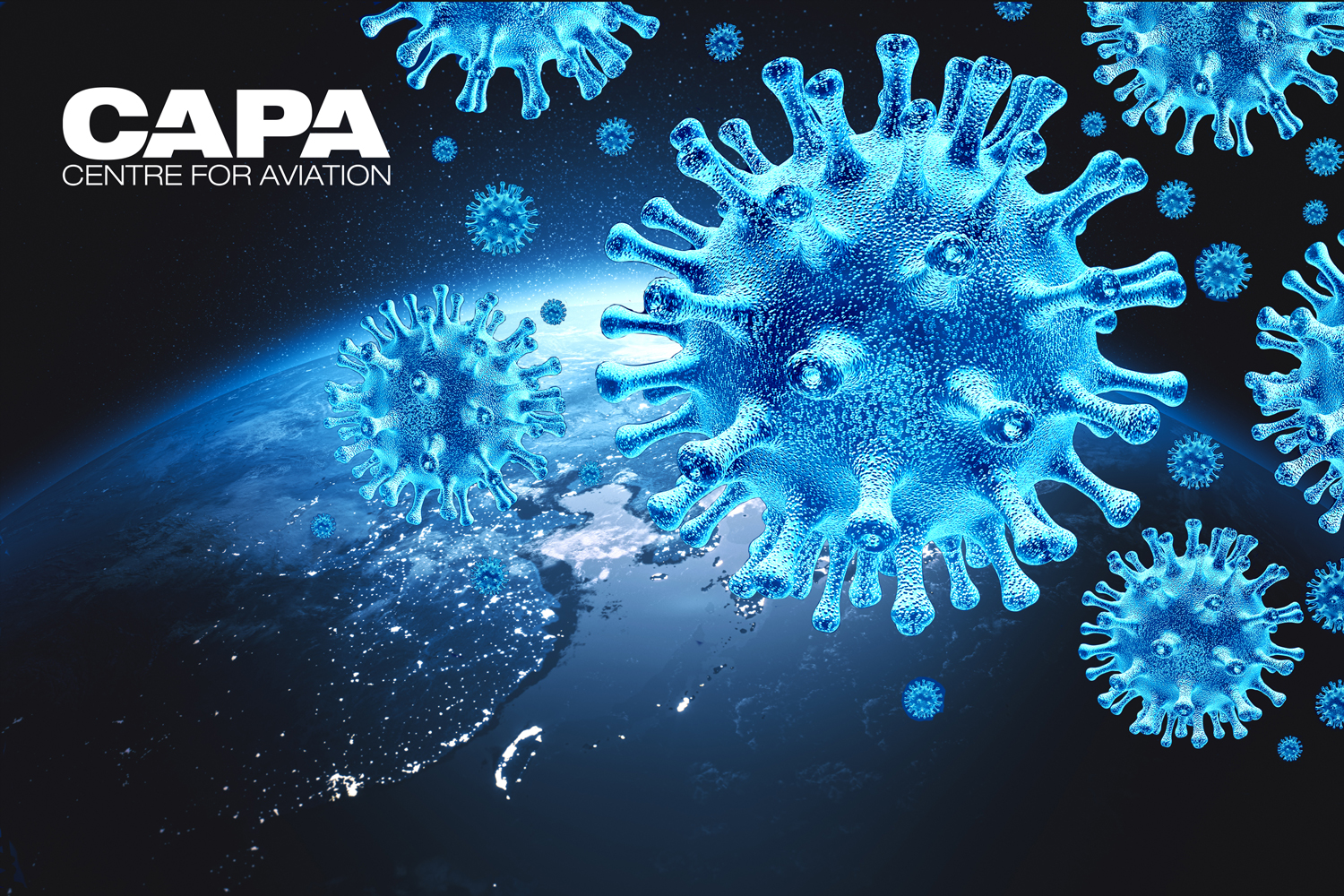 This has seen restrictions on arrivals, and cancellations of numerous flights across the region. This is a fluid situation that is changing by the day. To keep up to date on the devastating effect of the virus on the aviation and supporting industries, read this new essential daily update from CAPA – Centre for Aviation, which curates intelligence from the World Health Organisation (WHO) and myriad industry sources. Its mission is to help cut through the noise and provide a useful daily snapshot of the COVID-19 outbreak evolution, together with key industry developments.
---
AFRAA urges govt action to support African airlines suffering losses due to coronavirus
African Airlines Association (AFRAA) secretary general Abderahmane Berthé reported African airlines are "making losses due to substantial schedule changes, travel restrictions and cancellations" caused by the negative effects of coronavirus on travel demand. AFRAA urged African governments to consider subsidising and compensating losses for African airlines, as well as alleviating exogenous operating costs, in order to assure the industry's continued viability. Mr Berthé recommended African airlines "engage their stakeholders to develop an all-inclusive proactive response strategy that addresses the adverse impact of the COVID-19 on their business to ensure airlines recover effectively to support key economic sectors".
---
South African Airways seeks two month extension to rescue plan deadline
South African Airways' (SAA) business rescue practitioners Les Matuson and Siviwe Dongwana requested the deadline for publishing a business rescue plan be extended until 29-May-2020. "Given the early stages of Covid-19 and the measures implemented by the Cabinet, the practitioners are of the view that this assessment will not, realistically, be finalised before 31-Mar-2020", they stated. Mr Matuson and Mr Dongwana also noted it is "quite clear that SAA will experience difficulties in completing the plan without having substantially concluded the section 189 process with the consulting parties", while "at the same time, the ZAR has weakened significantly against major currencies, with negative effects for SAA".
---
Nigerian airlines are 'suffering heavily from the impact of the coronavirus'
Airline Operators of Nigeria (AON) chairman Nogie Meggison urged aviation agencies through Nigeria's Federal Ministry of Aviation "to support domestic airlines that are the drivers of our national economy". "Nigerian airlines are suffering heavily from the impact of the coronavirus issue as the passenger numbers have dropped drastically and our overheads remain the same on many fronts and even increasing significantly on other fronts", he stated. Mr Meggison recommended aviation agencies reduce charges and that the government pay for aircraft disinfections and other costs relating to the coronavirus, such as thermal scanners and training.
---
SA Express business rescue practitioners to file for liquidation as COVID-19 inhibits funding search
SA Express business rescue practitioners Phahlani Mkhombo and Daniel Terblanche plan to "begin a process to convert the current business rescue proceedings of the company into liquidations... with immediate effect", due to an inability to obtain necessary funding. "Without funding or PCF [post commencement funding] which unfortunately cannot be quantified with certainty at this stage due to the recent outbreak of the COVID-19, the business rescue will not succeed", they stated. However, they noted: "Should the government be able to secure funding or PCF before the conversion application is heard in court, this application will be withdrawn".
---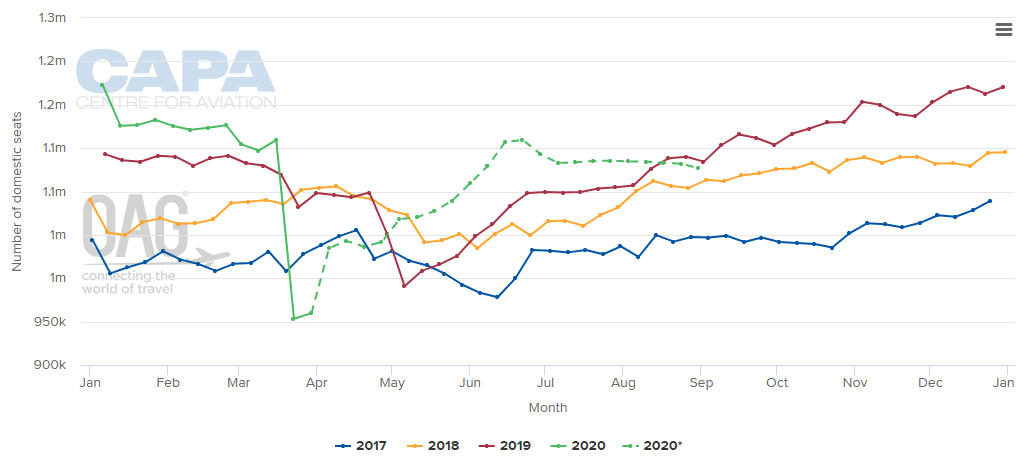 CAPACITY SNAPSHOT: African Domestic Seats (as at 23-Mar-2020)Source: CAPA – Centre for Aviation and OAG (NOTE: *These values are at least partly predictive up to 6 months ahead and may be subject to change)
---
News Briefs
Ethiopian Airlines lost USD190 million in revenue during Feb-2020 and Mar-2020, according to its CEO Tewolde GebreMariam. He clarified this "is not a loss but we have lost that much revenue". As a result Ethiopian Airlines has "scaled down its operation by 25%" and "grounded more than 20 widebody aircraft," he noted.
International Air Transport Assocation (IATA) regional VP for Africa and the Middle East Muhammad Ali Albakri stated Morocco has suspended airport landing slot rules due to coronavirus impacts. Previously, airlines were required to use most of their scheduled services or else forfeit landing slots at airports.
Cape Verde's Prime Minister Ulisses Correia e Silva said the government will postpone the sale of its 39% stake in Cabo Verde Airlines, as it is not the right time to sell and the airline "is clearly in the group of businesses which will be the subject of support measures".
Ghana's Government has reported the closure of Accra Kotoka International Airport's VIP lounge to all diplomatic missions, international organisations, and honorary consulates due to coronavirus concerns. The VIP Lounge's services will recommence following the resolution of the coronavirus situation.
In Nigeria, Nigerian Aviation Handling Company (NAHCO) and Skyway Aviation Handling Company (SAHCOL) announced their intent to lower cargo handling ramp charges by 40% to 70%.
---
CAPACITY SNAPSHOT: African International Seats (as at 23-Mar-2020)Source: CAPA – Centre for Aviation and OAG (NOTE: *These values are at least partly predictive up to 6 months ahead and may be subject to change)
---
Aircraft News
Air Lease Corporation announced the delivery of one A320-200neo to Air Seychelles, on a long term lease basis. The aircraft is equipped with CFM International LEAP-1A26 engines, and will replace an A320 previously on lease by the carrier from Air Lease Corporation. The new aircraft (S7-PTI, MSN 9394) is Air Seychelles' second A320neo, according to the CAPA Fleet Database.
Kenya Airways will reportedly remove 30 of its 36 aircraft from service, with the remaining six to operate domestic and cargo services. CEO Allan Kilavuka stated the airline will place 50% of its fleet in long term storage and the other half will undergo maintenance.