Our regular round-up delivers some of the latest key aviation and travel news stories from across the Continent.
---
SPECIAL NOTE: Coronavirus
The COVID-19 outbreak has significantly impacted air service to, from and within Africa. Initially, this was on services into China and parts of Asia, more recently into Europe, and latterly within the continent as an increasing number of cases have been recorded.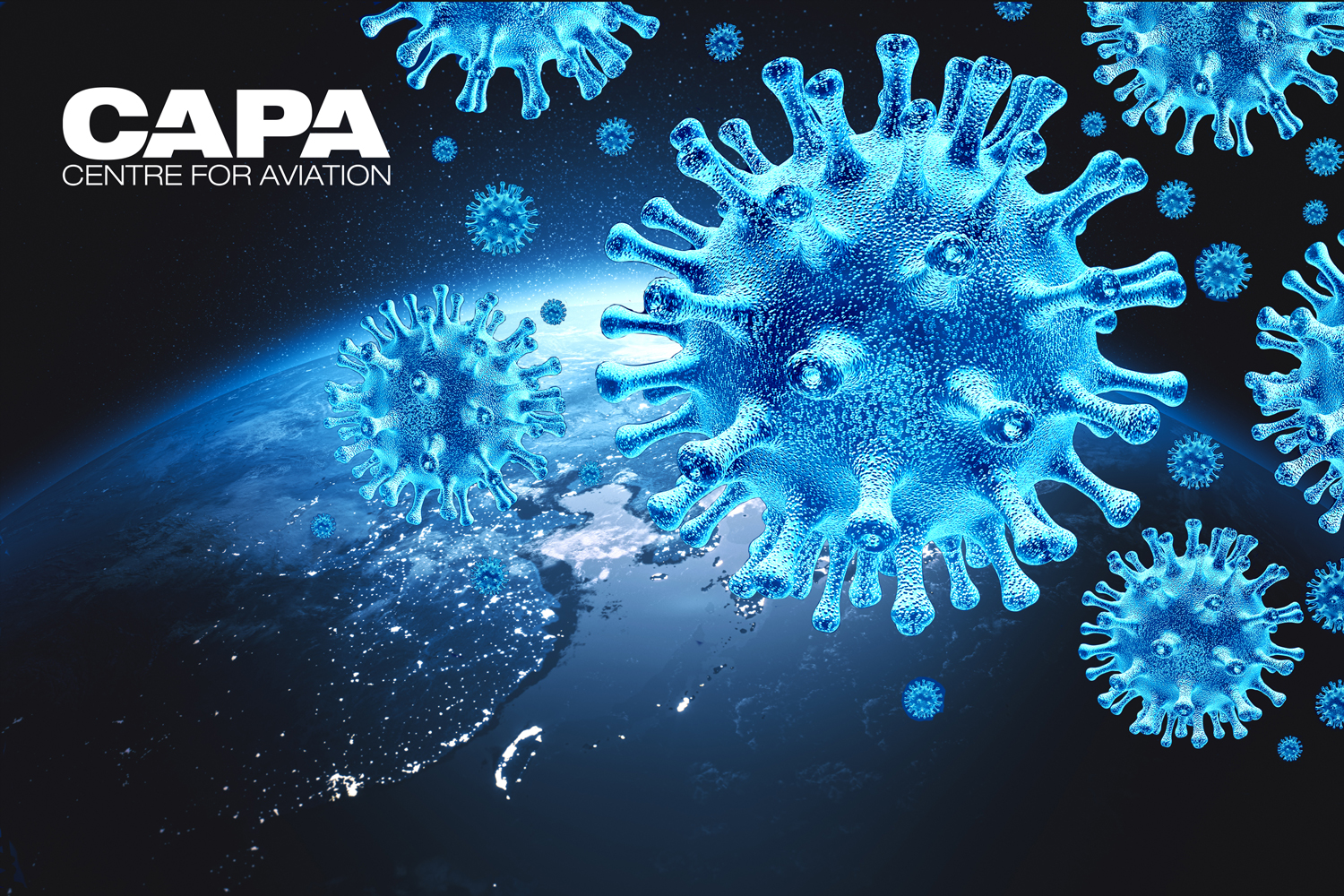 This has seen restrictions on arrivals, and cancellations of numerous flights across the region. This is a fluid situation that is changing by the day. To keep up to date on the devastating effect of the virus on the aviation and supporting industries, read this new essential daily update from CAPA – Centre for Aviation, which curates intelligence from the World Health Organisation (WHO) and myriad industry sources. Its mission is to help cut through the noise and provide a useful daily snapshot of the COVID-19 outbreak evolution, together with key industry developments.
---
Cameroon Government rejects Camair-Co request for financial support…
Cameroon's Minister of Transport Jean Ernest Ngallé Bibéhé reportedly rejected a request from Camair-Co to provide XAF2 billion (USD3.4 million) per month to the airline to support continued operations during the coronavirus pandemic. Camair-Co CEO Louis Georges Njipendi Kouotouo reportedly said the airline will need to place "non-essential personnel on technical unemployment" if it does not receive financial support from the government.
---
… but Ghanaian airlines receive six month reprieve on repayments to banks
Ghana's President Nana Akufo-Addo has announced Ghanaian banks will grant a six month moratorium on principal repayments by companies in the airline and hospitality industries, effective 01-Apr-2020, as part of measures to mitigate the impact of the coronavirus pandemic. Commercial and private aircraft movements in Ghana are restricted, with the exception of cargo operations and essential services.
---
Airlink proposes domestic and international flight resumption from 20-Apr-2020
Airlink (South Africa) says it plans to resume eight domestic and eight international services from 20-Apr-2020, following a temporary suspension of all services since 26-Mar-2020 in compliance with directives from South Africa's Government. The domestic routes are from Cape Town to George and from Johannesburg to Bloemfontein, Kimberley, Pietermaritzburg, Mthatha, Kruger, Hoedspruit and Richards Bay. The proposed international services are from Johannesburg to Maseru, Eswatini, Harare, Bulawayo, Saint Helena, Ndola, Lusaka and Gaborone. The airline's plan to operate independently using its own '4Z' flight code (instead of 'SA') will be brought forward from 11-Jun-2020 to its planned resumption date.
---
South African Government confirms application received to liquidate SA Express
South Africa's Department of Public Enterprises confirmed the business rescue practitioners (BRP) for SA Express filed a court application to liquidate the airline. The department says it will determine its course of action after studying the liquidation application. The department states allegations that the government deliberately withheld financial support to the BRPs, and that the department's approach to the process was not constructive, are baseless and that it considered an initial funding proposal from the BRPs, but the proposal "did not meet the basic requirements as it lacked a credible business case". It adds that the government is not currently in a position to provide "further fiscal comfort" to SA Express, particularly due to the "difficult economic times" and "competing priorities" resulting from the coronavirus pandemic.
---
IATA: Africa recorded world's fastest cargo growth in Jan-2020
IATA, via its Mar-2020 Africa and Middle East regional briefing, reported (30-Mar-2020) African airlines recorded the largest growth in CTKs of any region in Jan-2020, but the increase of 6.8% year-on-year was "significantly slower" than in Dec-2019. The slowdown was partly attributable to a sharp decline in the Africa-Asia market, likely reflecting disruptions associated with the COVID-19 pandemic.
---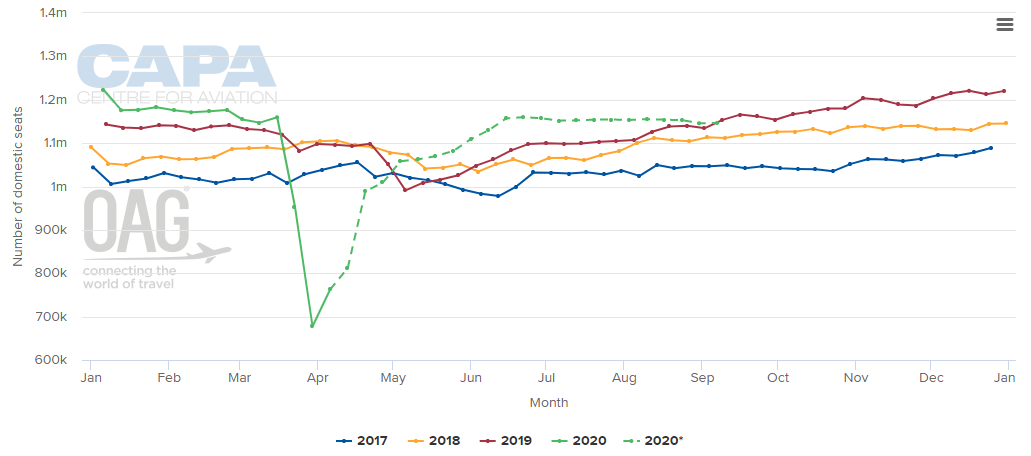 CAPACITY SNAPSHOT: African Domestic Seats (as at 30-Mar-2020)Source: CAPA – Centre for Aviation and OAG (NOTE: *These values are at least partly predictive up to 6 months ahead and may be subject to change)
---
News Briefs
Kenya Airways chairman Michael Joseph reported the airline has requested financial support from Kenya's Government "to support the airline through this period for critical operational costs like salaries". The airline has placed most of its personnel on leave following the suspension of all international and a significant number of domestic services.
FlyWestair stated it suspended Windhoek Eros, Ondangwa and Cape Town services, effective 26-Mar-2020, "until global restrictions on travel are lifted". The airline has reportedly cancelled or postponed all charter services scheduled for Mar-2020 to Jun-2020.
Air Peace COO Toyin Olajide reported the Nigerian airline has been losing NGN100 million (USD261,000) per day for the last three weeks, due to the impact of the coronavirus pandemic. Aero Contractors CEO Ado Sanusi said Nigerian airlines will incur "colossal" losses due to the pandemic.
Proflight Zambia has followed other airlines across the continent in suspending scheduled flights. The carrier will continue to operate charter and cargo services within Zambia and regionally "for as long as borders remain open". The airline plans to resume "a very limited schedule" to Lusaka, Ndola, Mfuwe, Solwezi, Livingstone and Johannesburg on 01-May-2020 and hopes to resume normal operations by 01-Jul-2020.
Federal Airports Authority of Nigeria (FAAN) forecasts that Lagos Murtala Muhammed International Airport's access road will generate income of approximately NGN100 million (USD256,000) by the end of Mar-2020.
Social distancing has seen the reconstruction project at Enugu Akanu Ibiam International Airport suspended just week before its planned completion. Nigeria's Minister of Aviation Hadi Sirika confirmed reconstruction work at Enugu Akanu Ibiam International Airport was suspended due to coronavirus impacts. He said: "The work would have been completed in six to seven days, but the workers left to be with their families in view of the social distancing".
---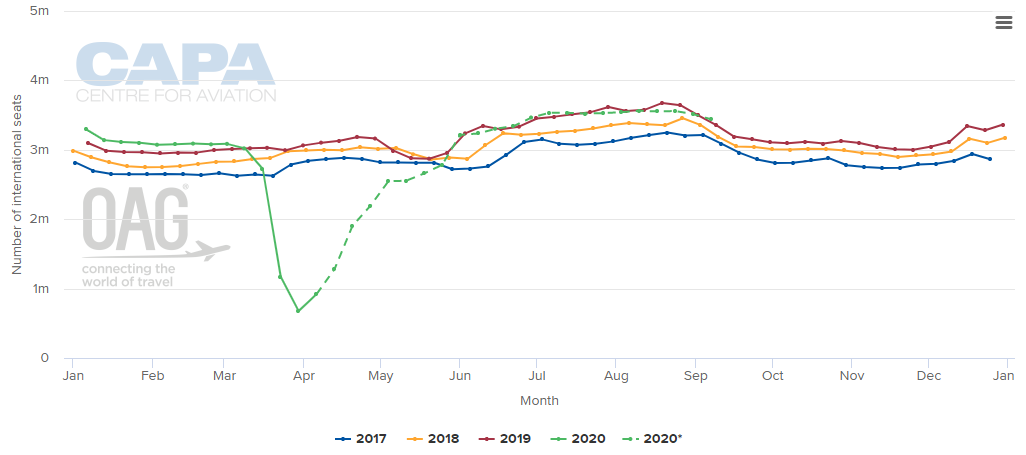 CAPACITY SNAPSHOT: African International Seats (as at 30-Mar-2020)Source: CAPA – Centre for Aviation and OAG (NOTE: *These values are at least partly predictive up to 6 months ahead and may be subject to change)
---
Aircraft News
Sky Mali announced it took delivery of its first aircraft, one Boeing 737-500 (TZ-SMA, MSN 25418), on 24-Mar-2020. The start up airline reportedly plans to acquire a second 737-500, one Embraer ERJ145 and two turboprop aircraft. Sky Mali aims to commence domestic services to destinations including Kayes, Mopti, Gao and Timbuktu in the near future, followed by the launch of international services to destinations within Africa.
Ethiopian Airlines received a new Boeing 787-9 (ET-AXS, MSN 65089), as recorded by the CAPA Fleet Database. The airline now operates seven 787-9 aircraft.
Aero Contractors has made the decision to offer its fleet to the federal government. This includes "all the aircraft in the fixed wing and rotary, to deploy at its disposal in the fight against COVID-19," said CEO Ado Sanusi. The aircraft may be used for "airlift relief materials, medical equipment and personnel", he added.