Our regular round-up delivers some of the latest key aviation and travel news stories from across the Continent.
---
SPECIAL NOTE: Coronavirus
The COVID-19 outbreak has significantly impacted air service to, from and within Africa. Initially, this was on services into China and parts of Asia, more recently into Europe, and latterly within the continent as an increasing number of cases have been recorded.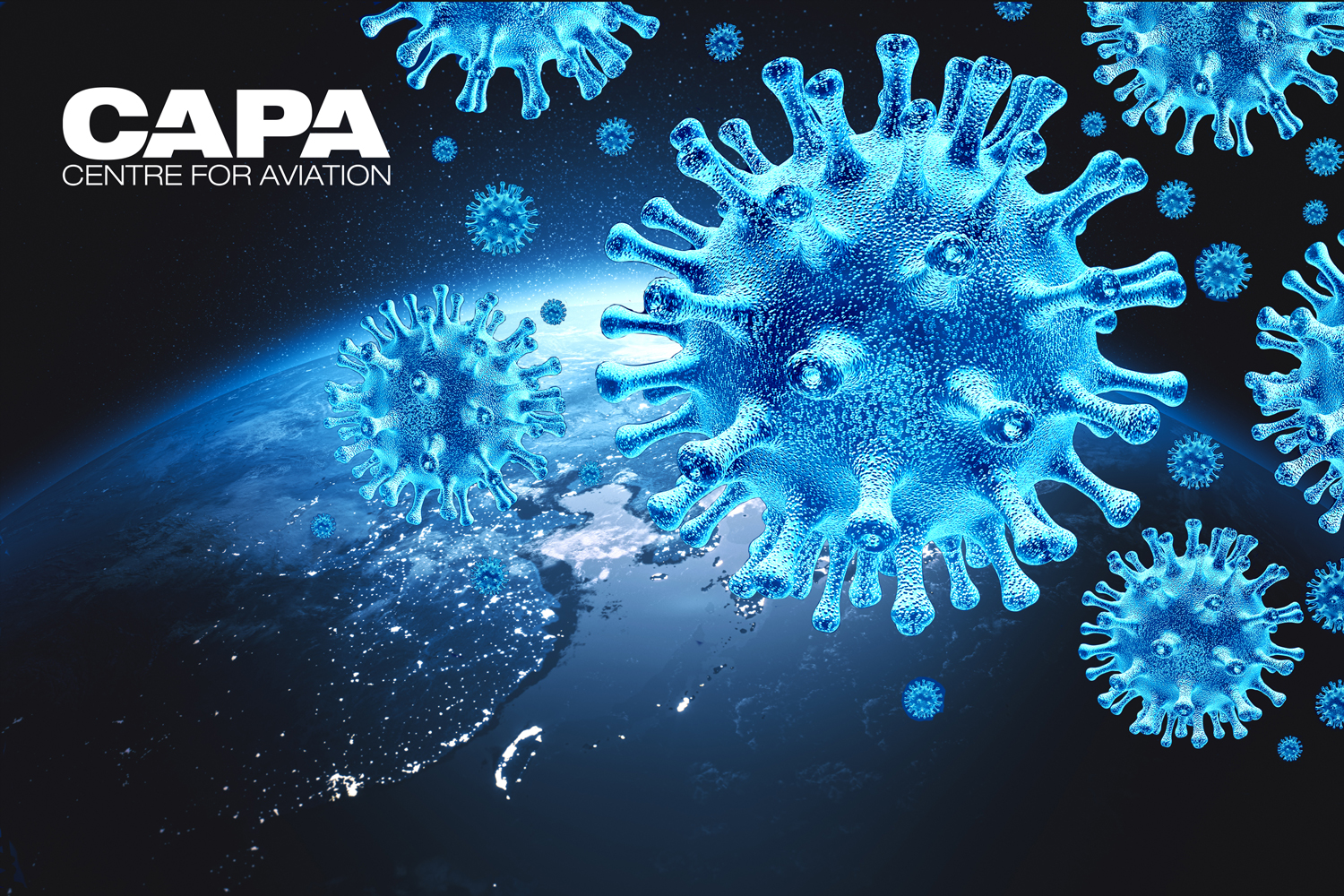 This has seen restrictions on arrivals, and cancellations of numerous flights across the region. This is a fluid situation that is changing by the day. To keep up to date on the devastating effect of the virus on the aviation and supporting industries, read this new essential daily update from CAPA – Centre for Aviation, which curates intelligence from the World Health Organisation (WHO) and myriad industry sources. Its mission is to help cut through the noise and provide a useful daily snapshot of the COVID-19 outbreak evolution, together with key industry developments.
---
Ethiopian Airlines has already lost USD550 million due to coronavirus, but remains operating at 10% capacity
Ethiopian Airlines Group CEO Tewolde GebreMariam has stated the East African airline is operating at only 10% of normal capacity due to the coronavirus pandemic and added: "So far we have lost USD550 million" as of Apr-2020. The carrier is operating to only 19 of the 110 passenger destinations it served prior to the pandemic. Mr GebreMariam also confirmed the airline "has not laid off any employees and has no plan to do so".
---
IATA: African governments need to prioritise airlines 'in rescue packages'
IATA regional VP for Africa and the Middle East Muhammad Ali Albakri stated: "The entire air transport industry is going through its darkest-ever crisis and we need governments throughout the world to recognise the danger this presents to their economies and survival or recovery". "Without having the entire supply chain and industry surviving, the recovery from COVID-19 will be very difficult", he warned, adding: "Failure by governments to act now will make this crisis longer and more painful. Airlines have demonstrated their value in economic and social development in Africa and governments need to prioritise them in rescue packages". The latest IATA scenario for potential revenue loss by carriers has reached USD4 billion for Africa. This translates to a drop in industry revenues of 32% year-on-year.
---
Uganda Airlines considering plans to delay delivery of A330-800s
Uganda's Minister of State for Transport Joy Kabatsi reported Uganda Airlines is considering plans to delay taking delivery of two A330-800 aircraft due to the impact of coronavirus, reports The East African. Ms Kabatsi noted the airline may be required to ground the aircraft at Entebbe International Airport if travel restrictions continue into 2H2020. She added: "It is a question of cost. Not accepting the aircraft from the manufacturer means we would have to pay them for each day... beyond the contractual delivery schedule", however "keeping the aircraft parked on the ground in Entebbe also has its own costs".
---
fastjet requires additional funding to remain a going concern beyond Jun-2020
fastjet Group stated its directors believe the company will have sufficient resources to meet its operational needs until the end of Jun-2020. The company stated the "headroom" of its available cash resources "remains minimal". If it cannot complete the disposal of fastjet Zimbabwe or raise additional new capital by 30-Jun-2020, the group would be unable to continue trading as a going concern. It has warned that it feels it is "no longer practically achievable" to complete the disposal of its holding in fastjet Zimbabwe given the current circumstances. The airline plans to resume operations on 21-Apr-2020, subject to the potential extension of lock downs by the governments of Zimbabwe and South Africa. It intends to resume with a reduced schedule and will build up frequency and yields according to passenger demand and competition. The carrier expects that the significantly reduced global oil prices "will help cushion the financial impact" of lower passenger demand when operations resume.
---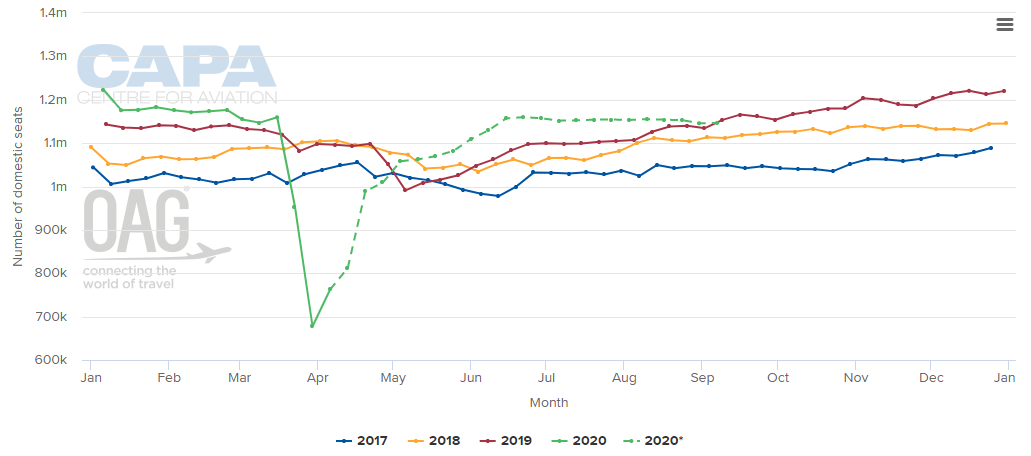 CAPACITY SNAPSHOT: African Domestic Seats (as at 06-Apr-2020)Source: CAPA – Centre for Aviation and OAG (NOTE: *These values are at least partly predictive up to 6 months ahead and may be subject to change)
---
News Briefs
Angola's Government reportedly approved a financial guarantee of USD118 million for TAAG to acquire six De Havilland of Canada Dash 8-400 aircraft, financed by ABSA Bank Limited.
Egyptian Holding Company for Airports and Air Navigation reports the country's largest airports all delivered double-digit year-on-year growth in passenger traffic in Feb-2020 boosting passenger numbers through the country's airports to 3 million, +21.7%. Cairo International Airport handled 1.4 million passengers, +30.9%; Sharm el-Sheikh International Airport: 444,254 passengers, +14.7%; and Hurghada International Airport: 578,130 passengers, +21.1%.
International Civil Aviation Organization (ICAO) has announced Benin will participate in the voluntary phase of the Carbon Offsetting and Reduction Scheme for International Aviation (CORSIA) when it commences in 2021. Benin is the 83rd country to confirm plans to participate in the voluntary phase of CORSIA.
Kenya Civil Aviation Authority (KCAA) has reportedly granted licences to Jetways Airlines, Advantage Air Travel, Twinstar Aviation, Buff Air Services, Airborn African Antics, Prima Aviation, RSA Air Limited, Kilimanjaro Aviation Services and Dragonfly Aviation for the provision of aviation services in Kenya.
Comair (South Africa) terminated an agreement with Sundrops Investments, Smashing Star Investments and Marcel Liebenberg to purchase the shares and claims of Star Air Maintenance and Star Air Cargo for a consideration of ZAR75 million (USD3.89 million).
---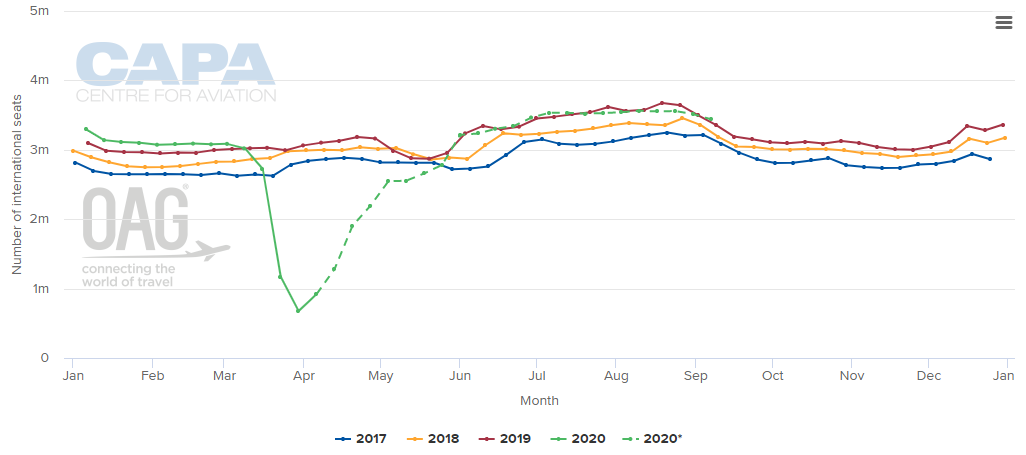 CAPACITY SNAPSHOT: African International Seats (as at 06-Apr-2020)Source: CAPA – Centre for Aviation and OAG (NOTE: *These values are at least partly predictive up to 6 months ahead and may be subject to change)
---
Route Updates
TAP Air Portugal plans to launch three times weekly Lisbon-Cape Town service with A330-900, effective 11-Nov-2020, as per a 06-Apr-2020 GDS timetable display. The European airline also plans to launch three times weekly Lisbon-Agadir service with ATR 72 operated by White Airways, effective 25-Oct-2020.
Air Austral plans to operate Reunion-Paris Charles de Gaulle service twice weekly through to 19-Apr-2020.
British Airways has outlined planned resumption of flights into some destinations in Africa during Apr-2020. These comprise London Heathrow-Abuja (seven times weekly, resuming on 24-Apr-2020 with Boeing 777-200ER); London Heathrow-Cape Town (operating on alternate days, resumes on 18-Apr-2020 with 747-400); and London Heathrow-Johannesburg (seven times weekly, resuming 18-Apr-2020 with 747-400). Its London Heathrow-Nairobi service has now been suspended, effective 07-Apr-2020.
Tanzania's Civil Aviation Authority (TCAA) and Russia's Ministry of Transport have reached an agreement permitting the operation of scheduled air services between Russia and Zanzibar. TCAA also proposed to commence the renegotiation of a new bilateral air services agreement between Jul-2020 and Aug-2020. The existing agreement was signed in 1978.
Kenya Civil Aviation Authority (KCAA) has reportedly approved Aerospace Consortium to operate scheduled passenger and cargo services - once local restrictions are lifted - from Nairobi Jomo Kenyatta International Airport to Juba, Dar Es Salaam, Entebbe, Zanzibar, Mwanza, Kigali, Mogadishu, Bunjumbura, Hargeisa, Kismayu and Moroni.