Our regular round-up delivers some of the latest key aviation and travel news stories from across the Continent.
---
SPECIAL NOTE: Coronavirus
The COVID-19 outbreak has significantly impacted air service to, from and within Africa. Initially, this was on services into China and parts of Asia, more recently into Europe, and latterly within the continent as an increasing number of cases have been recorded.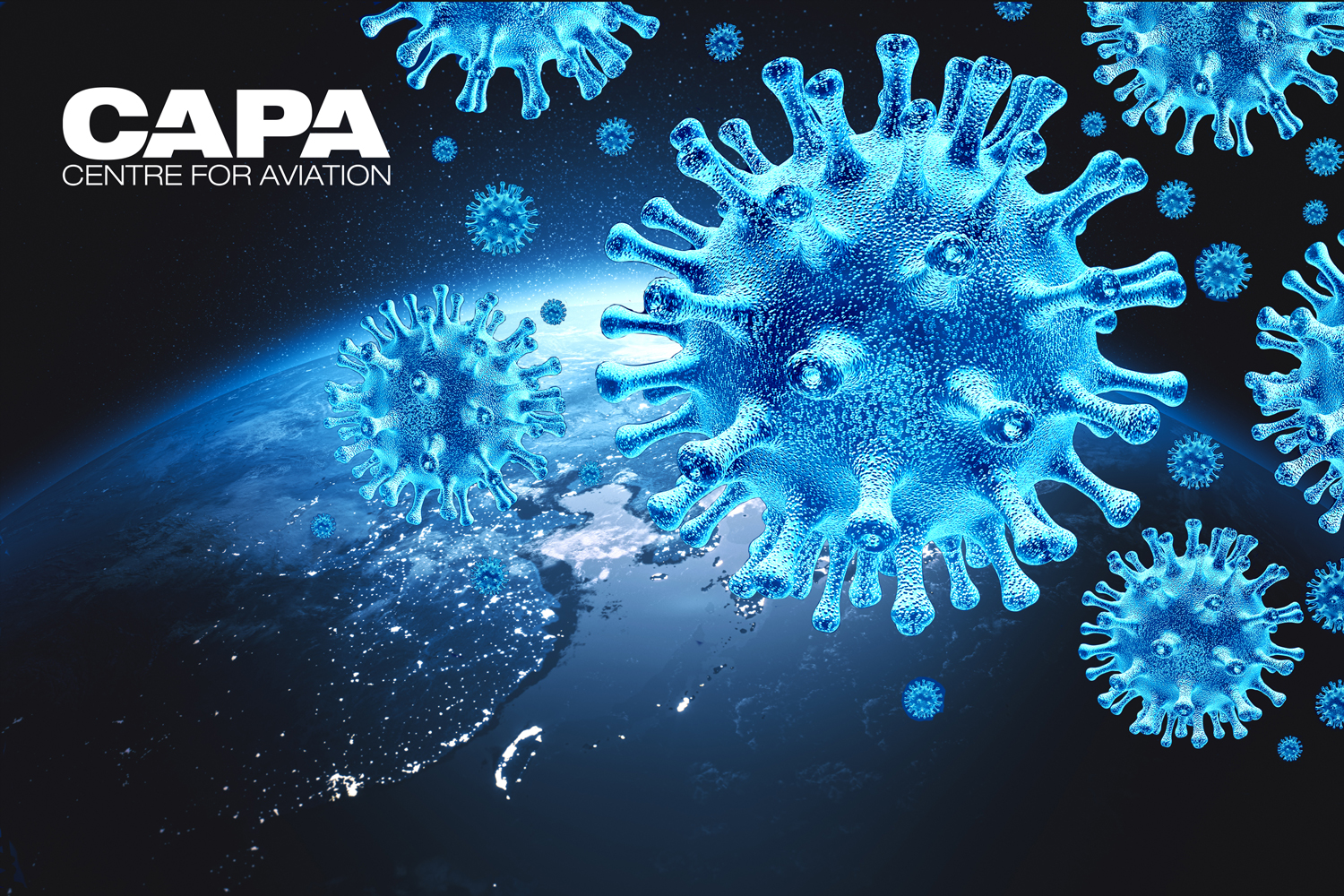 This has seen restrictions on arrivals, and cancellations of numerous flights across the region. This is a fluid situation that is changing by the day. To keep up to date on the devastating effect of the virus on the aviation and supporting industries, read this new essential daily update from CAPA – Centre for Aviation, which curates intelligence from the World Health Organisation (WHO) and myriad industry sources. Its mission is to help cut through the noise and provide a useful daily snapshot of the COVID-19 outbreak evolution, together with key industry developments.
---
Air Mauritius files for voluntary administration as 'unprecedented crisis… has led to a complete erosion of the company's revenue base'
Air Mauritius has this week filed for voluntary administration in order to safeguard the interests of the company and its shareholders. It says that travel restrictions and the closure of borders to combat the Covid-19 spread was an "unprecedented crisis" that had "led to a complete erosion of the company's revenue base". With there little uncertainty as to when international air traffic will resume and indications that normal activities will not pick up until late 2020, it says it is expected that the airline "will not be able to meet its financial obligations in the foreseeable future".
---
African Union: Coronavirus to have heavy impact on aviation, travel and tourism industries
African Union (AU) stated the aviation, travel and tourism industries are among the sectors most heavily impacted by the coronavirus pandemic. AU noted tourism is an important sector of economic activity for many countries in Africa and will be heavily affected by travel restrictions, the closure of borders and social distancing measures. Under an average scenario, the tourism and travel sector in Africa could lose at least USD50 billion and at least two million direct and indirect jobs due to the pandemic, it claims. Tourism accounts for more than 8% of GDP for the 55 African states, including a contribution of more than 10% for 15 countries and more than 25% for certain countries such as Cape Verde, Mauritius and Seychelles. The tourism sector also employs more than one million people in each of Nigeria, Ethiopia, South Africa, Kenya and Tanzania. Tourism employment comprises more than 20% of total employment in Seychelles, Cape Verde, São Tomé and Príncipe and Mauritius.
---
Seychelles Tourism Board launches online campaign to maintain destination awareness
Seychelles Tourism Board (STB) launched the 'Dream Now, Experience Seychelles Later' online campaign on 07-Apr-2020, "to ensure that Seychelles remains at the forefront of potential visitors' mind". STB aims to generate "a wave of positivity amidst this recent time of global crisis" and continuously promote the Seychelles as a potential tourism destination.
---
AFRAA urges African governments to consider compensation, subsidisation of airlines
African Airlines Association (AFRAA) secretary general Abdérahmane Berthé stated "AFRAA urges African governments to consider the compensation of inevitable losses, the alleviation of exogenous operating costs, and the subsidisation of the African airlines in a bid to assure the industry's viability", in view of the impact of the Covid-19 pandemic. Mr Berthé also stated: "AFRAA strongly recommends that African airlines engage their stakeholders to develop an all-inclusive proactive response strategy that addresses the adverse impact of the Covid-19 on their business".
---
Urgent measures are needed to ensure Tunisair's survival, according to Tunisia's Transport Minister
Tunisia's Transport Minister Anouar Maarouf has this week met with Tunisair CEO Elyes Mankbi to discuss a plan to help Tunisair survive the coronavirus crisis. Mr Maarouf said the process will include the implementation of "urgent measures to stop the bleeding" of the national airline. Mr Maarouf added a dossier of reform scenarios will also be submitted to a Ministerial Council in order to "immediately initiate the radical reform of the national carrier" and allow it to make its way "into the new post coronavirus world". According to Mr Maarouf, Tunisair has lost nearly TND150 million (USD51.7 million) between Mar-2020 and Apr-2020.
---
Kenya looks to focus on domestic and intra Africa tourism demand
Kenya's Cabinet Secretary for Tourism and Wildlife Najib Balala said the country's tourism industry can no longer rely on intercontinental tourist arrivals, due to the impact of the coronavirus pandemic. Mr Balala stated: "We need to not be dependent on foreign tourism and, instead, start investing heavily in the domestic and intra-African tourism markets". He added: "African states must unite and form a federation to promote tourism within the continent".
---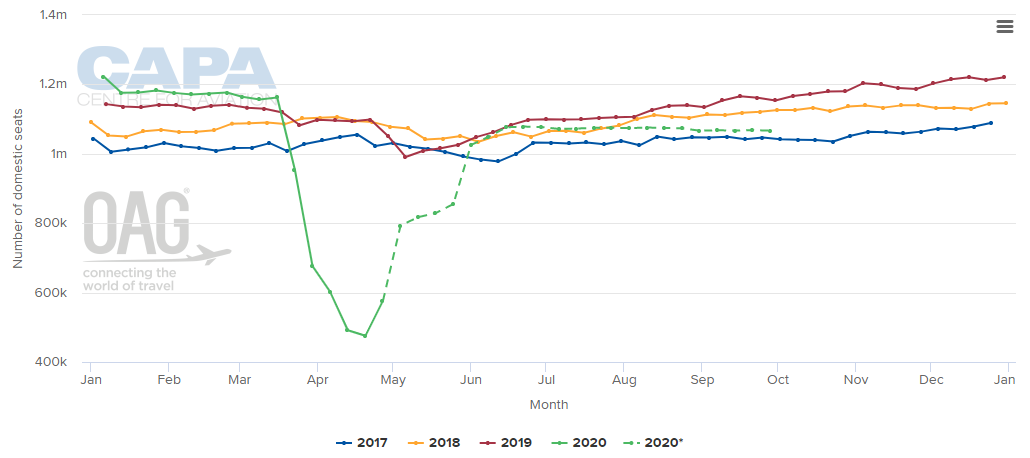 CAPACITY SNAPSHOT: African Domestic Seats (as at 20-Apr-2020)Source: CAPA – Centre for Aviation and OAG (NOTE: *These values are at least partly predictive up to 6 months ahead and may be subject to change)
---
News Briefs
Sudan's Civil Aviation Authority has extended the closure of international and domestic operations until 20-May-2020, due to the coronavirus pandemic.
Fly Modern Ark reportedly submitted a proposal to SA Express' business rescue practitioners in Apr-2020, under which Fly Modern Ark would acquire the South African Government's shareholding in SA Express.
Kenya Airways stated it will seek to partner with Kenya's Government to support economic recovery following the Covid-19 pandemic. Kenya Airways CEO Allan Kilavuka described the airline as "a key strategic asset", which will be a "catalyst for the rebound".
Air Senegal extended the suspension of its operations and is now scheduled to resume services on 01-Jul-2020 instead of 18-May-2020, as previously planned. The airline will resume services to Abidjan, Accra, Bamako, Banjul, Barcelona, Bissau, Cap Skiring, Casablanca, Conakry, Dakar, Lagos, Marseille, Niamey, Nouakchott, Ouagadougou, Paris, Praia and Ziguinchor.
---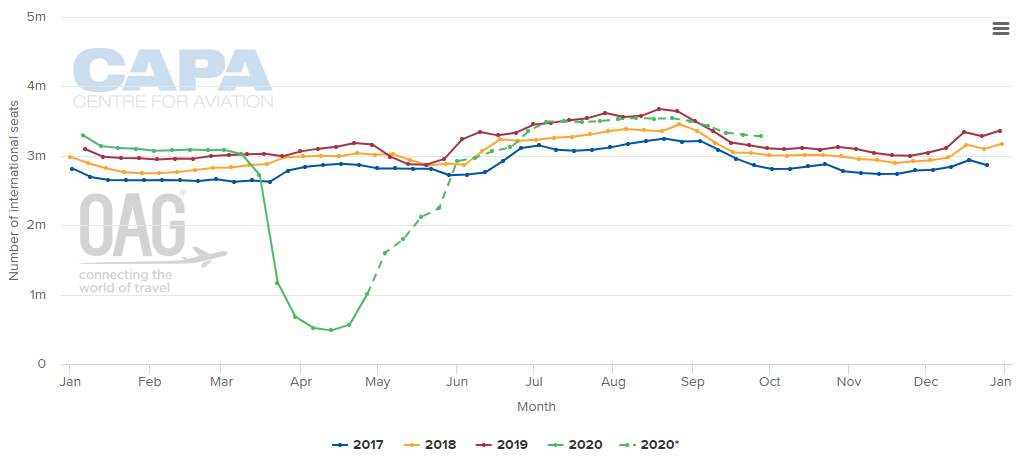 CAPACITY SNAPSHOT: African International Seats (as at 20-Apr-2020)Source: CAPA – Centre for Aviation and OAG (NOTE: *These values are at least partly predictive up to 6 months ahead and may be subject to change)
---
Route Updates
Africa World Airlines resumed limited domestic operations, effective 21-Apr-2020. The airline is initially operating daily Accra-Kumasi and Accra-Tamale services.
fastjet Zimbabwe scheduled the launch of three times weekly Victoria Falls-Bulawayo and four times weekly Victoria Falls-Nelspruit services for 06-Jul-2020.
FlySafair scheduled the launch of twice daily Durban-Johannesburg Lanseria service for 01-Jun-2020. The airline plans to increase frequency to four times daily from 11-Jun-2020.
BinterCanarias plans to operate twice weekly Madeira-Marrakech service, effective 15-Jul-2020 to 12-Sep-2020. The airline will operate the service with ATR 72 equipment.
Air Canada plans to resume its Montreal-Casablanca service from 24-Jun-2020, according to a latest schedule update. However, its Montreal-Algiers summer seasonal service will remain suspended.
British Airways plans to resume flights to two African markets from 01-May-2020, according to a draft schedule for the month. It plans daily London Heathrow-Johannesburg with 777-300ER equipment and daily London Heathrow-Lagos service using the 787-9 Dreamliner.