Our regular round-up delivers some of the latest key aviation and travel news stories from across the Continent.
---
SPECIAL NOTE: Coronavirus
The COVID-19 outbreak has significantly impacted air service to, from and within Africa. Initially, this was on services into China and parts of Asia, more recently into Europe, and latterly within the continent as an increasing number of cases have been recorded.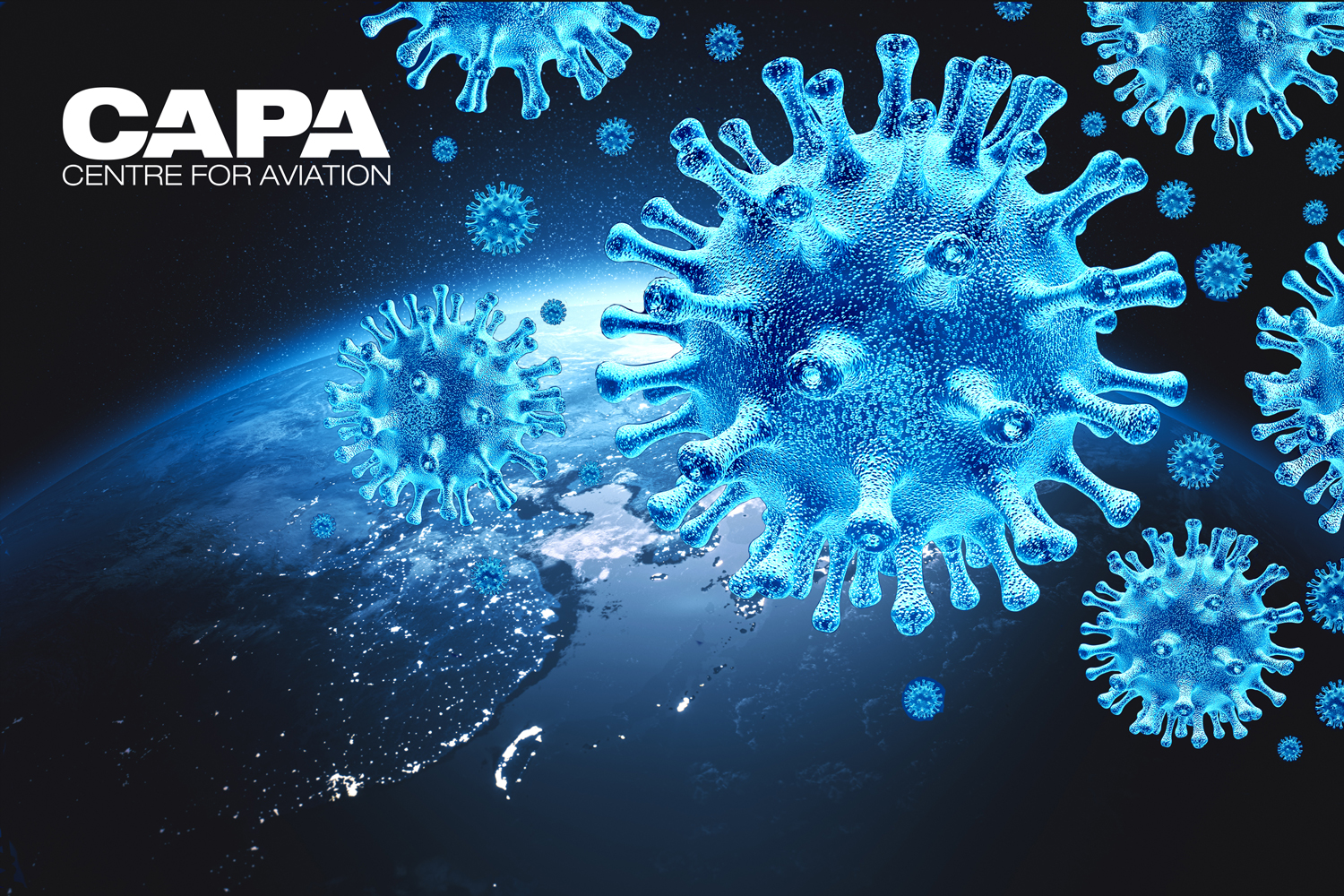 This has seen restrictions on arrivals, and cancellations of numerous flights across the region. This is a fluid situation that is changing by the day. To keep up to date on the devastating effect of the virus on the aviation and supporting industries, read this new essential daily update from CAPA – Centre for Aviation, which curates intelligence from the World Health Organisation (WHO) and myriad industry sources. Its mission is to help cut through the noise and provide a useful daily snapshot of the COVID-19 outbreak evolution, together with key industry developments.
---
FlySafair adds 'Covid-19 fee' to cover additional health and safety measures
FlySafair head of sales and distribution Kirby Gordon stated the airline will add a ZAR20 (USD1) "Covid-19 fee" on each booking, which he described as "a small price to pay to know that no stone was left unturned when it comes to ensuring passenger health and safety". Measures implemented by the airline to help prevent the spread of coronavirus include deep cleaning of aircraft cabins every evening, temperature checks before boarding for all passengers and crew, mandatory masks for staff and passengers, disinfectant fogging of aircraft interiors between flights, a 'no touch' policy to avoid direct contact between staff and customers and no inflight catering or magazines.
---
Airlink plans to resume operations, but with just 3% of its prior capacity
Airlink (South Africa) MD and CEO Rodger Foster stated the airline expects to initially resume domestic operations with 3% of capacity compared to capacity prior to the coronavirus pandemic. The carrier expects to operate only three aircraft on its five best performing routes. Mr Foster expects domestic operations to be followed by regional business travel, while services to premium tourist destinations are likely to be the last to resume.
---
Ethiopian Airlines engaged in 'struggle for its survival' with revenues down by 85%
Ethiopian Airlines CEO Tewolde Gebremariam acknowledged that the carrier is engaged in a "struggle for its survival" due to Covid-19, with revenues just 15% of what they were before the pandemic. Mr Gebremariam said the focus for the carrier has been to shift its resources, time and energy on sectors which are not affected by the coronavirus", particularly to transport medical equipment and other cargo into Africa.
---
IATA: African airlines face USD6 billion potential revenue loss due to coronavirus
The International Air Transport Association (IATA) renewed its call for governments in Africa to provide financial relief to airlines. The latest IATA forecast for potential revenue loss by carriers in the region reached USD6 billion, USD2 billion above the forecast made at the beginning of Apr-2020. Job losses in aviation and related industries could reach 3.1 million, half of the region's 6.2 million aviation related employment. Passenger traffic is expected to decrease 51% year-on-year in 2020, and GDP supported by aviation in the region could fall by USD28 billion from USD56 billion.
---
Nile Air urges government to purchase stakes in private airlines
Nile Air urged Egypt's Government to purchase stakes in private airline companies to help them survive the coronavirus crisis, according to a Reuters report. According to Nile Air managing director Yousry Abdel Wahab, private airlines in the country don't know how long they can bear fixed costs like salaries, aircraft rent, maintenance costs and aircraft parking fees. Mr Wahab said if there is no "participation between the public and private sectors", private airline companies will have no choice but to implement layoffs and freeze activity.
---
Air Zimbabwe still plans to fly long-haul with London and China its targets
Air Zimbabwe is pursuing opportunities for passenger and cargo charter operations, revenue from which will be "critical to kick start operations post COVID-19," according to its marketing team. The carrier's "post Covid-19 master plan" involves resuming domestic and regional routes with the development of Harare and Victoria Falls as hubs. The development of a "robust" domestic and regional network will then feed intercontinental operations, with London and China "top on our list" of destinations, according to the carrier.
---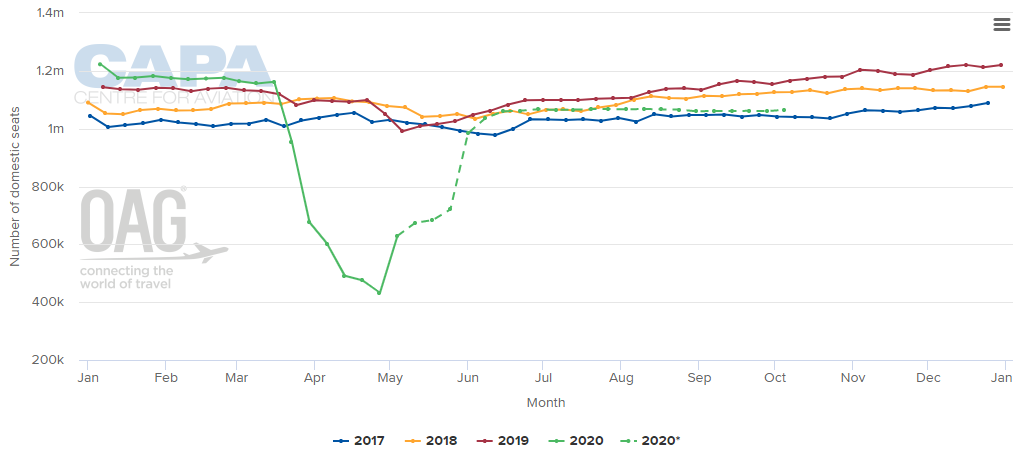 CAPACITY SNAPSHOT: African Domestic Seats (as at 27-Apr-2020)Source: CAPA – Centre for Aviation and OAG (NOTE: *These values are at least partly predictive up to 6 months ahead and may be subject to change)
---
News Briefs
International Air Transport Association (IATA) reported that air cargo activity in Africa has been less affected by disruptions than other regions. In fact, it notes that Africa-Asia was the only trade lane which continued to grow in Mar-2020 with volumes up almost 10% year-on-year.
South Africa's Johannesburg High Court approved an application by the SA Express business rescue practitioners to place the company under provisional liquidation on 28-Apr-2020, pending a final liquidation order on 09-Jun-2020.
Jambojet has extended its suspension of operations until 20-May-2020, after Kenya's Government extended the cessation of movement to and from Nairobi, Mombasa, Kilifi and Kwale counties for an additional 21 days.
Cameroon has confirmed it is seeking a consultancy firm to assist with the development of the nation's civil aviation industry. This includes plans to enable long haul operations at Yaounde Nsimalen International Airport.
fastjet Group has sold one Embraer ERJ145 to Solenta Aviation for a consideration of USD2.2 million. fastjet Zimbabwe owed monies to Solenta relating to maintenance and other aircraft related support activities.
---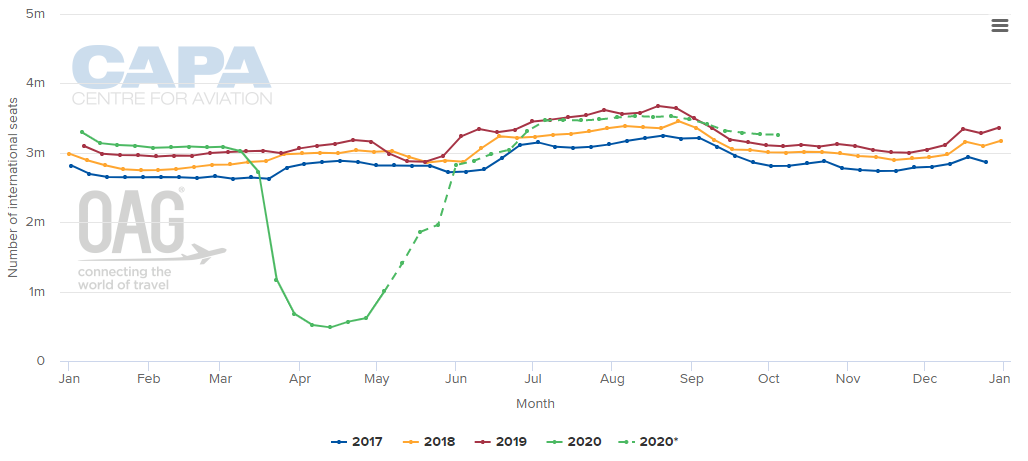 CAPACITY SNAPSHOT: African International Seats (as at 27-Apr-2020)Source: CAPA – Centre for Aviation and OAG (NOTE: *These values are at least partly predictive up to 6 months ahead and may be subject to change)
---
Route Updates
Qatar Airways plans to resume Doha-Johannesburg with a three times weekly service with A350-900 equipment, effective 02-May-2020. A three times weekly Doha-Tunis service is planned to resume with 787-8 equipment, effective 06-May-2020, while a three times weekly Doha-Nairobi service is due to resume with 787-8 equipment, effective 19-May-2020.
LAM - Mozambique Airlines scheduled the launch of three times weekly Maputo-Lisbon service for 02-Jun-2020. The airline is expected to operate the service with leased A330-200 equipment – it was originally scheduled to launch the service in cooperation with Hi Fly in late Mar-2020.
PassionAir this week resumed operations with daily service from Accra to Kumasi and Tamale, effective 27-Apr-2020. The resumption follows the lifting of restrictions on movement in Ghana.
Chair Airlines plans to launch weekly Zurich-Djerba service from 22-May-2020 to 28-Aug-2020.