Our regular round-up delivers some of the latest key aviation and travel news stories from across the Continent.
---
SPECIAL NOTE: Coronavirus
The COVID-19 outbreak has significantly impacted air service to, from and within Africa. Initially, this was on services into China and parts of Asia, more recently into Europe, and latterly within the continent as an increasing number of cases have been recorded.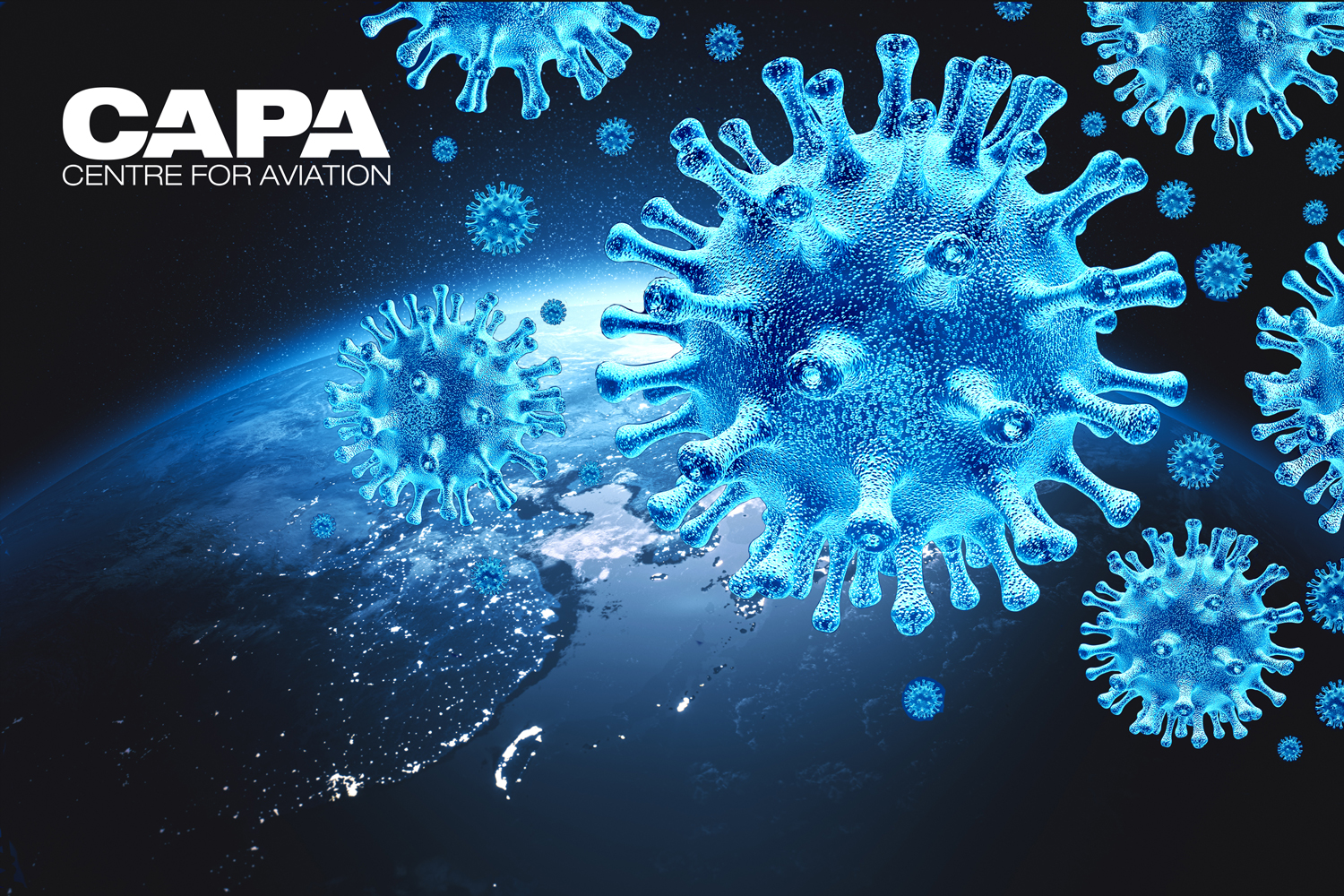 This has seen restrictions on arrivals, and cancellations of numerous flights across the region. This is a fluid situation that is changing by the day. To keep up to date on the devastating effect of the virus on the aviation and supporting industries, read this new essential daily update from CAPA – Centre for Aviation, which curates intelligence from the World Health Organisation (WHO) and myriad industry sources. Its mission is to help cut through the noise and provide a useful daily snapshot of the COVID-19 outbreak evolution, together with key industry developments.
---
Creation of new South African Airways may be modelled on SWISS, says Minister
South Africa's Minister of Finance Tito Mboweni suggested the creation of SWISS following the bankruptcy of Swissair in 2001 could serve as a model for the establishment of a new South African Airways. Mr Mboweni commented: "That might give you some clues about the likely direction where we might be going". He also stated: "We are no longer interested in pouring public funds into dysfunctional state owned enterprises". South Africa's Minister of Public Enterprises Pravin Gordhan, commenting on plans to create a 'new' South African Airways (SAA), stated: "The old SAA is dead, there is no doubt about that".
---
Air Tanzania directed to restart tender for Dar Es Salaam Airport business lounges
Tanzania's Public Procurement Appeals Authority reportedly directed Air Tanzania to restart the tender process for the operation of business lounges at Dar Es Salaam International Airport terminal three. The award of the USD5.7 million tender to Tourvest Holding was previously nullified following an appeal by a JV of VIA Aviation and National Aviation Services.
---
Comair enters business rescue as coronavirus disrupts turnaround plan
Comair (South Africa) announced it entered business rescue proceedings, effective 05-May-2020, "to safeguard the interests of the company and its stakeholders after the COVID-19 crisis disrupted the implementation of a turnaround plan". The company also suspended the trading of its shares on the Johannesburg Stock Exchange, effective immediately. The company aims to restructure as a sustainable business, building on its existing turnaround plan, while preserving cash, cutting costs, disposing of non performing assets and strengthening the balance sheet. The existing retrenchment process will continue through the administration process, while measures including reconfiguring the network and fleet, reviewing portfolios and JVs, increasing digitisation and formulating new product development and delivery will be explored. CEO Wrenelle Stander confirmed the airline is likely to remain grounded until Oct-2020 or Nov-2020 and said entering business rescue is "the only responsible decision". She added: "Comair remains solvent and an important contributor to the South African economy. This is a necessary process to ensure a focused restructuring of the company takes place as quickly as possible".
---
Seychelles hoping for tourism recovery in 2021
Seychelles Hospitality and Tourism Association chairperson Sybille Cardon said the association expects some recovery in international tourist arrivals in 2021. Ms Cardon said the planned reopening of Seychelles International Airport for commercial operations in Jun-2020 "will change nothing" for tourism as long as travel restrictions remain in place in Europe, which is the Seychelles' top tourism source market. Seychelles Tourism Board CEO Sherin Francis said the reopening of the airport is "a first necessary step", but added: "There will require a lot of other conditions in place before leisure travel goes back to a normal level".
---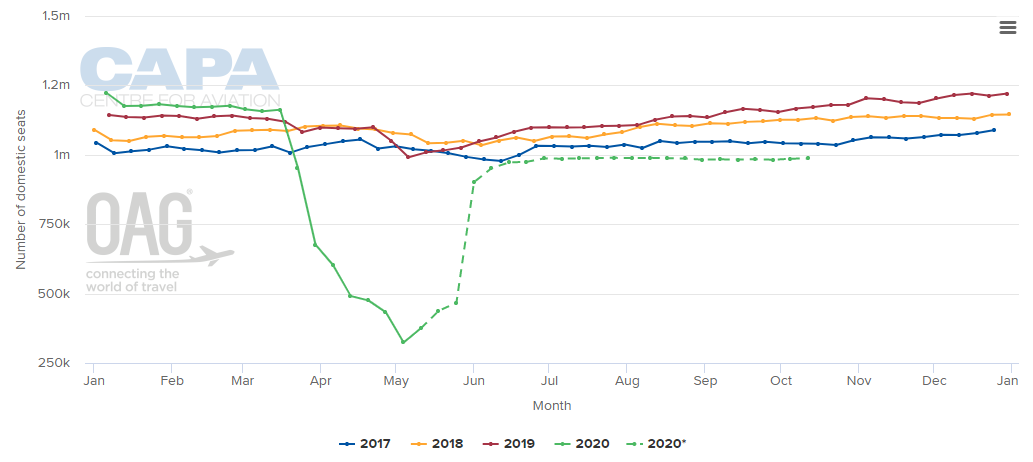 CAPACITY SNAPSHOT: African Domestic Seats (as at 04-May-2020)Source: CAPA – Centre for Aviation and OAG (NOTE: *These values are at least partly predictive up to 6 months ahead and may be subject to change)
---
News Briefs
Ibom Air has taken delivery of the airline's fourth Bombardier CRJ900 aircraft. The aircraft 9registration 5N-BXP) arrived in Lagos on the evening of the 05-May-2020 following its delivery flight from Canada.
Ethiopian Airlines operated a cargo only service from Bobo Dioulasso Airport to Frankfurt, marking its first international cargo service from Burkina Faso in 22 years. The airline transported 52 tons of fruit with a modified Boeing 777 passenger aircraft.
fastjet Group stated several of its creditors have agreed to defer due dates for repayments and/or agreed to settlement discounts, reducing the company's total liabilities by USD600,000 to date. fastjet management remains in discussions with certain creditors and has identified additional discounts of between USD1 million and USD3 million.
Africa World Airlines COO Sean Mendis called for Ghana's Government to support airlines "by liberalising some of the tax regimes". Mr Mendis particularly called for the government to eliminate customs duty on the import of aircraft and spare parts.
---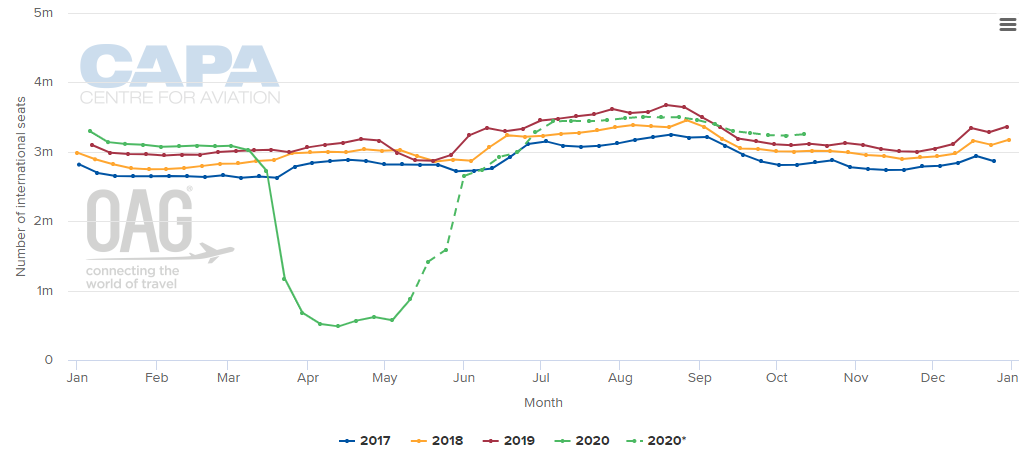 CAPACITY SNAPSHOT: African International Seats (as at 04-May-2020)Source: CAPA – Centre for Aviation and OAG (NOTE: *These values are at least partly predictive up to 6 months ahead and may be subject to change)
---
Route Updates
Air Namibia was due to resume domestic operations on 06-May-2020 with flights from Windhoek to Katima Mulilo, Luderitz, Ondangwa, Oranjemund, Rundu and Walvis Bay. International services remain suspended until at least 30-Jun-2020.
Air Austral has extended its schedule adjustments until 31-May-2020. The airline will maintain twice weekly Réunion-Paris service, twice weekly Réunion-Mayotte service with Boeing 787-8 equipment as part of the 'airlift' to maintain supplies to Mayotte, and weekly Réunion-Paris CDG all cargo service with a 777-300ER.
Air Algerie Cargo has increased cargo operations between Algeria and France from five or six times weekly to around 20 times weekly since the start of the coronavirus pandemic, according to CEO Rabah Midou. The airline serves Lyon, Marseille and Paris twice or three times daily.