Our regular round-up delivers some of the latest key aviation and travel news stories from across the Continent.
---
SPECIAL NOTE: Coronavirus
The COVID-19 outbreak has significantly impacted air service to, from and within Africa. Initially, this was on services into China and parts of Asia, more recently into Europe, and latterly within the continent as an increasing number of cases have been recorded.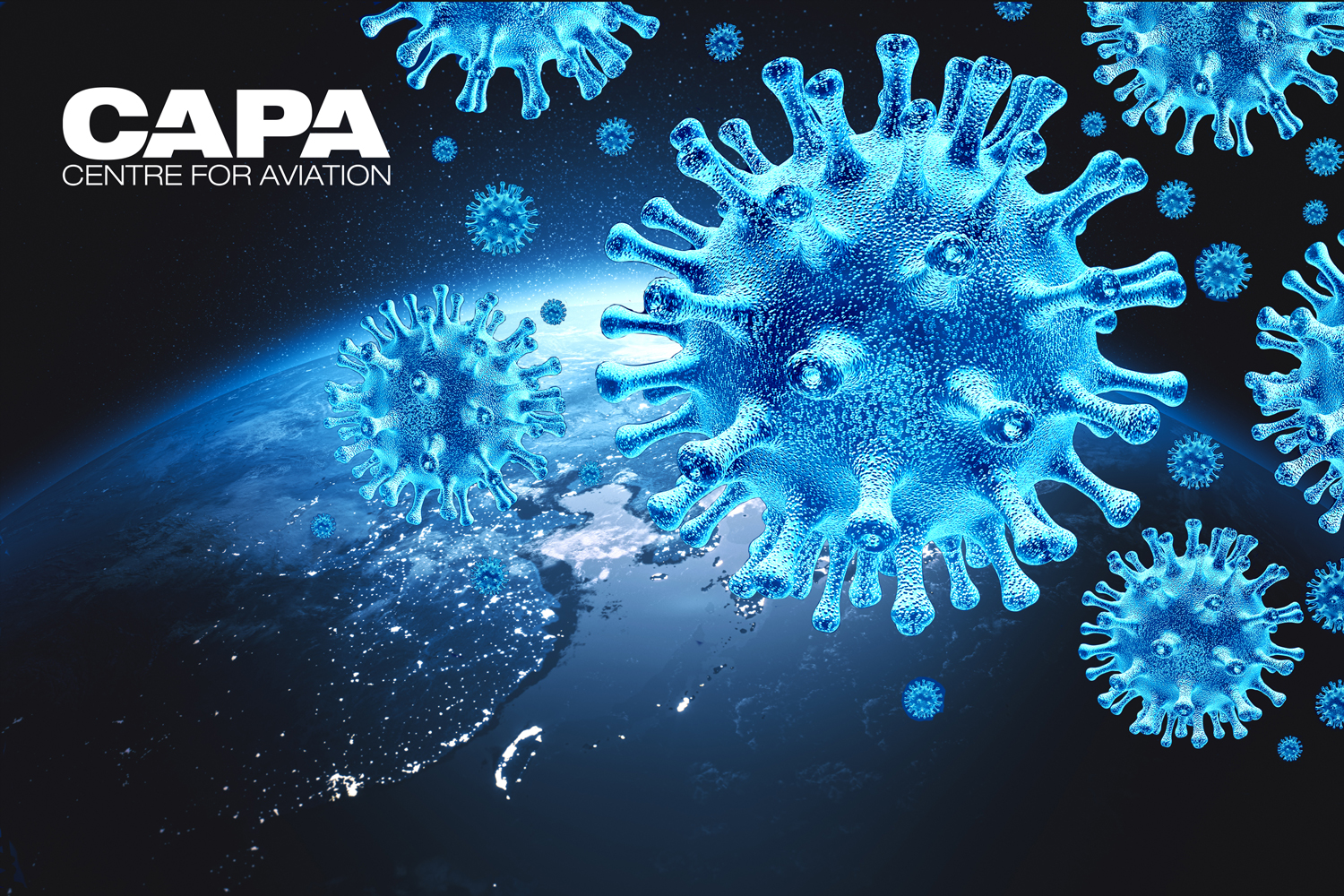 This has seen restrictions on arrivals, and cancellations of numerous flights across the region. This is a fluid situation that is changing by the day. To keep up to date on the devastating effect of the virus on the aviation and supporting industries, read this new essential update from CAPA – Centre for Aviation, which curates intelligence from the World Health Organisation (WHO) and myriad industry sources. Its mission is to help cut through the noise and provide a useful daily snapshot of the COVID-19 outbreak evolution, together with key industry developments.
---
Ethiopian Airlines in early discussions on potential partnership with Air Mauritius; open to talks with South African Airways
Ethiopian Airlines Group CEO Tewolde GebreMariam stated the company is in initial discussions with Mauritius' Government on a potential partnership or JV with Air Mauritius. Mr GebreMariam said: "The Mauritian Government is thinking of restarting that business with Ethiopian Airlines". As previously reported, Air Mauritius entered voluntary administration on 22-Apr-2020. The airline's CEO also stated the company is open to discussions on a potential partnership with the 'new' South African Airways (SAA). Ethiopian Airlines last held discussions with South Africa's Government regarding SAA in Jan-2020. Mr GebreMariam said: "We think we can approach them and restart the discussion with the new airline".
---
Kenya Airways CEO warns that recovery from coronavirus crisis is likely to take two years or more
Kenya Airways Group MD and CEO Allan Kilavuka, in an editorial in the Daily Nation, provided an outlook for the aftermath of the coronavirus crisis. He said that the aviation industry is likely to take up to two years to return to even 75% of pre-pandemic operations and full recovery may take longer. Locally, with Kenya heading into an election period, this could dampen the effect on business and he suggested it could be an impediment to recovery. He noted that more business travellers could opt for online meetings and training, resulting in reduced business travel, while he suggested leisure travel may take time to recover due to reduced disposable income in the upper and middle classes. Leisure travellers may also prefer destinations nearer to home with specific hygiene conditions. However, he forecast an initial upsurge in demand is likely at the end of the Covid-19 crisis, driven by people returning to their homes and countries of work, but predicted this demand spike will "die off in about a month", after which there is likely to be an excess of seat capacity.
---
New South African Airways 'needs to be a clean break' from existing airline
Airlink (South Africa) MD and CEO Rodger Foster stated the establishment of a 'new' South African Airways (SAA) "needs to be a clean break" from the issues faced by the 'old' SAA, including "onerous labour agreements". Mr Foster suggested this could be achieved through the creation of a new corporate vehicle with a new air services licence and air operator's certificate or through the acquisition of elements of SAA's business by another entity, such as Airlink. Mr Foster suggested: "We could buy [SAA subsidiary] Mango and redevelop an airline business that could be feasible". He commented: "We're open to any conversation that will bring about a better dispensation for the industry, as long as the State does not wish to have negotiating control over the process and as long as it is based on commercial principles and good corporate governance".
---
Highs and lows: Cabo Verde Airlines recorded 136% traffic growth in its first year since privatisation, but is currently grounded
Cabo Verde Airlines reportedly recorded a +136% year-on-year increase in passenger numbers to 344,639 for the 12 months ended 28-Feb-2020. The period marks the first year since the sale of a 51% stake in the airline to Loftleidir Cabo Verde. The airline suspended services on 18-Mar-2020 and hopes to resume operations on 01-Jul-2020.
---
EgyptAir and Air Cairo sign MoU to enhance cooperation
EgyptAir has signed an MoU with Air Cairo to enhance cooperation in terms of strategic positioning, network planning and fleets. The MoU includes provisions for interlining, codeshare operations, special prorate agreements and schedule coordination on services to/from Alexandria Borg el Arab Airport, Sharm el-Sheikh International Airport, Hurghada International Airport, Asyut Airport and Sohag Mubarak International Airport.
---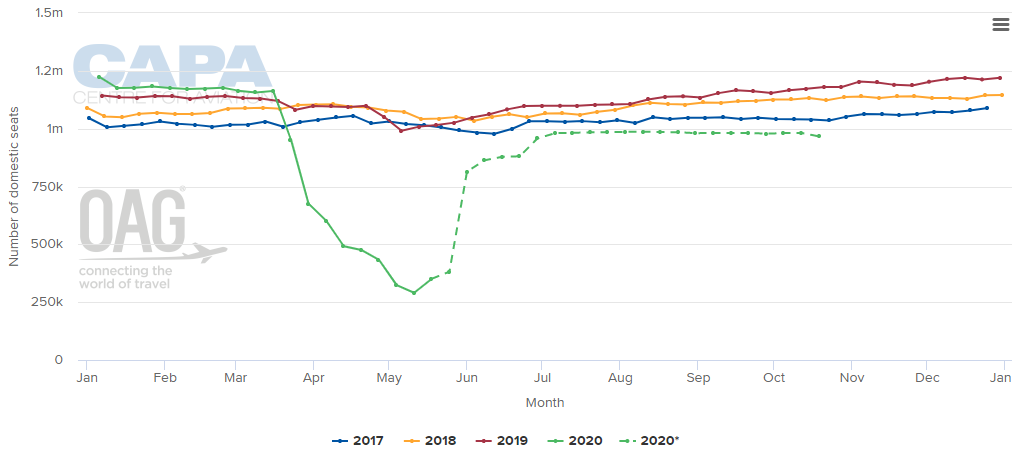 CAPACITY SNAPSHOT: African Domestic Seats (as at 11-May-2020)Source: CAPA – Centre for Aviation and OAG (NOTE: *These values are at least partly predictive up to 6 months ahead and may be subject to change)
---
News Briefs
Instituto de Aviação Civil de Moçambique president João de Abreu has stated all international services to Mozambique will be suspended until 31-May-2020, following an increase in Covid-19 cases in the country.
Statistics Mauritius reported visitor arrivals to Mauritius for 1Q 2020 were down -13.5% on the same period last year. The figures were heavily impacted by the Mar-2020 performance where a -51.2% year-on-year decline was recorded.
Kenya's 748 Air Services will become the launch customer for the Dash 8-100 simplified package freighter conversion that has been developed in response to the Covid-19 pandemic and which allows aircraft to be quickly converted by the removal of seats and seat track covers in the passenger cabins. The airline has ordered conversion kits for their four Dash 8-100 aircraft. It has also ordered conversion kits for their three Dash 8-400 aircraft.
Tunisia's tourism revenues have dropped by 22% to TND993 million (USD340.9 million) in Apr-2020, according to the latest economic indicators published by the Central Bank of Tunisia.
Nigeria's Minister of State for Budget and National Planning Clement Agba commented on government support for the country's aviation industry, stating: "We are looking at how to provide some form of bailout support to ensure that the industry doesn't die."
Senegal's Minister of Tourism and Air Transport Alioune Sarr reportedly stated Air Senegal lost XOF20 billion (USD32.9 million) in sales in three months due to the impact of travel restrictions.
---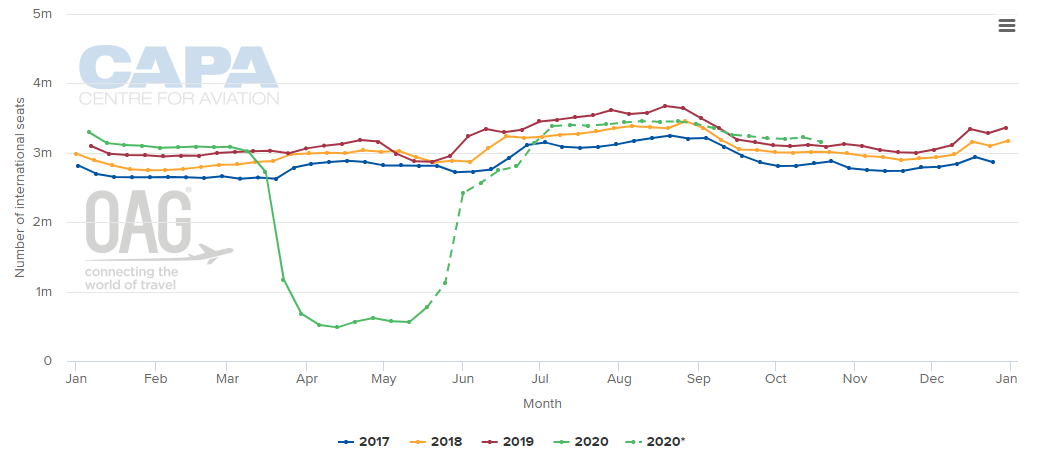 CAPACITY SNAPSHOT: African International Seats (as at 11-May-2020)Source: CAPA – Centre for Aviation and OAG (NOTE: *These values are at least partly predictive up to 6 months ahead and may be subject to change)
---
Route Updates
Bestfly entered a three year contract with ExxonMobil to provide air transport between Luanda and Soyo for ExxonMobil employees. Bestfly will operate the service four times weekly with ATR 72-600 equipment. The agreement includes the option for a two year extension.
Uganda Airlines is still aiming to take delivery of its first A330-800 by Dec-2020 and commence long haul operations in early 2021. The carrier intends to serve Guangzhou, Dubai and London.
TUI Airlines Belgium plans to commence weekly Liege-Oujda service with A320 equipment, effective 11-Jun-2020, according to the CAPA Route Changes Database. The route is currently unserved, according to OAG schedules.