Our regular round-up delivers some of the latest key aviation and travel news stories from across the Continent.
---
SPECIAL NOTE: Coronavirus
The COVID-19 outbreak has significantly impacted air service to, from and within Africa. Initially, this was on services into China and parts of Asia, more recently into Europe, and latterly within the continent as an increasing number of cases have been recorded.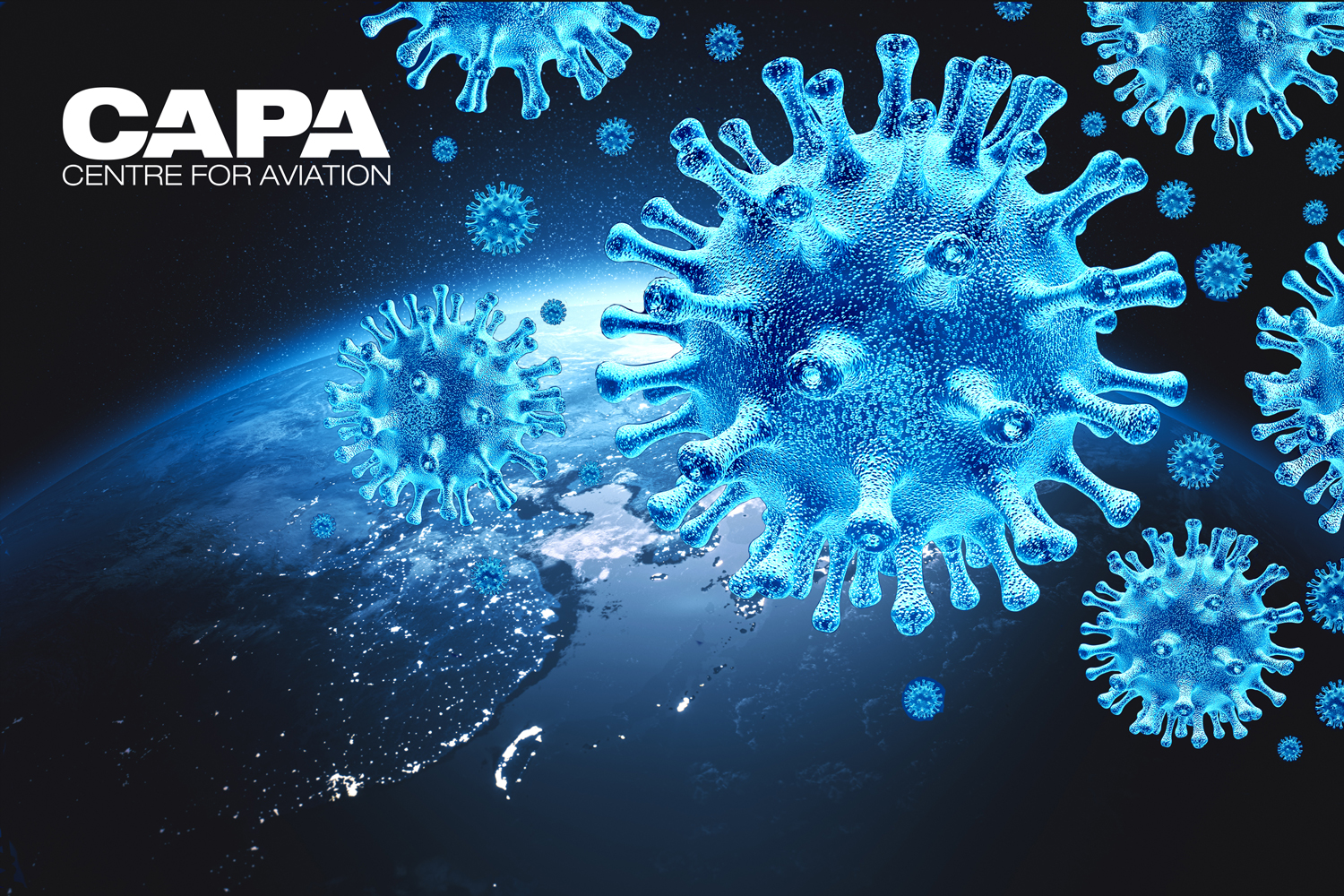 This has seen restrictions on arrivals, and cancellations of numerous flights across the region. This is a fluid situation that is changing by the day. To keep up to date on the devastating effect of the virus on the aviation and supporting industries, read this new essential update from CAPA – Centre for Aviation, which curates intelligence from the World Health Organisation (WHO) and myriad industry sources. Its mission is to help cut through the noise and provide a useful daily snapshot of the COVID-19 outbreak evolution, together with key industry developments.
---
Isolation and 'safe' reputation may help Seychelles retain luxury travellers: Tourism Board CEO
Seychelles Tourism Board CEO Sherin Francis stated "Seychelles will definitely not have the [same] volume of tourists" as it received prior to the coronavirus pandemic, once Seychelles International Airport reopens in Jun-2020. Ms Francis said the pandemic "has had a big psychological impact on people" and predicted: "Luxury travel will remain as Seychelles is a destination that is isolated enough and hence, people will see us as safe".
---
Coronavirus aftermath will be 'very tough for most African airlines'
Ethiopian Airlines Group CEO Tewolde GebreMariam said the aftermath of the coronavirus pandemic "is going to be very, very tough for most African airlines". Mr GebreMariam noted: "African governments will not be in a position to bail out airlines as much as in Europe and America. Airlines are not flying or generating revenue and governments do not have the resources to bail them out". However, he forecast a faster recovery in air traffic in Africa than in other regions, commenting: "Here in Africa we expect to be slightly faster in recovery". Mr GebreMariam expects demand for travel between Africa and Asia, particularly China and India, to return more rapidly than travel from Africa to Europe and North America.
---
Mauritius begins reopening economy after lockdown
Mauritius Tourism Promotion Authority stated no new cases of coronavirus were recorded in Mauritius for 20 days, as of 17-May-2020. The authority attributed the outcome to the responsiveness of Mauritian authorities and the effectiveness of the country's health system, which is experienced in handling epidemics of malaria and dengue. Following a lockdown since 20-Mar-2020, the country commenced gradually reopening certain sectors of its economy from 15-May-2020. However, Air Mauritius extended the suspension of all international commercial passenger services until 30-Jun-2020. Operations are scheduled to resume on 01-Jul-2020, subject to the reopening of borders and lifting of travel restrictions. The airline will continue to operate repatriation and scheduled commercial cargo services.
---
Royal Air Maroc losing USD5 million per day due to coronavirus crisis: CEO
Royal Air Maroc CEO Abdelhamid Addou, in an email to employees, stated the carrier is losing MAD50 million (USD5.07 million) per day due to the coronavirus crisis. According to Mr Addou, the carrier's passenger traffic dropped 60% year-on-year in Mar-2020 and 100% in Apr-2020. Mr Addou said the airline is working closely with "several members of the government" to "prepare a draft recovery plan capable of guaranteeing the sustainability" of Royal Air Maroc in the long term. Mr Addou added: "We will seek to preserve employment as much as possible while guaranteeing the financial sustainability of the company".
---
Comair administrators see 'reasonable prospects' for successful business rescue
Comair (South Africa)'s business rescue practitioners (BRP) stated they believe there are "reasonable prospects for Comair to be rescued through business rescue proceedings". They describe the airline as "a critical infrastructure asset for South Africa" that is "competitively well placed", with a domestic market share of 39%. The company has ZAR7.42 billion (USD406 million) in assets and liabilities of ZAR5.48 billion (USD299.8 million), meaning that while it is financially distressed and unable to generate revenue, the company is not factually insolvent. A business rescue plan is likely to be published on 09-Jun-2020 ahead of a shareholder vote to approve the final plan on 24-Jun-2020.
---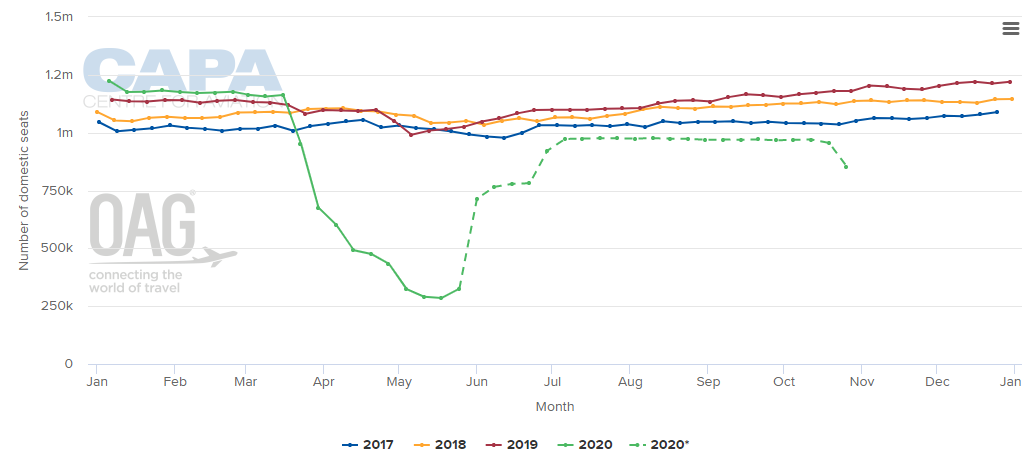 CAPACITY SNAPSHOT: African Domestic Seats (as at 18-May-2020)Source: CAPA – Centre for Aviation and OAG (NOTE: *These values are at least partly predictive up to 6 months ahead and may be subject to change)
---
News Briefs
Air Austral has secured EUR86 million in financing, comprising a EUR30 million loan from its main shareholder Sematra and loans totalling EUR56 million from three banks, backed by a French Government guarantee. The funding is expected to support the airline through a period of low activity until Jul-2020, a slow peak season and a gradual return to normal operations by the end of 2020.
Jambojet extended the suspension of operations until 07-Jun-2020, after Kenya's Government extended the cessation of movement to and from Nairobi, Mombasa, Kilifi , Kwale and Mandera counties for an additional 21 days.
ACIA Aero Leasing announced it delivered an ATR 72-600 (MSN 1072) to Bestfly on 13-May-2020, with the aircraft to be ferried to Angola on 14-May-2020. Bestfly CEO Nuno Pereira said the second ATR 72-600 for its fleet "will be an important part of our growth puzzle".
fastjet Zimbabwe extended the suspension of scheduled services until 30-Jun-2020, following the most recent update from Zimbabwe's Government regarding travel restrictions. The airline says it remains committed to resuming operations earlier than the revised date, should there be any easing of the restrictions.
---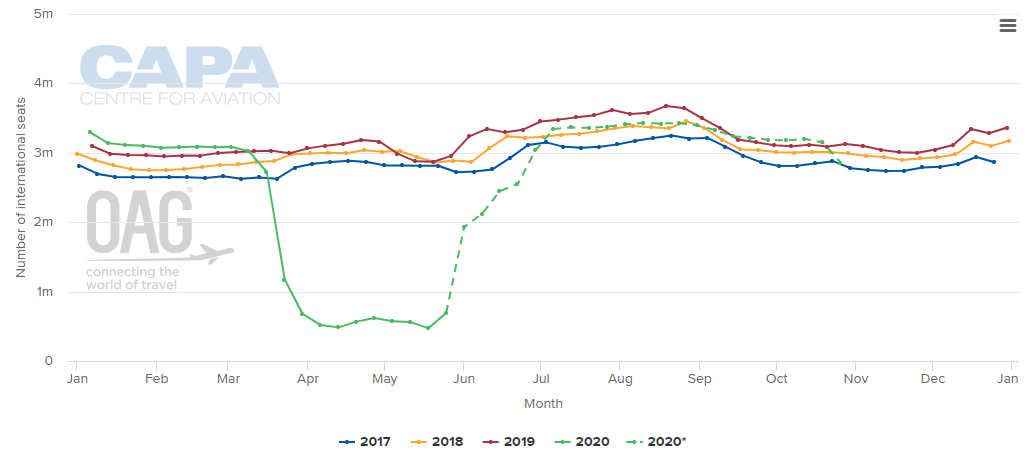 CAPACITY SNAPSHOT: African International Seats (as at 18-May-2020)Source: CAPA – Centre for Aviation and OAG (NOTE: *These values are at least partly predictive up to 6 months ahead and may be subject to change)
---
Route Updates
Air Djibouti plans to commence services to Cairo and Dubai and enter codeshare agreements for London and Paris services with potential partners such as Kenya Airways and KLM, its CEO Abdourahman Ali Abdillahi has outlined. The carrier plans to acquire a second A320 by the end of 2020.
Astral Aviation plans to commence cargo services from Nairobi to Bosaso, Kismayo, Lilongwe and Lusaka, effective 25-May-2020. The airline will serve Lilongwe and Lusaka weekly with DC-9F and Boeing 727F and serve Bosaso and Kismayo once every two weeks with DC-9F.
Africa World Airlines plans to increase Accra-Kumasi frequency from 14 to 17 times weekly, effective 22-May-2020. The airline also operates Accra-Tamale service up to three times daily and plans to resume Takoradi service "shortly".
Lufthansa plans to resume services on the following routes to Africa in Jun-2020: Frankfurt-Johannesburg (three times weekly from 02-Jun-2020) and Frankfurt-Abuja-Port Harcourt (three times weekly from 07-Jun-2020).
Air Senegal reportedly delayed to launch of services to London and Geneva from Oct-2020 to early 2021. The carrier revised the launch of three times weekly Dakar-Geneva service from 25-Oct-2020 to 28-Jan-2021 and the launch of three times weekly Dakar-London service from 25-Oct-2020 to 02-Feb-2021.
TAP Air Portugal postponed the launch of weekly Porto-Sal service with A319 aircraft to 01-Aug-2020. The carrier plans to increase frequency to twice weekly effective 04-Nov-2020.
SWISS plans to resume services to African destinations from Jun-2020. These comprise Zurich-Johannesburg (twice weekly from 03-Jun-2020) and Zurich-Nairobi-Dar es Salaam and Zurich-Cairo from 01-Jul-2020.