Our regular round-up delivers some of the latest key aviation and travel news stories from across the Continent.
---
SPECIAL NOTE: Coronavirus
The COVID-19 outbreak has significantly impacted air service to, from and within Africa. Initially, this was on services into China and parts of Asia, more recently into Europe, and latterly within the continent as an increasing number of cases have been recorded. But while the spread has been notable, it has not had the devastating impact that many had predicted.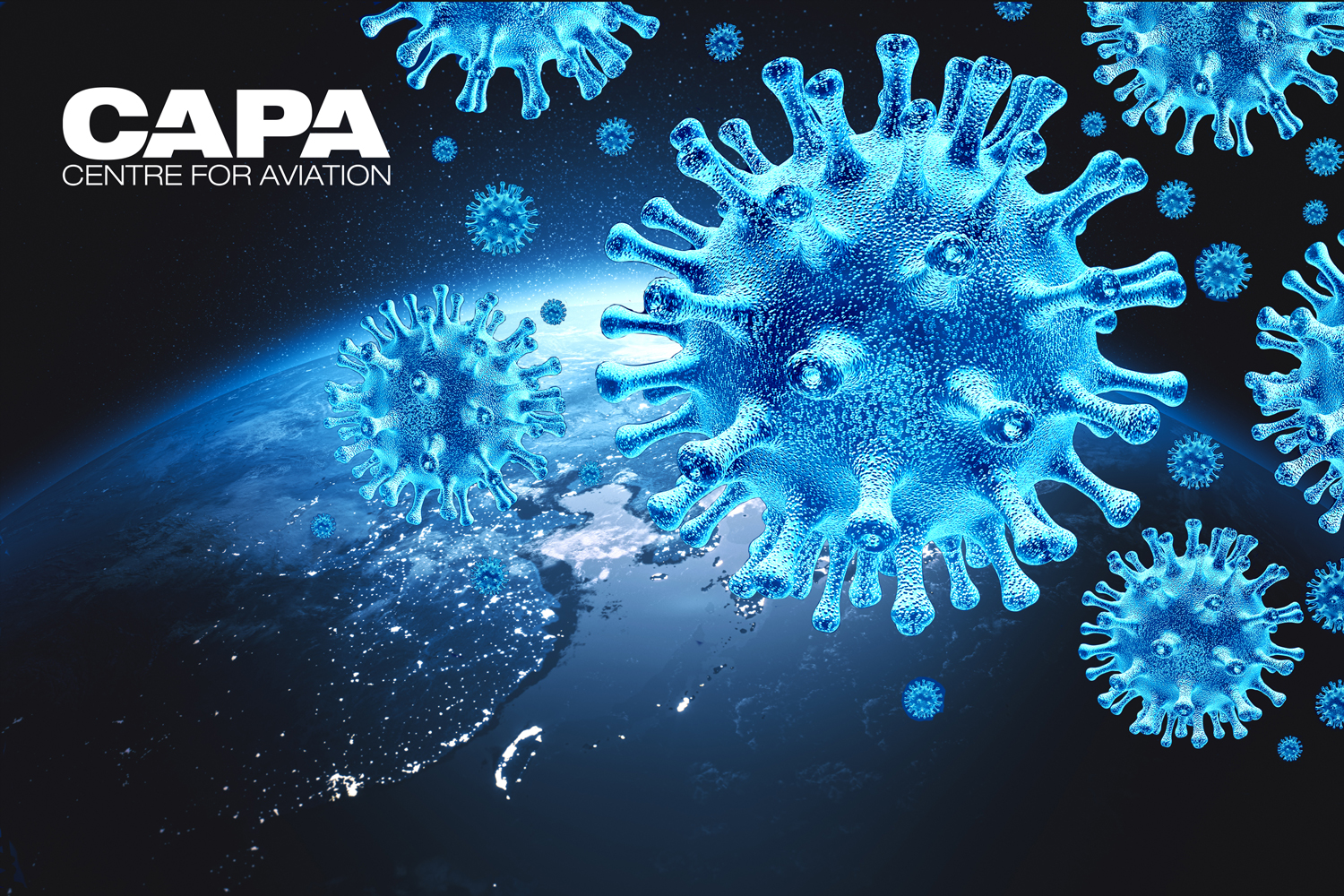 This has seen restrictions on arrivals, and cancellations of numerous flights across the region. This is a fluid situation that is changing by the day. To keep up to date on the devastating effect of the virus on the aviation and supporting industries, read this new essential update from CAPA – Centre for Aviation, which curates intelligence from the World Health Organisation (WHO) and myriad industry sources. Its mission is to help cut through the noise and provide a useful daily snapshot of the COVID-19 outbreak evolution, together with key industry developments.
---
Kenyan Cabinet approves bill to take full ownership of Kenya Airways
Kenya's National Assembly Transport and Public Works Committee chairman David Pkosing stated Cabinet approved the National Aviation Management Bill, under which the government would take full ownership of Kenya Airways and form a holding company for the airline and the Kenya Airports Authority. Mr Pkosing said the committee hopes the bill will be considered by Parliament in Jun-2020 and passed by Aug-2020. Kenya Airways chairman Michael Joseph estimated "it will take at least a year to gain confidence of the travellers and start recovering the travel demand" after the coronavirus pandemic. Mr Joseph added: "We however must look at the bright side of the crisis and the opportunity it presents us to recalibrate and reset our business in order to adopt measures that will full proof our airline".
---
South African Airways aims to resume Johannesburg-Cape Town service in Jun-2020
South African Airways (SAA) announced plans to resume Johannesburg-Cape Town service in mid Jun-2020. The airline stated it is "focusing on ensuring operational readiness to resume flights once permissible". All regional and international services will remain suspended until the end of Jun-2020, with the carrier stating: "It is not yet possible to resume operations beyond South Africa's borders in a sustainable manner". SAA stated it is committed to resume further operations on an incremental basis.
---
Zimbabwe Tourism Authority preparing tourism recovery plan
Zimbabwe Tourism Authority acting CEO Givemore Chidzidzi outlined the authority's draft tourism recovery plan, stating: "The draft plan will reassure confidence in the marketplace and encourage visitors to travel to and within Zimbabwe, thereby boosting tourist arrivals and tourism revenue". Mr Chidzidzi stated: "Domestic tourism is key in post COVID-19 tourism recovery efforts" and said the recovery plan will seek to "provide relief packages to affected tourism businesses including small businesses within the tourism value chain, save and secure jobs from being lost in the tourism value chain and reestablish contact with the local, regional and international tourism markets".
---
FlySafair CEO expects excess capacity and low airfares when full operations resume
FlySafair CEO Elmar Conradie forecast a "massive oversupply" of seats in South Africa's domestic market once full operations resume. Mr Conradie predicted a period of low airfares as airline seek to attract customers, commenting: "All the airlines will still be there but not all the customers will be there". Mr Conradie said there is an opportunity for South Africa's Government to assist the airline industry by waiving or reducing fees for services provided by the government, including airport and air navigation charges. Mr Conradie said waivers or reductions would be "a great assistance to the airlines" in reducing operating costs. He estimated government charges comprise "easily up to 25%" of FlySafair's direct operating costs.
---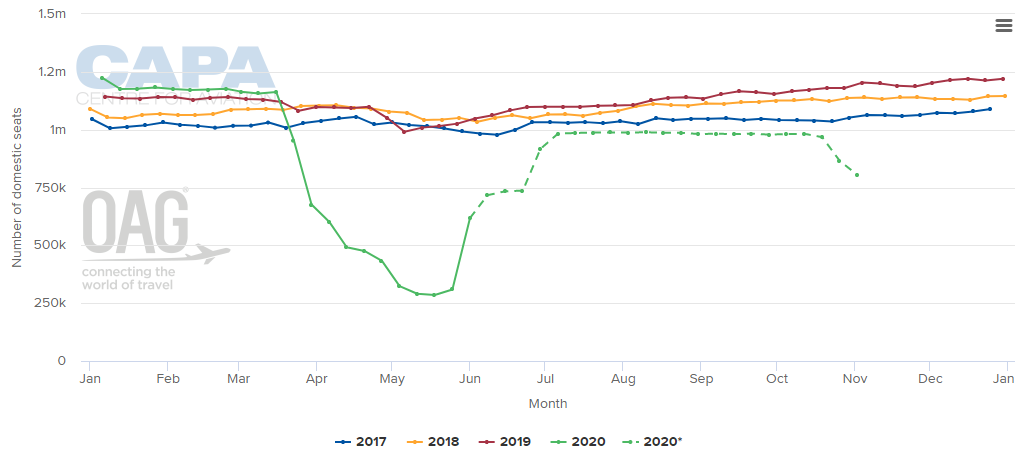 CAPACITY SNAPSHOT: African Domestic Seats (as at 25-May-2020)Source: CAPA – Centre for Aviation and OAG (NOTE: *These values are at least partly predictive up to 6 months ahead and may be subject to change)
---
News Briefs
Air Algerie has begun retrofitting 16 Boeing 737-800 aircraft. The company has carried out a densification of the cabins, which can now accommodate 148 passengers compared to 144 previously. The aircraft will also be equipped with new seats and inflight entertainment in business class.
Air Botswana may resume domestic operations on 12-Jun-2020, according to the country's Minister of Transport and Communications Thulaganyo Merafe Segokgo. As previously reported in Mar-2020 the airline announced it would suspend operations from 27-Mar-2020 to 31-May-2020.
Libya start-up Berniq Airways will reportedly delay plans to commence operations in May-2020 due to the impact of coronavirus and associated travel restrictions. The airline's founder Jamal Abdul Malik said the start up airline will operate three A320 aircraft upon launch and has already taken delivery of its first A320.
The Nigerian Civil Aviation Authority confirmed Nigeria's Government is developing an "economic stimulus package" for the aviation industry. Its director general, Musa Nuhu, said the "all inclusive" package will cover airlines, ground handlers and other industry sectors.
Angola's Transport Ministry and China National Aero-Technology International Engineering Corp (AVIC-ENG) have reached an agreement covering the resumption of work on construction of the new international airport in Luanda. A programme budget of USD1.4 billion has also been agreed to.
Airlines Association of Southern Africa (AASA) forecasts a "slow ramp up" in domestic traffic in South Africa as coronavirus related restrictions are gradually eased and estimates domestic traffic will reach 60% of pre-pandemic levels by Dec-2020.
---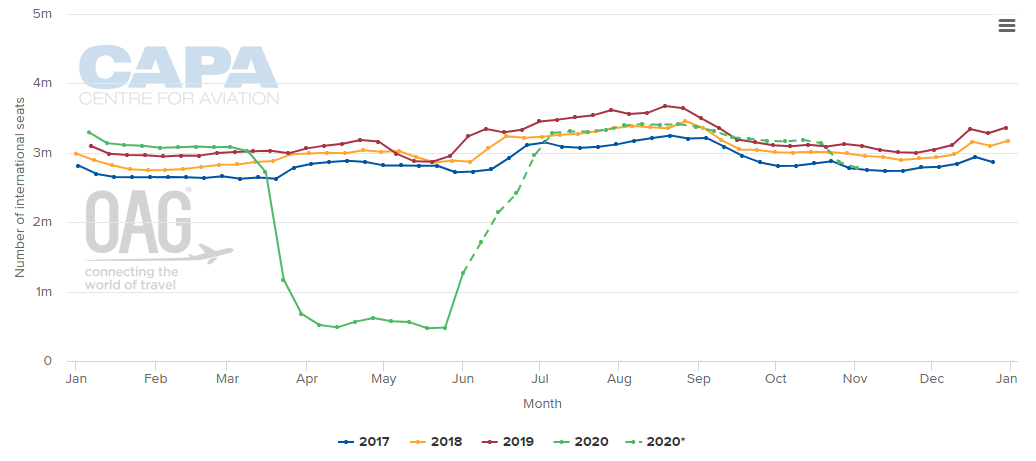 CAPACITY SNAPSHOT: African International Seats (as at 25-May-2020)Source: CAPA – Centre for Aviation and OAG (NOTE: *These values are at least partly predictive up to 6 months ahead and may be subject to change)
---
Route Updates
LAM - Mozambique Airlines has postponed the scheduled launch of three times weekly Maputo-Lisbon service from 02-Jun-2020 to 01-Aug-2020. The airline intends to operate the service with A330-200 equipment under a leasing arrangement with Hi Fly.
Astral Aviation has confirmed the expansion of its network to 13 destinations in Africa, effective 25-May-2020. New destinations include Bosaso, Kismayo, Lilongwe and Lusaka.
Delta Air Lines has made an application to the US Department of Transportation requesting exemption authority for a term of two years to operate scheduled passenger and cargo service on the Atlanta-Johannesburg-Cape Town-Atlanta routing from 24-Oct-2020 with A350-900 equipment.
LATAM Airlines Brasil plans to commence five times weekly Sao Paulo Guarulhos-Johannesburg service on 01-Aug-2020, according to Routes Online. The airline will operate the service with A350-900 equipment.
Madagascar's Tsaradia commenced cargo only operations on 24-May-2020. The airline operated Antananarivo-Sambava service and plans to offer a series of cargo operations with ATR aircraft.
Virgin Atlantic Airways has confirmed daily flights from London Heathrow to Johannesburg and Lagos will form part of its resumption of its air services, currently scheduled to take place from 01-Jul-2020.