Our regular round-up delivers some of the latest key aviation and travel news stories from across Africa.
---
Jambojet CEO appointed as acting Kenya Airways CEO
Kenya Airways has appointed Allan Kilavuka as acting CEO until a permanent CEO is appointed, effective 01-Jan-2020. The recruitment process to replace group MD and CEO Sebastian Mikosz is actively ongoing. Mr Kilavuka will continue his role as Jambojet CEO during this interim period. "The recruitment process for a substantive Chief Executive Officer with the necessary experience and knowledge was initiated upon the announcement of Sebastian Mikosz's decision to leave the airline at the end of 2019. The process is still actively on going and the Board will inform all our stakeholders once a suitable candidate has been identified," says the airline.
---
Gambian President and Universal Caravan Aviation plan to launch Jet Wings Gambia in 2020
Gambia's President Adama Barrow and Universal Caravan Aviation plan to launch a private airline named Jet Wings Gambia in mid 2020. The proposed Gambia based airline is planned to operate to cities in West Africa and Barcelona, Brussels and the UK. Mr Barrow commented: "My government has created the enabling environment for a private sector-led growth of the country's economy".
---
Nigeria to introduce visas on arrival for African passport holders in Jan-2020
Nigeria's President Muhammadu Buhari announced the country will introduce visas on arrival for all travellers holding passports of African countries, effective Jan-2020. Mr Buhari also commented: "Africa should embark on the provision of transport connectivity by enhancing the development of roads, rail, and air links which will ease the free movement of persons, goods and services within the continent".
---
Ethiopian Airlines believes Houston route holds 'significant potential for business connectivity'
Ethiopian Airlines Group CEO Tewolde GebreMariam reported the carrier's planned Houston service holds "significant potential for business connectivity that Ethiopian Airlines is trying to gain access to". Mr GebreMariam reported the airline will "be the only carrier to offer flights from Houston to Africa" and assist in "responding to the market demand and availing best possible connectivity". Ethiopian Airlines commenced Addis Ababa-Lome-Houston George Bush service on 16-Dec-2019.
---
Qatar Airways boosts Botswana's connectivity as it launches Doha-Gaborone service
Qatar Airways launched three times weekly Doha-Gaborone service, effective 15-Dec-2019. The carrier operates the route with A350-900 equipment. Qatar Airways is the only non-African airline to operate to Botswana. Civil Aviation Authority of Botswana acting CEO Kabo Phutietsile said the new route will "further boost" Botswana's aviation industry and auxiliary industries, while allowing for "improved connectivity" through Qatar Airways' "many established routes".
---
News Briefs
Royal Air Maroc will officially become a oneworld alliance member on 31-Mar-2020. It will be the first new full oneworld member in six years, and oneworld's first African member carrier.
Air Madagascar and Alitalia signed an agreement to enable Italian travel agencies and tour operators to offer connections between Italy and Paris CDG with Alitalia and between Paris CDG and Madagascar with Air Madagascar, effective from the 2019/20 winter schedule.
Air Mauritius is reportedly considering doubling South Africa frequency in response to the restructuring of South African Airways. According to Air Mauritius' official website, the carrier operates to Cape Town, Durban and Johannesburg.
---
CAPACITY SNAPSHOT: African Domestic Seats (as at 16-Dec-2019)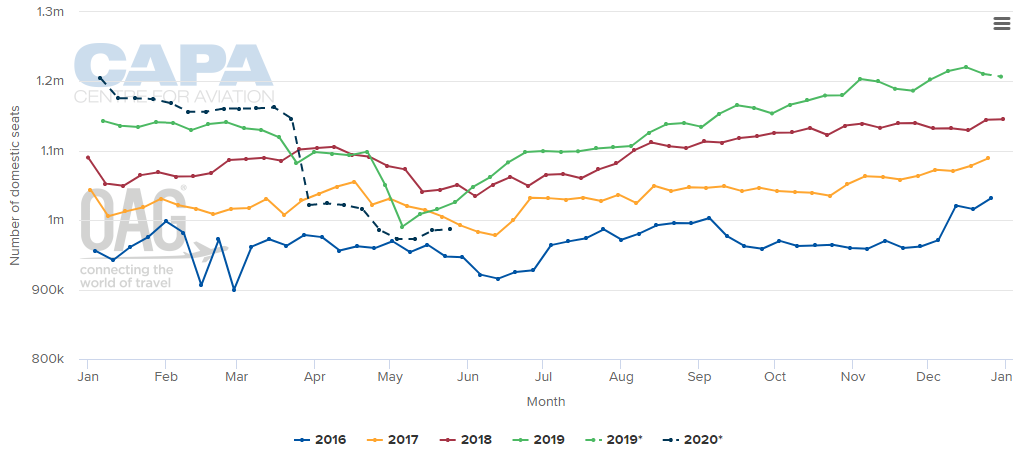 Source: CAPA – Centre for Aviation and OAG (NOTE: *These values are at least partly predictive up to 6 months ahead and may be subject to change)
---
Fleet Development
Cabo Verde Airlines received one Boeing 757-200 (D4-CCH, MSN 29307), as recorded by the CAPA Fleet Database. The aircraft was previously in service with La Compagnie.
EgyptAir plans to operate Cairo-Amsterdam weekends service with Boeing 787-9, replacing A330-300 equipment, effective 06-Jun-2020, according to Routes Online. The carrier will continue to operate weekdays service with 737-800 equipment.
ASKY Airlines confirmed the addition of one Boeing 737-800 to its fleet in Lomé on 12-Dec-2019. The airline also operates one Q400, five 737-700s and another two 737-800s.
Ethiopian Airlines received one new A350-900 (ET-AWP, MSN 375) as recorded by the CAPA Fleet Database. The airline now operates 14 A350s with 10 to be delivered. It also received a new Boeing 787-9 (ET-AXL, MSN 62176) and now operates six of the type.
Arik Air reportedly took redelivery of one Q400 and one Boeing 737-800 after the aircraft completed C checks. It is expected to receive two more aircraft following maintenance in late 2019 and Jan-2020.
Air Tanzania leased one Q400 from the Tanzanian Government. The aircraft is the carrier's eighth leased from the government.
---
CAPACITY SNAPSHOT: African International Seats (as at 16-Dec-2019)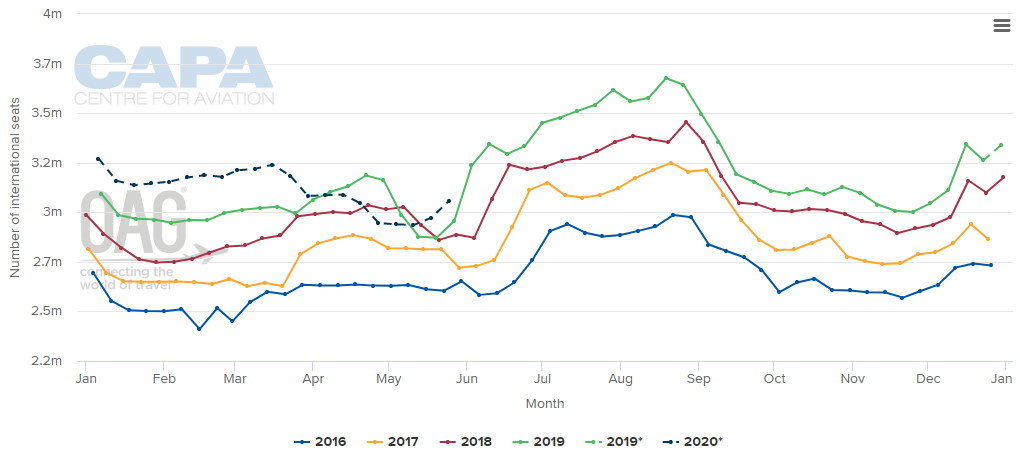 Source: CAPA – Centre for Aviation and OAG (NOTE: *These values are at least partly predictive up to 6 months ahead and may be subject to change)
---
Route Update
TAAG commenced a Luanda-Lagos service on 16-Dec-2019. The airline operated the inaugural service with Boeing 777-200ER equipment and will subsequently operate twice weekly with 737-700, according to OAG.
Air Senegal commenced four times weekly Dakar-Accra service with A319 equipment on 16-Dec-2019. The airline hopes to increase frequency to daily in response to demand.
LAM - Mozambique Airlines has launched links from Beira to Lichinga, Nampula, Pemba and Tete using 29-seat Embraer EMB120 equipment. Beira-Nampula operates four times weekly; Beira-Pemba and Beira-Tete-Lichinga-Beira flies twice weekly.
Qatar Airways plans to increase the following frequencies on its Africa network in 2020. Its Doha-Maputo link will grow from three to five times weekly and Doha-Windhoek will increase from five to seven times weekly.
Cabo Verde Airlines launched twice weekly Sal-Porto Alegre service on 12-Dec-2019, with frequency increasing to three times weekly, effective 23-Dec-2019.
SWISS plans to launch a Geneva-Djerba service, operating weekly from 04-Jul-2020 to 29-Aug-2020 with A220-300 equipment, reports Routes Online.
Azman Air commenced Abuja-Asaba service with Boeing 737 equipment on 15-Dec-2019, marking its first operation at Asaba International airport. The airline will operate four times weekly Abuja-Asaba and twice weekly Lagos-Asaba services.
Iberia announced plans to launch up to four times weekly Madrid-Cairo service from Jul-2020 to Aug-2020, operating with 141 seat A319 equipment.