Based in Comiso in Sicily's south, the start-up is marketing itself as "the people's airline". Operations are supposed to launch in mid Jun-2020, and will look to create new jobs from airline operations as well as MRO opportunities with a new maintenance base at Comiso Airport.
Sicily's total GDP (based on 2017 data available) dwarfs those of other European island nations and regions such as Malta, Crete and Cyprus, but with over five million inhabitants, the island's per capita GDP, an indicator of individual purchasing power, lags behind considerably.
One of the largest regions by population in Italy, it also falls behind other Italian regions in terms of purchasing power and economic stability. Sicily is notably facing one of the worst unemployment situations not only in Italy but in all of Europe, particularly in younger generations.
Perhaps reflecting this deficiency in purchasing power, the island's air traffic share is mainly comprised of LCC seats. Volotea has a base in Palermo and a large presence in Catania, operating 27 routes in 2020. easyJet also has a significant presence at Catania, operating domestically to Venice, Naples and Milan and internationally, primarily to France.
Ryanair by far has the largest presence in Sicily, with long term bases at both Palermo and Catania and a dominant proportion of passenger share, including more than half the capacity at Sicily's largest air gateway at Palermo's Falcone Borcellino Airport.
CHART: Ryanair and LCCs dominate in Palermo, and this is the case for both of Sicily's primary airports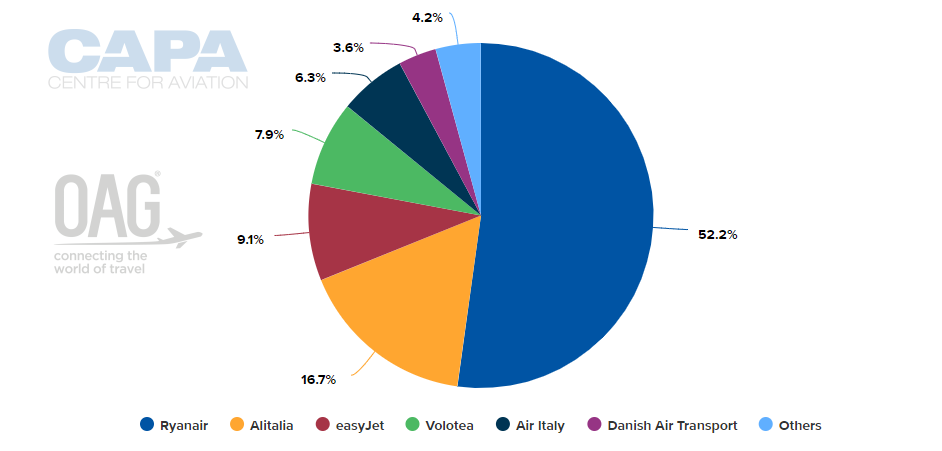 Source: CAPA – Centre for Aviation and OAG (data: w/c 17-Feb-2020)
Aerolinee Siciliane plans to first base operations in Comiso with leased A320 equipment, serving Rome, Milan and Bologna and eventually European cities such as Stuttgart, London and Paris. Additional aircraft will be based in Catania in 2020 and 2021 and Palermo from the end of 2021, according to founder Luigi Crispino.
Its first and biggest challenge is the most obvious one: how to secure aircraft amid the 737 MAX grounding. The 737 MAX grounding has flow on effects for the entire industry. As major carriers such as Ryanair and TUI look elsewhere to shore up capacity increases planned for summer 2020, this creates a shortage of narrowbody wet and dry leases for smaller fleets: start-ups like Aerolinee Siciliane will no doubt struggle to find capacity at a reasonable cost, particularly if it grows as rapidly as it is planning.
MAP: Comiso's distance to Sicily's main industrial centres and lack of good ground transport options may prove challenging for Aerolinee Siciliane initially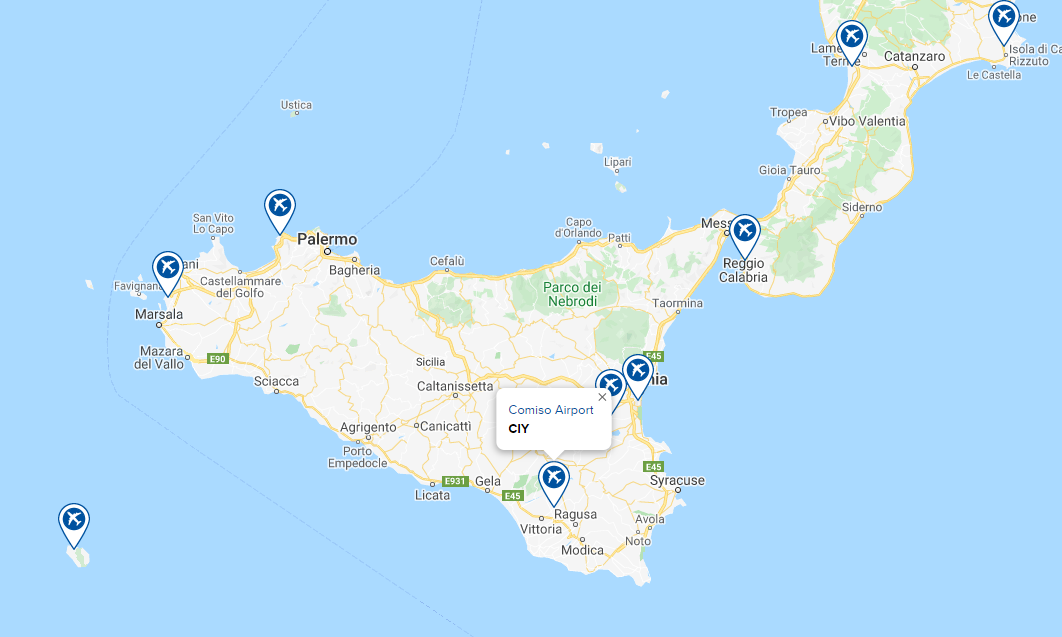 Source: CAPA - Centre for Aviation and Google Maps
Its initial Comiso base may prove beneficial to differentiate from Catania and Palermo and help to reduce airport-associated costs, but as a catchment it lacks any decent ground connectivity to the rest of the island. It is hours away from the more industrialised centres around Palermo and Catania but is in (relatively) close proximity to shipping areas in Syracuse and can easily be an important entry point into Sicily's south-east coast areas, which hold a large number of UNESCO heritage sites.
Europe's island markets have a much higher propensity for air travel than other leading aviation markets, and island territories rely much more on air travel to maintain vital links with the rest of the country and Europe.
This is especially true for Sicily, which has no physical connection with Italy and relies on ferry services between Messina and mainland. The Strait of Messina Bridge is a project that has been envisioned since ancient times, but has been abandoned time and again due to lack of budget, political will and likelihood that the project may not even be feasible due to seismic activity in the region.
So while another LCC in Sicily seems unnecessary and even risky at first glance, as a low cost operator with a "made in Sicily" image and corporate structure, Aerolinee Siciliane may be able to carve out its own niche by being at the service of the economic development of the island and its residents, allowing it to take away market share from foreign airlines and generate new demand for travel and tourism to and from the island.