---
Summary:
Kenya Airways' CEO believes Africa is not ready for large-scale privatisation of its airports;
CAPA - Centre for Aviation statistics confirm that the limited private financing in Africa is typically found to be in the form of loans;
But there is one project under way in Rwanda that could change the perception of private sector investment;
---
That airports and terminals should be built quickly is not in dispute. In 2017 African airlines saw passenger traffic growth of +7.5% compared to the previous year, which was higher than in the Middle East. Capacity rose at less than half that rate of demand (+3.6%) though. While that meant higher load factors, greater capacity will be needed, which will require more, or longer, runways to handle it and new terminals.
While Mr Mikosz was speaking it was being revealed that Kenya Airways intends to take over the operation of Nairobi's Jomo Kenyatta airport under concession, a rare event for Africa, and to bring both airline and airport under the same sort of joint control as is found in the Middle East. But is he correct in his claims? Is it the public sector leading the way on airport infrastructure investment in Africa?
Presently there is US24.8 billion worth of actual or anticipated airport infrastructure investment there, in 73 known projects, and USD15.7 billion investment in 22 new airports, according to the CAPA - Centre for Aviation Airport Construction Database. Much of this investment is coming from government and some of it in the form of loans from foreign banks, some of them soft loans and some of them at least partly as a quid pro quo for access to minerals that are valuable to the lending nation. Moreover, foreign firms are heavily involved in construction activities. But that is not the same as investment.
The content for the tables below is taken from the CAPA Airport Construction Database and highlights the major construction projects at existing African airports (top) and new airports (bottom). The minimum level of investment for inclusion in this table is USD1 billion.
It is only in a small number of cases that the private sector been involved. TAV Airports for example had an involvement at Tripoli Airport which was suspended when the Libyan war intensified, while the Al Minya airport was expected to be a build-operate-transfer (BOT) deal involving the private sector. The new Addis Ababa airport will likely be built courtesy of loans from the ExIM Bank of China, which supported the expansion of the existing one. Nigeria has had privatisation of its main airports under consideration for years but has made little progress on it.
There are consistent and persistent difficulties presented to potential private investors into African airports including (until recently) little prospect of traffic growth; the high cost of construction; few alternative revenue streams apart from airline fees; perceived corruption; ATC issues; and lack of progress on the adoption of "open skies".
Moreover, and contrary to Mr Mikosz's thinking of someone who represents one of Africa's largest countries with almost 50 million people, the small scale economies of many other African countries permit no other outcome than to seek external private capital.
The recent AviaDev Africa 2018 event in Cape Town, South Africa, a forum dedicated to growing connectivity to, from and within the African continent, provided some insights into the subject of airport infrastructure and in particular the financing of projects. Of particular note Alexander Herring, private sector liaison officer at World Bank Group explained that there is plenty of global financing available to support airport projects in Africa.
"In the world currently there is money available for investment and financing," he confirmed, but for airports or institutions seeking that money "it can be hard to find the right way of sourcing it, noting that "the legal framework" can sometimes make it hard to access, particularly in the case of Public Private Partnerships (PPPs).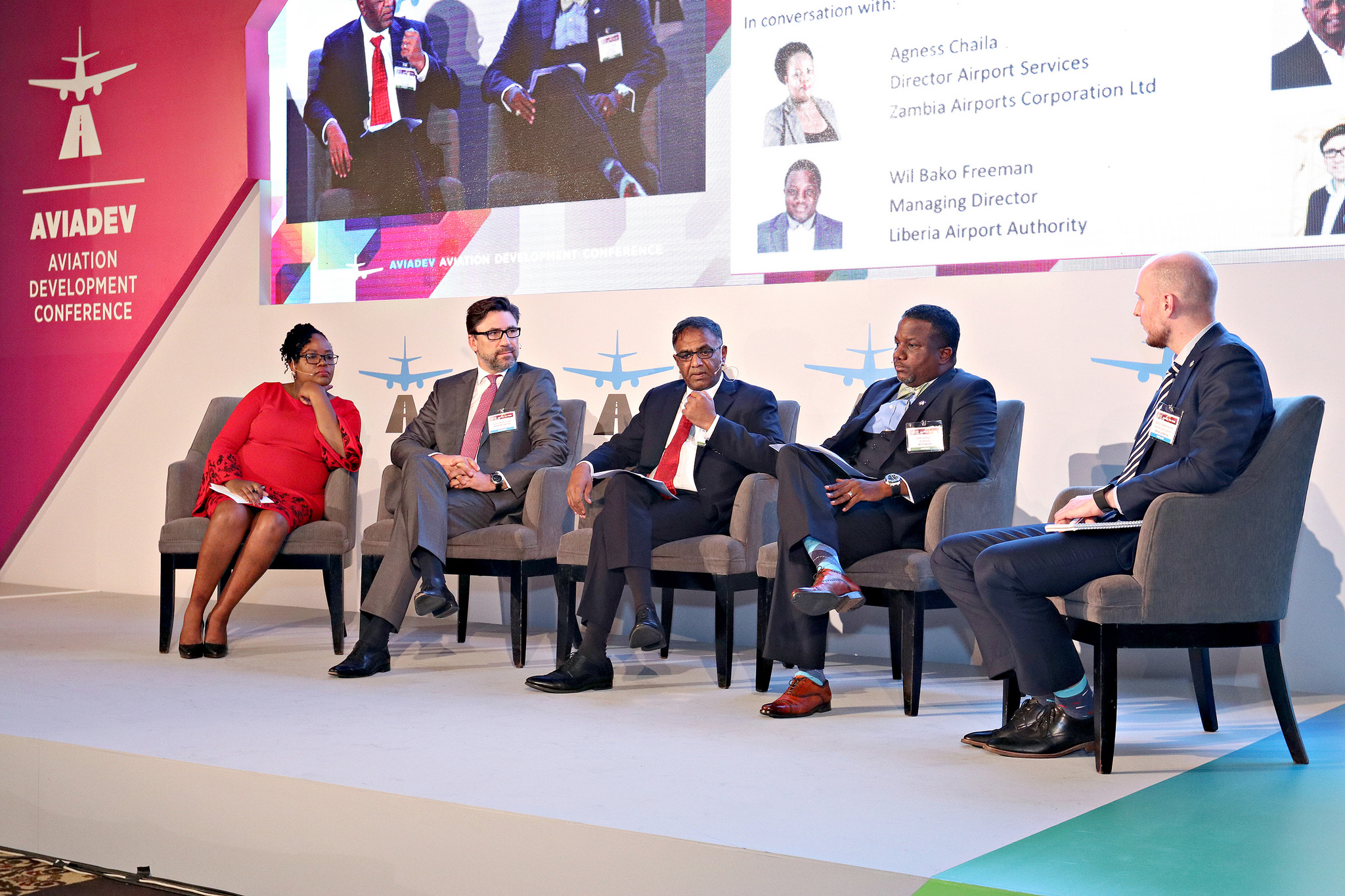 Agness Chaila, director airport services at Zambia Airports Corporation said combined USD800 million projects at its main gateway in Lusaka and the Copperbelt International Airport, a greenfield site in the north of the country, have both been financed by the ExIM Bank of China, while previous work at Livingstone, close to the Zimbabwe border was supported by a commercial loan. "It has not been difficult for us to find the financing," she said.
Similarly, terminal development work at Roberts International Airport in Liberia has been financed by the ExIM Bank of China, while financing for runway work was secured from the Saudi Fund and the Arab Bank for Economic Development in Africa (BADEA), outlined Wil Bako Freeman, managing director, Liberia Airport Authority.
The west African facility also looked at a PPP for its cargo terminal. "We had interest, we were ready, but going through the bureaucracy took about two years before we could finalise that. It's a challenge that certainly needs to be worked on," Mr Freeman added.
Having also supported some recent projects in Zimbabwe, why is Africa turning mainly to China to support its airport projects? Acknowledged as 'the elephant in the room' during the panel discussion, "the fact of the matter is their money is cheaper," Ms Chaila openly acknowledged.
It has been suggested that an airport capacity crisis could impede the growth of air travel, but Ms Chaila argued that there is no crisis in Africa despite significant work taking place at airports across the Continent. "Everywhere you look today in Africa airports are a site of construction," she said and while the likes of Johannesburg and Nairobi have worked to overcome capacity issues, in smaller countries and airports across Africa "we would really say we have not suffered any capacity crisis".
These investments are mainly based around a need to upgrade dated facilities that have seen little investment since their construction many decades ago. "We mostly sit on infrastructure that was built years ago. We should perhaps be talking more about a configuration crisis, which delivers its own challenge," she explained.
African airports are also investigating alternative revenue streams based around non-aeronautical revenues to provide some positive return on any investment. Ms Chaila said plans at Lusaka's Kenneth Kaunda International Airport include wider hotel and shopping centre activities to make better use of land assets, a model also under development at Roberts International Airport in Liberia.
Behind all this dialogue there is, however, one shining example of privatisation that does not feature in the above table because it falls slightly outside the minimum investment level, but could become a roadmap for others in the Continent to follow. That is the USD700 million public-private deal signed in Jul-2017 to build the new Bugesera International Airport in Kigali, Rwanda.
Initially, China State Construction Engineering Corporation was to be the contractor but withdrew and was replaced by Mota Engil Africa, the Dutch based subsidiary of the Portuguese company, and which opted not only to build the airport but to operate it under concession for 25 years with an optional extension of 15 years.
VIDEO: Rwanda has put much effort into the promotion of this airport, including a presentation at the 2016 GAD conference in Lisbon, Portugal – home to Mota Engil.
Bugesera Airport, which is intended to become a regional hub, is an important part of Rwanda's strategy for socio-economic transformation even if its capacity will only be 4.5 mppa initially (ultimately 50 mppa). The success of this venture is an absolute requirement for other African countries to seek out and secure much-needed foreign investment in their airports.