In the case of Ethiopian, which currently operates only between Addis Ababa and London Heathrow, the carrier is considering either additional frequency from Heathrow and/or the launch of service from a second UK airport in order to achieve its long-term growth ambitions in the UK market.
MAP - Ethiopian Airlines network across Europe is relatively sparse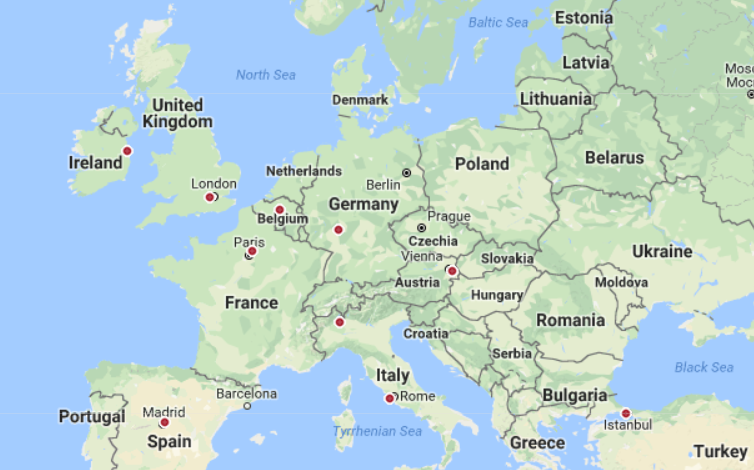 Source: CAPA - Centre for Aviation and OAG (data: w/c 26-Feb-2018)
Jet Airways is India's second largest airline. It flies to Heathrow Airport from Delhi and Mumbai, and, through a code share agreement with KLM at its European hub at Amsterdam, connects with no less than 17 airports in the UK.
MAP - Jet Airways has a strong connecting network across the UK via a codeshare partnership with KLM via Amsterdam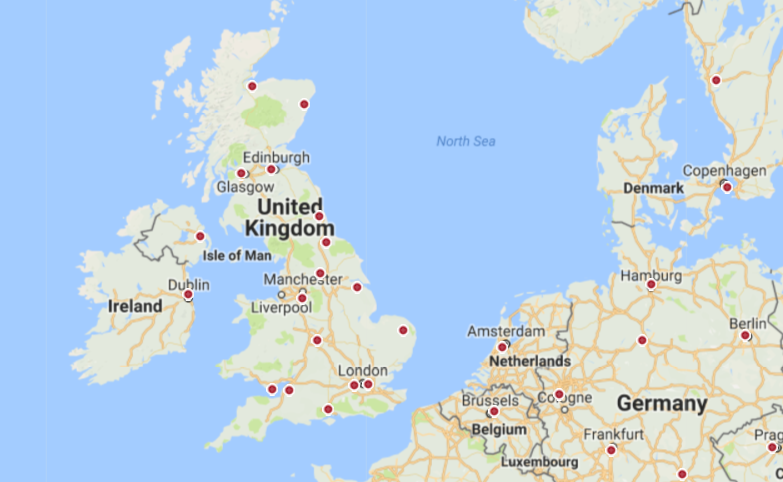 Source: CAPA - Centre for Aviation and OAG (data: w/c 26-Feb-2018)
The needs of the two carriers are therefore somewhat different as Jet Airways is better established already in the UK market than is Ethiopian. While a split operation at another London airport would be an option, the search procedure for both carriers will probably narrow down to two airports, Birmingham and Manchester.
Assessing demand will probably follow a similar path for both. Firstly, there is the size of any diaspora. Jet Airways only has 1,000 seats per day to the UK. As its CEO acknowledges, "There are plenty of other options. People live in other cities in the UK outside London – there are plenty of Indians who reside in those places."
The Indian diaspora is one of the largest ethnic groups in the UK. It is congregated in the north and west of London, but also extensively around the West and East Midlands, which is served by Birmingham Airport, from where there are already Air India flights to and from Delhi and Amritsar, the only direct air services outside of London. Although there are Indian congregations in the north (Manchester Airport) and Scotland (Glasgow Airport), it is not to the same degree.
With regard to trade, the second largest economic area in the UK outside London as measured by Gross Value Added (GVA) - the measure of the value of goods and services produced in an area, industry or sector of an economy - is in and around Manchester, which is also considerably more advanced in hi-tech and knowledge industries.
That could help swing the argument in Manchester's favour, as might the propensity to travel of the indigenous population, which historically is the second highest in the UK in the northwest region. That is an important factor in assessing outbound tourist demand.
Jet Airways' CEO also mentioned "wonderful universities in other parts of the UK". Both Birmingham and Manchester have highly regarded academic institutions that are favoured by foreigners. Manchester has more of them, the largest conglomeration of students on a single site in Europe, and it has become particularly attractive to the Chinese, helping to sustain direct flights from Hong Kong and Beijing.
While Manchester offers many attractions, the volume of Indian nationals' traffic alone is likely to put Jet Airways in a position where it has to find a reason to rule out Birmingham as its first choice.
CHARTS - When considering the distribution of seat capacity by region at Birmingham (top) and Manchester (bottom) airports, neither currently scores highly on South Asia or Central Africa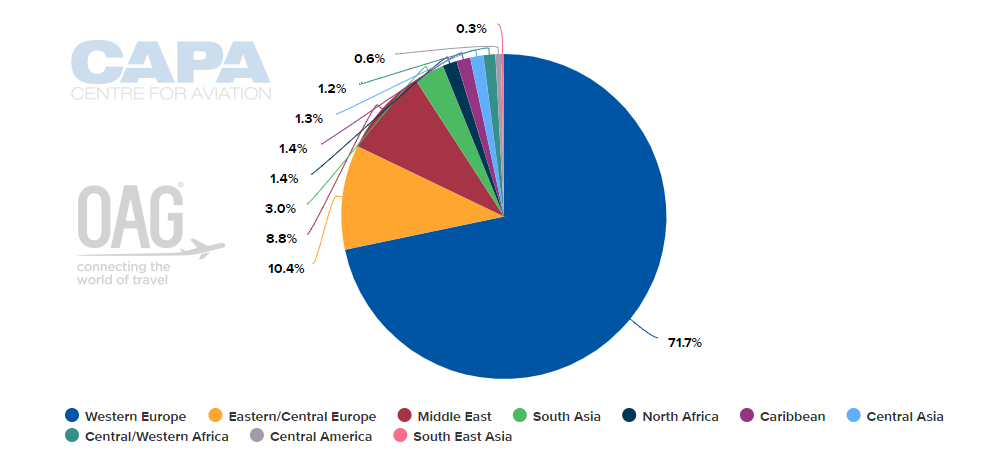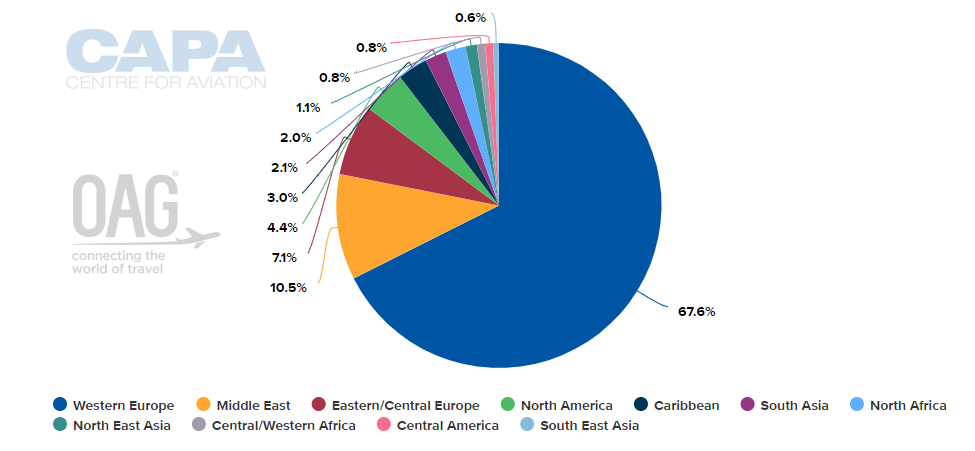 Source: CAPA - Centre for Aviation and OAG (data: w/c 29-Feb-2018)
In the case of Ethiopian, the position is slightly different. Firstly, there is no diaspora to speak of. In the 2011 National Census there were just 15,500 Ethiopians living in the UK, of whom 10,500 were living in and around London. It is probably nearer 20,000 now but still a small number.
Trade between the UK and Ethiopia is limited compared to that of UK-India but it is growing and was worth GBP439 million in 2015. A trade-influenced decision might be made on the basis of a single contract, such as Ethiopian's order for Rolls Royce engines for its new long-haul fleet. They are made in Derby, accessible from both Birmingham and Manchester.
Ethiopia is not established as a mainstream tourist destination, but countries around it which are accessible via its Addis Ababa hub, such as Kenya and Tanzania, are for the British. That hub would support business journeys to East Africa and the Middle East as well.
The situation is the same with regard to incoming students to Manchester and Birmingham universities, not only from Ethiopia but from East Africa generally, though they would be fewer in number.
There is one striking difference with Ethiopian compared to Jet Airways. The latter has a European hub (Amsterdam), it needs no other. Ethiopian does not need one at all but it does already fly via Dublin to Los Angeles, using fifth freedom rights and covets an extension of that facility to Washington and Toronto. (At present it stops at Dublin only to upload fuel, westbound).
Could it seek one or more fifth freedom options via the UK? If so, Manchester is pretty well catered for, with flights to 15 airports in North America. Birmingham has two destinations there, both beginning in summer 2018. Or it could select another UK airport, but at the expense of point-to-point traffic.
Birmingham or Manchester? It's a decision that's faced many foreign airlines considering growth in the UK market. While many of the issues discussed here are major influences for airlines, it could come down to the commercial deals with airport operators that swings the final decision.