Industry body International Air Transport Association (IATA) predicts the African market will grow by +5.9% annually over the coming years and by 2036 it will see an extra 274 million passengers a year for a total market of 400 million passengers. Last year African airlines saw traffic levels rise +7.5% compared to 2016. Capacity rose at less than half the rate of demand (+3.6%), helping load factors to jump 2.5 percentage points to 70.3%.
Many of the world's fastest-growing markets will be Africa and will achieve a compound growth rate of more than +7.2% per year, meaning their market will double in size each decade. These include Sierra Leone, Benin, Mali, Rwanda, Togo, Uganda, Zambia, Senegal, Ethiopia, Ivory Coast, Tanzania, Malawi, Chad, Gambia and Mozambique.
But Africa remains the only Continent of the world where operators will make a region loss. In its latest revision to its financial predictions to take into account rising costs - primarily fuel and labour, but also the upturn in the interest rate cycle - IATA still forecasts Africa's airlines to make a collective loss of USD100 million.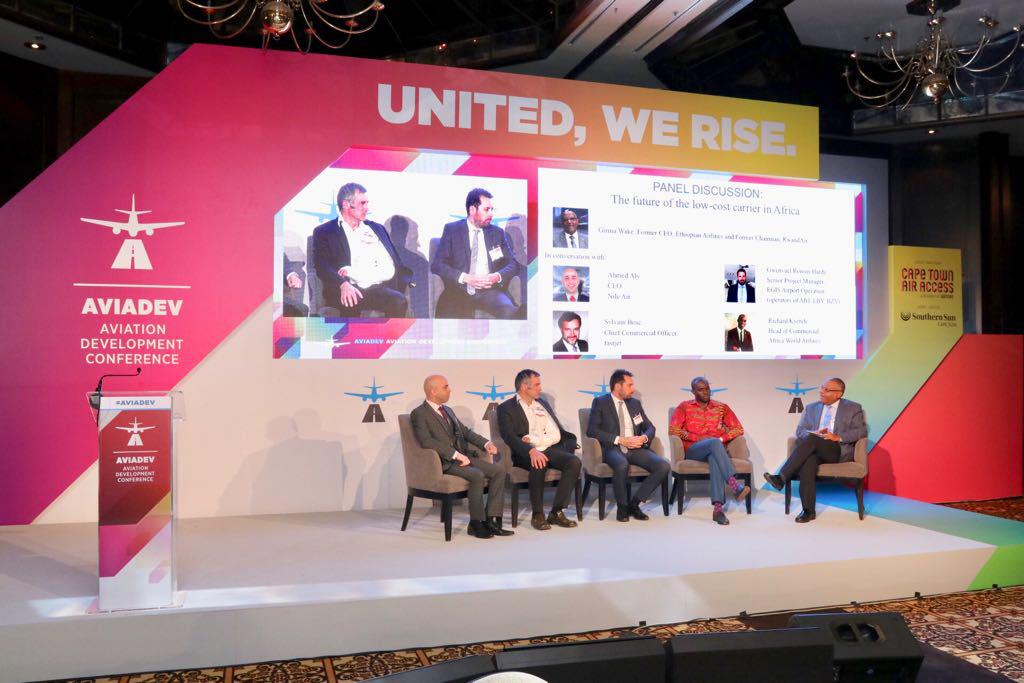 The Blue Swan Daily is attending AviaDev Africa, a forum dedicated to growing connectivity to, from and within the African continent and taking place this week in Cape Town, South Africa. Here's some insights from the discussions on aviation in Africa.
---
Moving Cape Town from a 'bucket led destination into a business hub'
South Africa Western Cape Investment and Trade Promotion Agency (WESGRO) CEO Tim Harris said that a collaborative approach between all government levels and the private sector has helped deliver the Cape Town Air Access project. "We planned to initially add three routes in three years. In reality we have actually doubled seat capacity at the airport and triggered an infrastructure project for the coming years. Key to this has been improved intra-African connectivity with new flights into Cape Town from Ethiopian Airlines, Kenya Airways, RwandAir and TAAG Angola adding another eight destinations and introducing 400,000 additional seats.
---
Cape Town International Airport set for ZAR7 billion investment over next five years
Airports Company South Africa (ACSA) chief operating officer Fundi Sithebe said over the next five years there will be a ZAR7 billion investment into Cape Town International Airport. "We have a number of projects planned to make sure that we are able to meet the extensive growth which we've seen," she explained. These include a new runway project which received approval from the Department of Environment affairs earlier this year. "This project is critical. It's a project that is not only about the growth of the airport…we need to move the runway so that we are able to develop the airport for future years," she said. The project and allow the airport to not just boost capacity but to handle bigger aircraft. Other key projects planned are expansions to both the International and Domestic Terminals, according to Ms Sithebe.
---
South Africa Western Cape Minister: Air access initiative has been "critical to attracting investment"
South Africa premier of the Western Cape province Helen Zille said that Cape Town's air access initiative has been "critical to attracting investment". She added: "In the last year alone, we have seen 20% growth in international terminal passengers at the airport with an estimated ZAR4 billion in direct tourism spending added to the economy of the Western Cape. Our vision remains to not only make the Western Cape the gateway to the rest of Africa, but the easiest place to do business on the continent. We will continue building strategic partnerships that create jobs and drive economic growth."
---
Nile Air talking to Ethiopian Airlines and Tunisair on new partnerships
Nile Air CEO Ahmed Aly said partnerships are a key tool for growing in a competitive landscape. Having recently agreed a codeshare with Turkey's Pegasus Airlines on the Cairo – Istanbul Sabiha Gökçen route and interline with the UAE's flydubai he said the Egyptian airline is now "talking to Ethiopian Airlines And Tunisair to build future partnerships". He added: "Surviving on your own is going to become much more difficult… it might be a sexy industry, but it is capital intensive." Mr Aly noted that running an airline "is challenging enough" without adding external factors, including the significant number that have hit Egypt over the past few years.
---
fastjet CCO: 'It's very difficult to achieve low costs in Africa'
fastjet chief commercial officer Sylvain Bosc said that the low cost model in Africa require a pan-African approach if it is to be successful. "It's very difficult to achieve low costs in Africa. You are not really a LCC when you are flying a 50-seat Embraer ERJ-145 that is a high cost aircraft per seat. We are trying to stimulate the market with a low fare rather than low cost offering." He added that a LCC strategy in a single country is a "risky investment and a difficult business," and added: "If you want a LCC to work in Africa it has to be a pan-African operation to protect you from the market shocks of individual countries."
---
News Insights:
RwandAir country manager South Africa Thembela Dladla tells CAPA strong demand on RwandAir's recently launched route between Kigali and Cape Town via Harare, Zimbabwe is requiring an increase in capacity. The route was launched on 16-May-2018 using Bombardier CRJ900 equipment but from as early as the end of this week the East African carrier will start deploying a Boeing 737 on the route. The main driver of the demand is understood to be on the Harare – Cape Town sector which is operated with fifth freedom traffic rights. "The route is performing far beyond our original forecasts," he added.
Africa World Airlines head of commercial Richard Kyereh tells CAPA the airline is seeking to add an Embraer E190 into its fleet to complement its smaller ERJ-145s on its busiest routes. The aircraft will most likely be deployed on the airline's Accra – Lagos route which is now served up to five times daily. Mr Kyereh said the route has grown thanks to a move to GDS distribution, an additional cost for its low cost model, but one that has proved beneficial. "Initially we were looking at 20% load factors on what was a less than daily flight back in 2015 before we distributed via the GDS. It is now up to five times daily. It's fine trying to keep costs low, but you need to see what works for your own needs."
Nile Air CEO Ahmed Aly, says the airline's route between Cairo and Port Sudan has been supported by strong connecting flows over the Egyptian capital. He said it was launched in Jun-2015 with limited O&D demand data but operation has shown particular high demand from Europe. "It has an exclusive diving region … there's a majority Scandinavian and Swiss nationals flying into Cairo and connecting".
Emirates Airline to boost services between Dubai and Luanda to five flights a week starting from 1-Jul-2018, and daily from the 2018 winter schedule. The additional flights will be operated by a Boeing 777-300ER in a three-class cabin configuration, with eight private suites in First Class, 42 lie-flat seats in Business Class and 310 seats in Economy Class.
Netherlands Ambassador to Zimbabwe, Zambia and Malawi Barbara van Hellemond announces on social media KLM Cargo plans to commence four times weekly Amsterdam-Harare service. "Let's hope trade between the Netherlands and Zimbabwe will grow and KLM will fly daily between Harare and Amsterdam", she said.