Iberia president and CEO Luis Gallego called for Madrid Barajas Airport to gear investment towards intermodality, particularly HSR. Mr Gallego stated improved surface transport infrastructure would enable Madrid better to compete with other hub airports.
Spain's AVE high-speed rail network, possibly the most highly developed in the world, is renowned for its speed and punctuality. As a competitor to air transport on trunk routes, where for example it severely diminished what was once the world's busiest air route, Madrid-Barcelona (though the airlines regained market share since), there are surprisingly few airports with AVE stations.
CHART - The comprehensive nature of the AVE network is evident from this chart. It connects major centres of population on the mainland and with local connections to other cities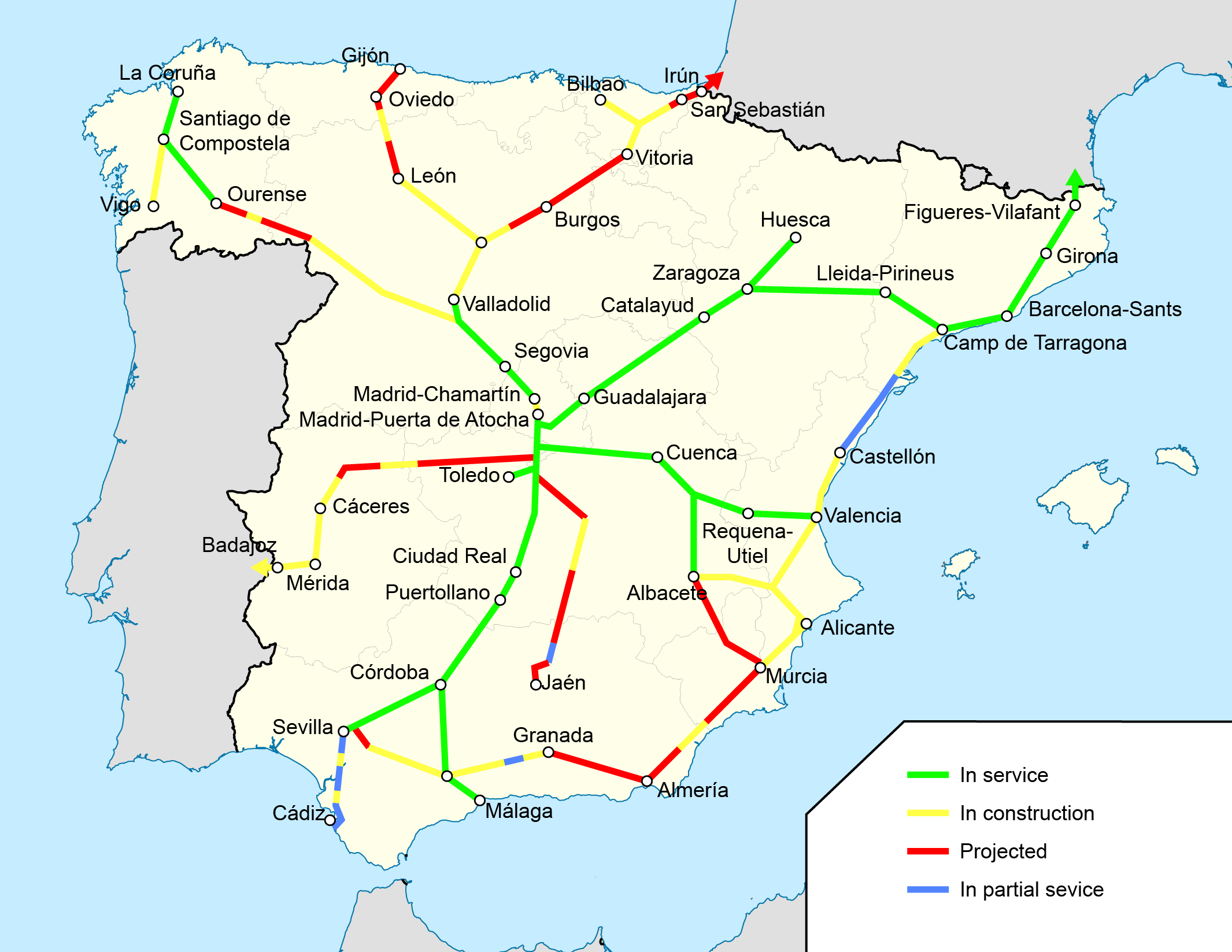 Source: AVE
If there is a gaping hole in AVE's coverage though it is the lack of stations at Madrid (and Barcelona) airports, the two main air gateways. There is at least a Metro line (8) into Madrid Barajas Airport since 1999, with two stations at the airport, one serving terminals 1,2,3 and the other serving the more recent T4, with the village of Barajas as an intermediate stop between them. There is no direct metro from the two main rail stations to the airport.
Spain's Association of Spanish Air Transport Companies has been lobbying the Spanish Government to provide a firm timetable for introduction of high-speed rail services at Barajas Airport, emphasising again the need to promote intermodal transport in the country. The Ministry of Public Works and Transport sourced a study to identify options to connect the airport and the HSR network in Jan-2017.
A year on, more action is needed. Madrid doesn't even compare with provincial Alicante where, when the final stage of a local tram-train service to Alicante-Elche Airport is completed, there will be seamless travel opportunities not only for locals but for those coming from along the coast towards Valencia, inland passengers on local and regional rail services and AVE passengers from Madrid and any other place on the network via Alicante station and its tram-train one-stop link to the airport.
Meanwhile, in Turkey, a country where construction typically moves at a much faster pace, The Minister of Transport, Maritime Affairs and Communications Ahmet Arslan reiterated that Istanbul New Airport, which will be commissioned late in 2018, will connect to Istanbul's city centre via a HSR line. Turkey aims for the new airport, and the existing Atatürk and Sabiha Gökçen airports, together with Ankara's Esenboga Airport, to be connected to Istanbul's city centre via rail links, even though there will be no commercial role for Atatürk when the new airport opens.
In fact, a contract was awarded in Dec-2016, to Kolin Construction in a consortium with Senbay, for construction of the Istanbul New Airport - Gayrettepe rail link. The link will allow travel from the airport to Istanbul's city centre in 30 minutes. There will also be a separate 31-km Airport - Halkali rail link.
MAP - The 36km line linking the new airport at Arnavutköy to Istanbul with eight planned stations, was scheduled to be operational by Feb-2018, which was in time for the opening of the airport's first phase, though that has now been delayed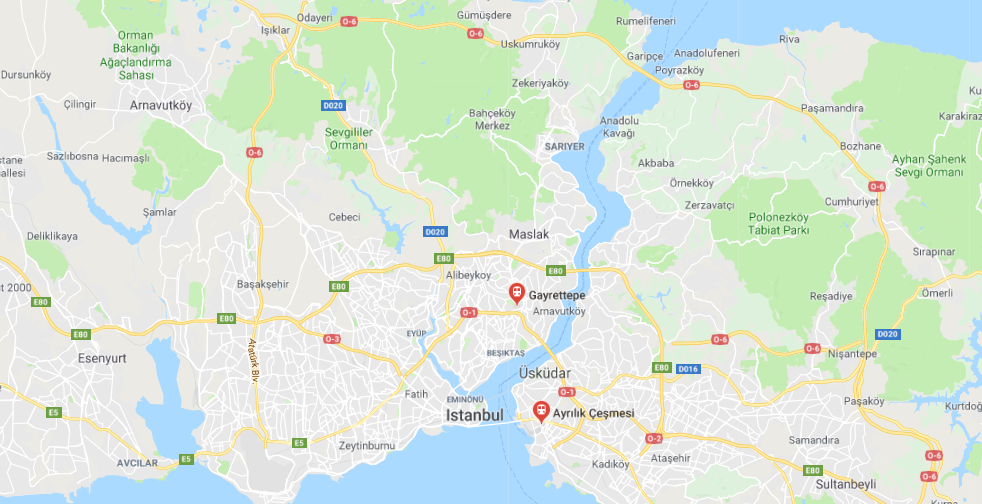 Source: Google Maps
Finally, Finavia's (the Finnish state airport operator) CEO Kimmo Mäki supported calls for a direct HSR line between Helsinki-Vantaa Airport and Tampere, the second most populous municipality after Greater Helsinki which is 100 miles away, while dismissing concerns the link would impact operations at Tampere Pirkkala Airport. He said, "A new rail line would offer people... an alternative way to travel to Helsinki Airport, and some might change from one form of transport to another".
Helsinki-Vantaa has its own local rail link to Helsinki, though one that opened as recently as Jul-2015. Two lines run west and east respectively creating a heart-shaped loop with Helsinki Central Station the other main terminus. The loop incorporates the 'Aviapolis' (airport city) that is growing around the airport. There is also a station on the eastern line, Tikkurila, where passengers can change to trains leaving Helsinki for destinations including Moscow, St Petersburg and…Tampere. So a method of accessing Tampere and vice versa already exists.
MAP - Helsinki is at the heart of existing rail links out from the city centre to Helsinki Vantaa Airport on a heart-shaped loop that also serves the wider airport city project developing there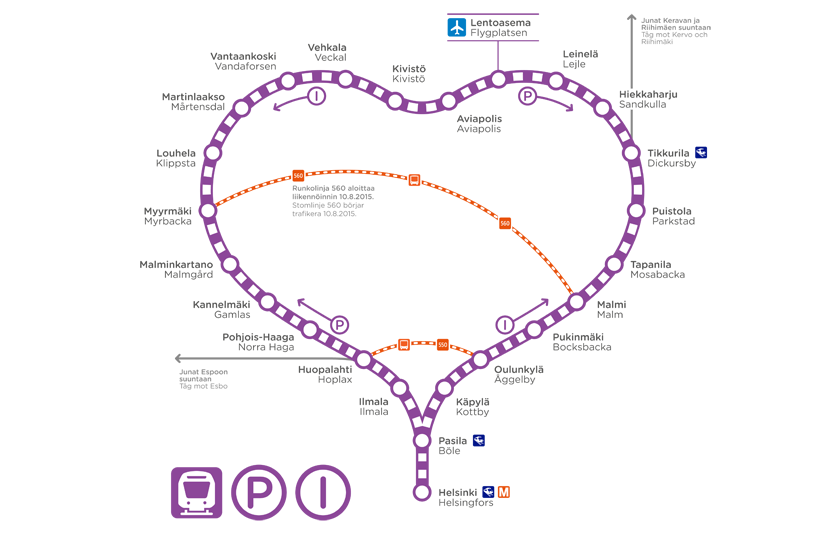 Source: HSL HRT
But that only serves to underline the growing importance of HSR and the co-operation between it and air travel. Unless there is a sea change in that relationship expect two of these projects to be up and running within five years and for the third (Madrid) to be under construction.
Most of the examples discussed here may be found in this special CAPA report: Air-Rail Report: Air-Rail Developments.
Conflict usually invokes the tendency to respond with either 'fight or flight.' The competition between air and rail as travel modes, at least over short distances and often driven by the demands of environmental considerations, shows no signs of abating and frequently verges on confrontation. What this report asks, fundamentally, is this. Is there a better alternative for those disparate modes, let us call it 'fight or co-operate?'
It seems there is. There are already known to be over 600 designated air-rail links with another 200 planned. This report does not attempt to catalogue every functioning and proposed air-rail link, though many of the main ones will be found here. Rather, it is more concerned with how the air-rail industry has developed, how it continues to do so and with 'what's new' in the business.