Air Canada attributed the losses to weakened bookings and revenue triggered by frustrated employees that engaged in work stoppages in Mar-2012 and Apr-2012 and slight capacity reductions that resulted from Aveos abruptly shutting down and seeking creditor protection during 1Q2012. The carrier's main rival WestJet continued its steady profitability growth, increasing its 2Q2012 net income by 66% year-over-year to CAD42.5 million (USD42.2 million).
See related article: WestJet's cost pressures mount as 2Q profits surge
Air Canada financial performance: 2Q2012 vs 2Q2011 and 1H2012 vs 1H2011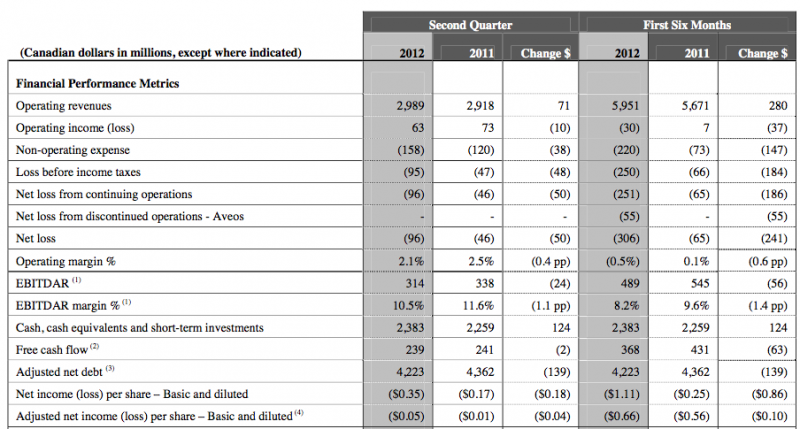 Air Canada management stated the job action taken by the carrier's employees had the greatest effect in North American markets, impacting both leisure and business travel. But the carrier assured by the end of 2Q2012 bookings had returned to their regular levels. Air Canada CEO Calin Rovinescu explained the airline is also in the process of concluding airframe maintenance agreements with six providers covering its 205 mainline aircraft. He stressed the market rates negotiated with those companies are expected to result in meaningful cost savings for the carrier.
Pacific revenues shine while some transborder and short-haul markets see pressure
Air Canada's revenue performance in its Pacific markets in 2Q2012 and 1H2012 significantly outpaced other regions as the carrier recorded a 15% rise year-over-year during 2Q in Pacific unit revenues on a 14% jump in yields. The carrier attributed the favourable performance to improvements in Japanese markets year-over-year as the full recovery from the natural disasters that struck Japan in Mar-2011 was realised. Air Canada also cited the introduction of its "Tango" fare structure on routes to China and Hong Kong that resulted in a greater "buy-up" to the higher-yielding Tango Plus offering. Carrier CFO Michael Rousseau also cited strong premium cabin performance in Pacific markets. For the first half of 2012, Air Canada's unit revenue in its pacific markets grew 15% year-over-year on a 13% rise in yields.
Air Canada revenue performance by geographical region: 1H2012 vs 1H2011
Air Canada revenue performance in the Pacific: 2Q2011 to 2Q2012

Unit revenues in Air Canada's transborder markets fell 2% year-over-year during 2Q2012 as yields decreased 0.8%. Mr Rousseau stated the drop was driven by passenger uncertainty in booking with Air Canada after the job actions and capacity growth in transborder routes to New York, which coupled with competitive pricing actions in New York, Boston and Washington DC pressured yields. WestJet ushered into additional capacity to the New York market after introducing flights from Toronto to New York LaGuardia in Jun-2012.
Air Canada revenue performance in transborder markets: 2Q2011 to 2Q2012

Air Canada turned a decent performance in its Atlantic markets given the economic volatility occurring in Europe. Capacity in those markets fell 0.2% year-over-year during 2Q2012 but the carrier stated cuts made from Canada to the UK were offset by strengthening frequencies on Toronto-Montreal-Brussels, Toronto-Montreal-Geneva, Toronto-Copenhagen, Toronto-Athens and Toronto-Dublin. Seasonal service from Toronto to Barcelona and Rome also started earlier than originally anticipated.
The carrier recorded nearly 3% unit revenue growth in its Atlantic markets during 2Q2012 as yields increased 0.1%. Air Canada explained the yield improvement was mostly offset by competitive pricing activity in its Atlantic markets and weak economic conditions in Europe.
Air Canada revenue performance in the Atlantic: 2Q2011 to 2Q2012

In the domestic market, Air Canada's unit revenues and yields remained essentially flat year-over-year during 2Q2012, on a 1% rise in capacity. The increase in supply was largely driven by the May-2011 launch of Air Canada's flights from Toronto's close-in Billy Bishop Airport operated by Sky Regional with Bombardier Q400 turboprops.
Air Canada revenue performance in the domestic market: 2Q2011 to 2Q2012

Air Canada's 3.6% rise in unit costs excluding fuel during 2Q2012 was an improvement over previous guidance of a 4%-5% rise issued by the carrier. Mr Rousseau stated a number of Air Canada's cost categories during 2Q2012 were lower than the carrier anticipated. The carrier recorded year-over-year declines in airport and navigation fees, ownership costs and food, beverage and supplies.
Air Canada cost breakdown (cents per ASM): 2Q2012 v2 2Q2011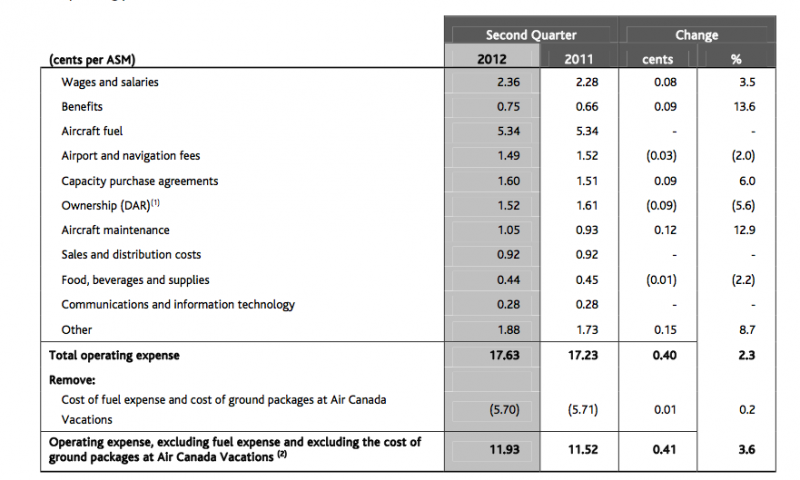 The carrier expects its unit costs (excluding fuel) during 3Q2012 to rise 1%-2% while capacity will increase 0%-1%.
Targeting the launch of a new low cost carrier in 2013
The decision by a Canadian federal arbitrator in Jul-2012 to impose a new five-year collective bargaining agreement favoured by Air Canada on the airline's pilots allows the carrier to now move forward with plans to establish a low-cost airline that management concludes will allow the company to compete more effectively in leisure markets.
Air Canada is aiming to debut the carrier in 2013 with a fleet of 30 Airbus A319s and 20 Boeing 767-300s transferred from its mainline fleet. Mr Rousseau stated those aircraft are scheduled to come off lease during the next 24-36 months, concluding that those aircraft offer favourable ownership costs for the speed with which Air Canada is developing the new low cost carrier.
With the arbitrator's decision just recently being rendered, Air Canada management had few details to offer regarding the low cost carrier. However, Mr Rovinescu stressed that Air Canada's cumulative growth since 2000 has been less than 7%, "while the rest of the industry has moved forward to capture leisure markets". He believes the lower cost structure of the new carrier would allow Air Canada to return to markets it has had to abandon, and reiterated that the 50 jets assigned to the new carrier are growth aircraft that would otherwise be returned to lessors. The carrier has 38 787s on order that are pegged for 767 replacements.
Mr Rovinescu concluded that with the cost structure ushered in by the new pilot agreement the leisure configuration of the A319 allows those aircraft to become much more competitive, enabling Air Canada to put more capacity on routes in Mexico, the Caribbean and markets such as Las Vegas "where we haven't been able to compete effectively". His logic also applies to routes Air Canada has operated marginally over the Atlantic.
Touting a reasonable pilot agreement
Air Canada pilots have different opinions regarding the outcome of arbitration, which was imposed on the parties to block a pilot lock-out in Mar-2012 as collective bargaining between pilots and management during the last year proved to be highly contentious.
The Air Canada Pilots Association, which has been opposed to the creation of a low cost carrier since the airline fielded its desire to launch a low cost unit more than a year ago, are unhappy with the arbitrator's ruling. The union concluded the agreement imposes work rules that will cost pilots their jobs and undermine any effort to achieve positive cultural change at the airline. An arbitrator also imposed Air Canada's proposed contract on the airline's mechanics and bag handlers in Jun-2012.
Mr Rovinescu stated the carrier put through a reasonable proposal "where there is no winner or loser", which includes pilot job guarantees and enables an environment to create growth. He explained job security is in place for pilots if Air Canada opts to dispose of its Embraer sub-fleet that consists of 15 E-175s and 45 E-190s. Mr Rousseau stated Air Canada owns all the Embraer jets, which are part of fleet review the carrier is undertaking as it shapes its narrowbody strategy for the future.
Air Canada actual and planned fleet: 30-Jun-2012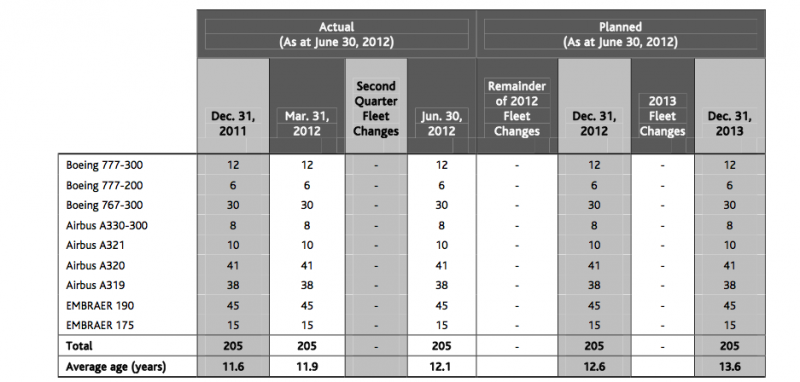 Even as Air Canada has settled outstanding labour issues, forged cost-saving maintenance contracts and is moving ahead with the establishment of a low-cost carrier, the airline still faces employee discontent and a strengthening competitive threat from WestJet, which is moving ahead with the launch of a new regional subsidiary and a premium economy offering aimed to steal business passengers away from Air Canada. WestJet is well-advanced in both of those areas.
Meanwhile Air Canada still must continue working to convince disgruntled pilots and mechanics that the work structure being imposed on those groups is necessary to ensure the carrier's transformation. Success or failure in that venture will do much to detemine the carrier's future.