When we say 'grow' that is from the bottom of the market where capacity cuts for some have fallen to around 10% of the level that were seen before we descended into this unprecedented situation, or even to zero for those that have temporarily shutdown to minimise expenses over the next couple of months.
In China's case, the trough hit in Feb-2020 and saw domestic capacity fall by over 70% on the levels recorded in Jan-2020 ahead of the lockdown of Wuhan and neighbouring cities that brought the crisis, then just a domestic Chinese concern, to the world's attention.
The first of a new regular feature from CAPA – Centre for Aviation on 'Airline Future Plans' studies Air China. The series is designed to show which airlines have started the slow post-COVID-19 recovery process, moving beyond what now is seeing the operation of skeletal networks. CAPA says the series "aims to provide rare insights into airline strategy on core fleet and network deployment as airline management grapples with fast-changing circumstances".
The patterns established in China will certainly offer some guidance to the rest of the world, just as China's strict containment measures have also provided cues to efforts elsewhere. The Blue Swan Daily provided a snapshot last week into Air China's activities as the focus on of one of its regular data spotlight reports.
https://corporatetravelcommunity.com/data-spotlight-air-china/
This new CAPA analysis provides a deeper insight, including the below chart that provides a more detailed look at how Air China has modified its domestic flying over each of the past three weeks. It shows that while its future network plans are subject to change, it shows an intent for the airline to quickly return its schedules to pre-COVID-19 levels as early as the week-long May holidays.
While we must caution that this will possibly be revised down again, as the airline continually adjusts its capacity, it does send a positive message to the world that it believes normality is returning. CAPA describes it as a "remarkable sign of planned domestic aviation recovery" and that there are "few if any other airlines that would even contemplate such a recovery".
This graph plots the forward capacity based on consecutive weekly changes in forward filings of domestic schedules with intelligence provider OAG. This provides an insight into airline planning, with weekly oscillations reflecting the highly volatile environment that airlines are working in.
CHART - Air China's proposed weekly total domestic seat capacity (millions): 2019 vs. 2020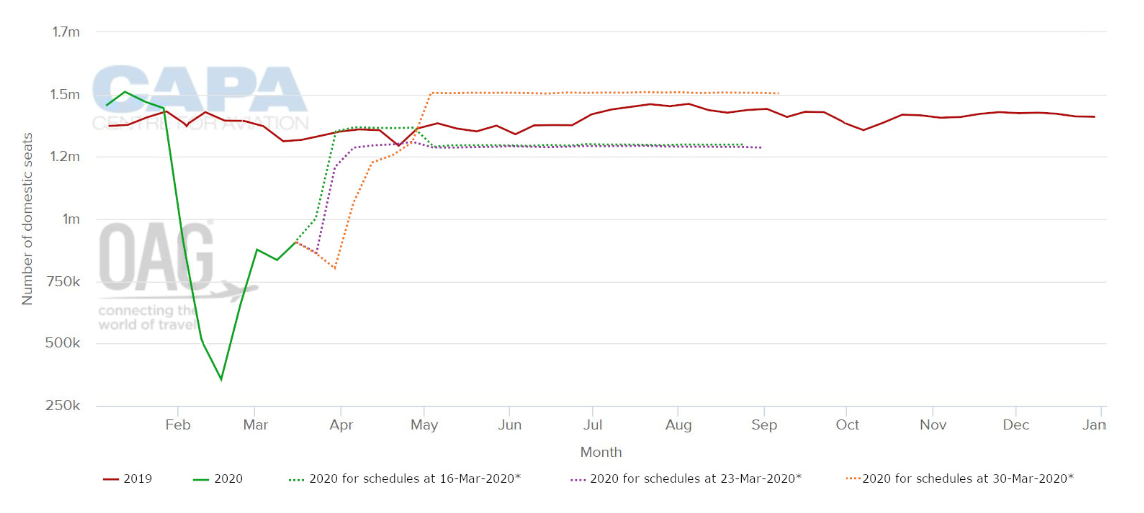 Source: CAPA - Centre for Aviation and OAG (NOTE: These values are at least partly predictive up to 6 months from 16-Mar-2020 and may be subject to change)
The chart and CAPA analysis show that Air China's domestic capacity bottomed out in the week commencing 17-Feb-2020, at 353,000 seats, a reduction of 76% year-on-year from the end of Jan-2020. However, in the week commencing 24-Feb-2020 there was then a rapid increase in seats to 659,000 seats, when the CAAC introduced a series of government support measures to encourage airlines to recommence air services.
SEE RELATED REPORT: Coronavirus: China offers to pay airlines to return to the air
This bounce was followed by another increase of 33% in the week commencing 02-Mar-2020, to 874,000 seats, but in turn this was followed by a 4% decrease to 835,000 seats, possibly reflecting a stabilisation of underlying demand at these levels. CAPA says Mar-2020 load factor and passenger performance will bear this out and are due for release in mid Apr-2020.
Filings made on 16-Mar-2020 originally saw another increase to 905,000 seats, which was an increase of 8%, but revised filings on 23-Mar-2020 dropped that figure back to 864,000 seats. The 30-Mar-2020 filings reduced that still further, to 801,000 domestic seats.
The CAPA report shows that schedules filed for the week commencing 23-Mar-2020 originally showed seat numbers starting to climb back up by the first week in April. However, filings made for the week commencing 30-Mar-2020 delayed that climb for another week, followed by a slightly more gentle increase up to 1.1 million seats, then 1.2 million, for the weeks of 06-Apr-2020 and 13-Apr-2020 respectively.
China's Labour Day Holiday at the start of May-2020 was anticipated to support an increased capacity during the late Apr-2020 period in filings made on 16-Mar-2020 and 23-Mar-2020, but a subsequent filing on 30-Mar-2020 has reduced that to a more steady increase through Apr-2020. Air China's filing for the 27-Apr-2020 weekend was for 1.3 million seats, which is similar to 2019 levels.
It is a different story for Air China in the international market, and as CAPA notes in its report, the carrier appears to have found "a new low" with its capacity in the week commencing 30-Mar-2020 – a drop of 95.0% year-on-year. This reflects the introduction of Air China's new skeleton international network under direction from the regulator CAAC and which strategically maintains a variety of key routes, but with drastically lower frequency.
This is being influenced by the rapid global spread of the virus and because of associated action by governments to close borders and restrict travel. But also to allow Chinese officials to be more vigilant with imported cases as citizens return to China potentially bringing an unwelcome guest in tow – almost all COVID-19 cases being reported in China are now from people returning to the country.