The airline begun the fleet renewal in Mar-2016 when it received its first 787-8 and had introduced eight of the type by May-2017. These are configured in a 296-seat arrangement with 22 Business Class and 274 Economy seats.
These were joined by two 787-9s in Feb-2018 and Mar-2018 and will be followed by up to 17 additional aircraft by the end of 2021. The two original 787-9s, both leased from Avolon are configured for 333 passengers with 30 Business Class and 303 Economy seats, but the airline revealed last month that a less dense arrangement will be adopted for the future arrivals.
This will see the introduction of a more spacious 32 seat Business Class cabin in a 1-2-1 arrangement offering all passengers aisle access and additional privacy. It will mean a reduction in Economy seats to 283 to accommodate the change from the 2-2-2 design, reducing overall capacity by 18 seats to 318 passengers.
Air Europa will receive its next two 787-9s in the second quarter of this year, but these will be delivered in the 333-seat arrangement. It will debut the new product in the final quarter of 2019 when it is due to receive an additional three 787-9s. A further 12 aircraft will be introduced through 2020 and 2021 allowing the airline to replace its older A330s as well as boost its long-haul network.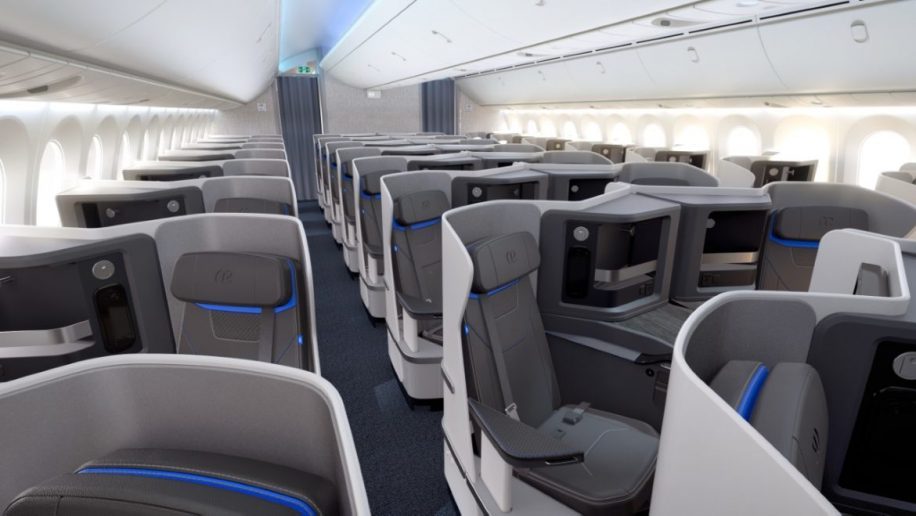 The Spanish carrier has a strong domestic presence and a European network that currently spreads to 14 points across eight countries, comprising Belgium, France, Germany, Italy, Netherlands, Portugal, Switzerland and the United Kingdom. But, it is its Latin American operation that grabs the attention, and a network that is well supported both with local traffic, but also its wider Spanish and European network.
A closer look at its schedules for the current week and Air Europa is flying to more destinations in Latin America than its non-Spanish markets combined. This comprises 18 destinations across 13 different countries (Argentina, Bolivia, Brazil, Colombia, Cuba, Dominican Republic, Ecuador, Honduras, Mexico, Paraguay, Peru, Uruguay and Venezuela).
Air Europa is currently the fourth largest operator between western Europe and Latin America by capacity behind Iberia, Air France and KLM, but over the coming months will overtake the Dutch national carrier as its expanded network sees it grow its share of weekly seats to almost 9%. This expanded operation will see the introduction of new flights to IGR, Medellin and Panama City, while services to Fortaleza remain under consideration.
The Blue Swan Daily analysis of OAG schedule data shows Air Europa's Latin American capacity will grow 16.4% year-on-year in Jun-2019 when these new routes are inaugurated. In fact, a historic look at Air Europa's schedules between Spain and Latin America show that its annual seat capacity into Latin America has almost tripled this decade, growing from around 575,000 one-way seats in 2010 to over 1.5 million this year.
The expected 13.1% growth in 2019, based on current published schedules, follows a 12.5% rise in 2018 and a notable 24.2% year-on-year increase in 2017,when the airline exceeded the one million one-way seat threshold in this market for the first time.
CHART - Air Europa has significantly expanded its activities into Latin America and after expanding its network in summer 2019 will become the third largest operator in the western Europe - Latin America market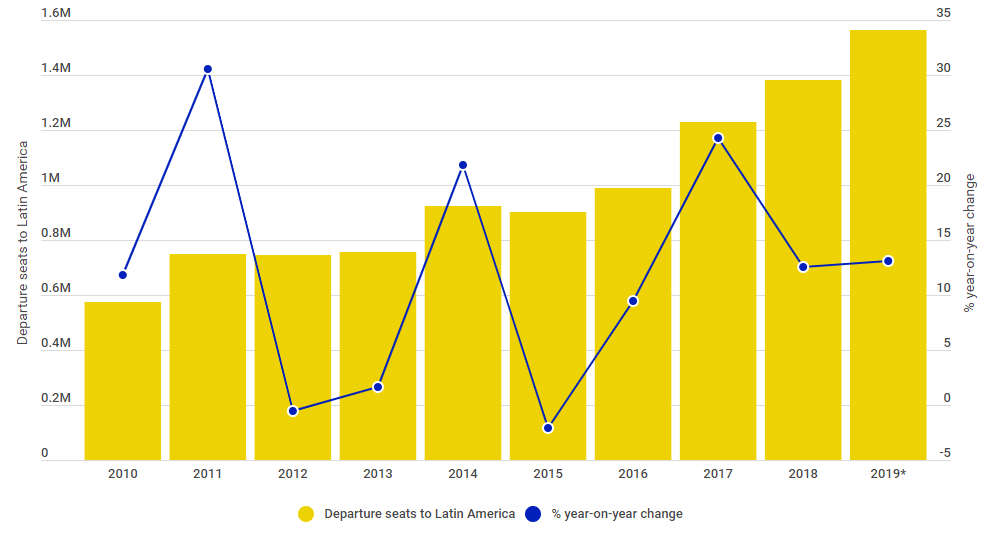 Source: The Blue Swan Daily and OAG