Since summer 2016, the independently-owned carrier has added flights to Córdoba (Argentina), Guayaquil (Ecuador) and San Pedro (Honduras), increasing the number of Latin American destinations in its network from 13 to 16.
While Iberia remains the market leader between Spain and Latin America, serving 18 destinations and offering more frequency than its rival, its growth is stalling this summer as it focuses on growing load factor and yields, in contrast with Air Europa's double digit seat growth.
Air Europa is growing its offer into Latin America by 15.4% this summer, the fourth largest operator in the Europe – Latin America market behind Air France, Iberia and KLM, but ahead of both TAP Portugal and British Airways. Its largest non-stop markets are the Dominican Republic, Argentina and Brazil.
CHART – Largest Air Europa Latin American Non-Stop Destination Markets (weekly seats)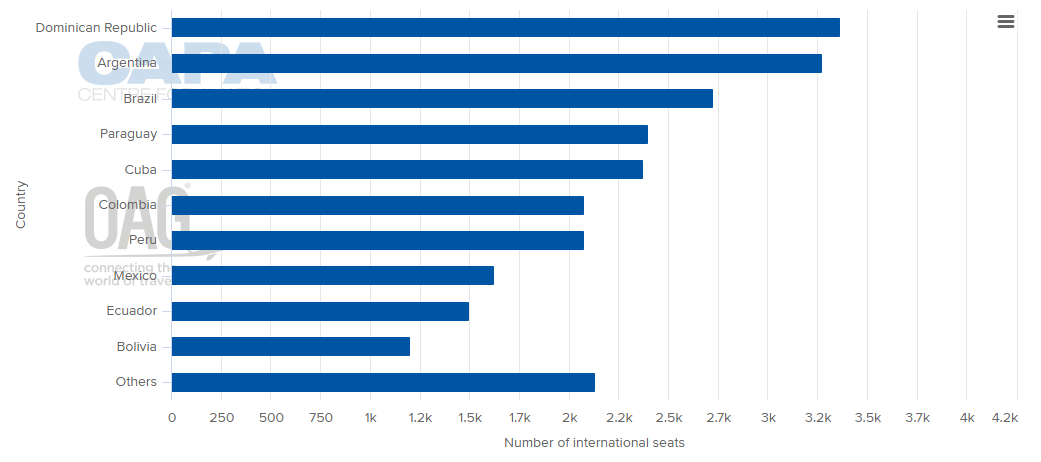 Source: CAPA – Centre for Aviation and OAG
Air Europa's long haul growth focus has been supported by the introduction of the Boeing 787 Dreamliner into its fleet. The airline has taken delivery of eight 787-8s since January 2016 and will complement them with 14 larger 787-9s with the first due to arrive in the first quarter of 2019, according to the CAPA Fleets database.
Following a major restructuring to cut losses and counter falling demand in Spain following its economic downturn, Air Europa has repositioned itself as a network carrier from its hub at Madrid Barajas Airport. With European feeder traffic required for its expanding Americas network it is a surprise to learn therefore that Air Europa is actually cutting its European capacity.
However, it is still growing connectivity with codeshare partnerships agreed in the past year with Turkish Airlines and TAROM and, of course, becoming the first airline to tie-up with European low-cost giant Ryanair for it to feed its long-haul routes. As reported by The Blue Swan Daily back in May 2017 (see 'Ryanair and Air Europa partnership shows how LCCs will become long-haul feeders'), this commercial agreement opens the Air Europa long haul network to Ryanair's 130 million annual passengers allowing them to book its flights via the Ryanair.com website.
These are initially having to be booked as two separate tickets with the need of luggage collection between flights. However, the second phase of this Air Europa partnership will be launched later this year and will allow Ryanair customers to actually connect directly onto Air Europa long-haul flights through Madrid.
READ MORE… Air Europa's long haul growth: now 16 LatAm cities, close to Iberia's 18; Boston is 3rd US route