The transformation has seen the aircraft's interior completely redesigned with a small rise in overall capacity from 468 to 472 seats. In the future they will contain 14 seats in business class, 28 in premium economy and 430 in economy. This represents a reduction of four premium economy seats and the additional of eight standard economy seats.
The first aircraft equipped with these cabins, registration F-GSQT, returned to service on the Paris Orly - Pointe-à-Pitre route on 15-Jan-2020, before flying Paris Orly - Fort de France on 16-Jan-2020. Aircraft configured with the redesigned interior will also be used on flights to Saint-Denis de la Réunion during the summer 2020 schedule, while before the end of the year the new cabins will be progressively introduced on routes to Mauritius, Havana, Cancun, Santo Domingo and Punta Cana.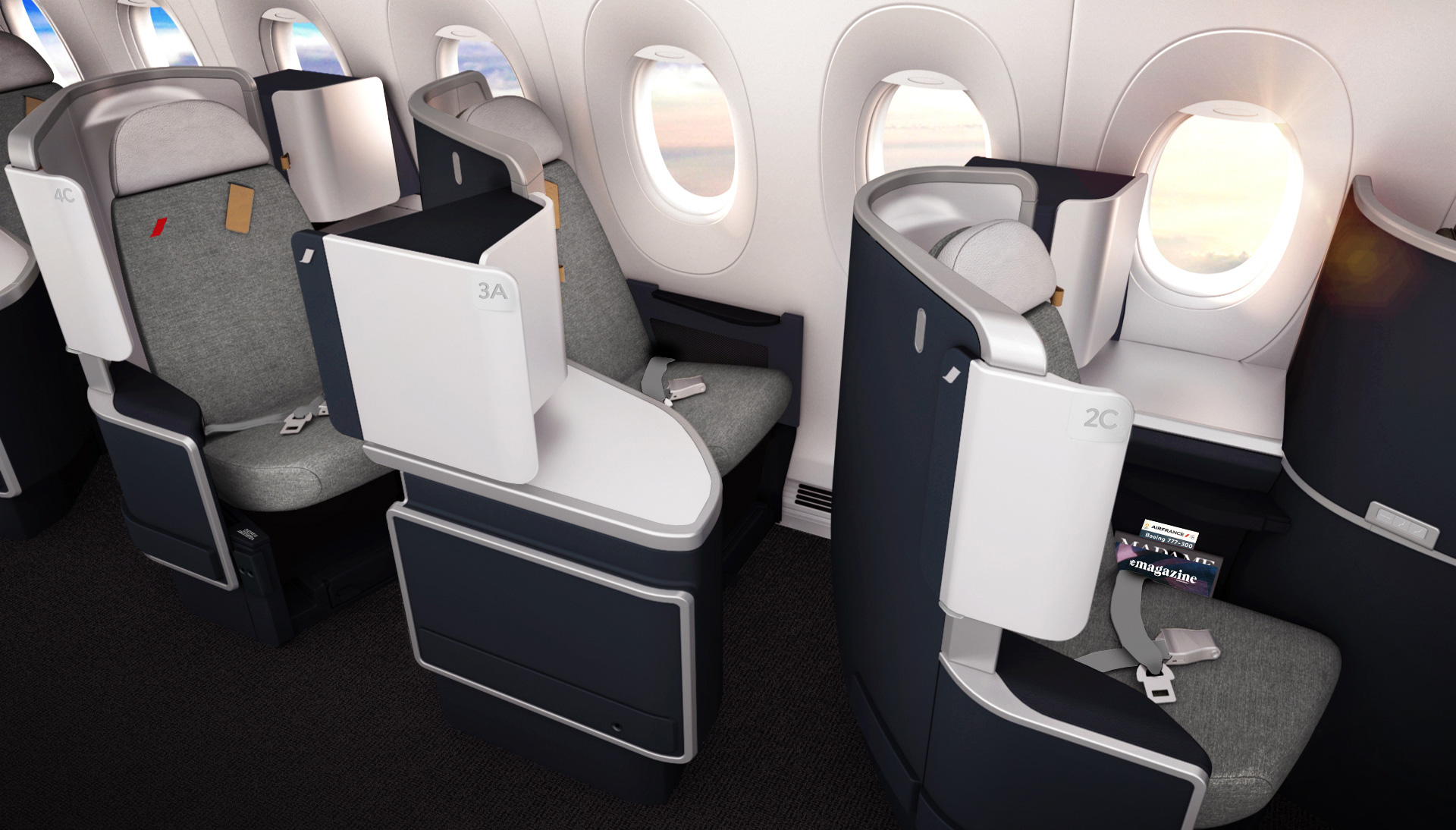 The Business cabin, in a1-2-1 arrangement giving all passengers aisle access, "promises a totally relaxing travel experience," according to the French flag carrier. The seat reclines to a nearly two metre long bed, but also provides a new predefined "relax" position between the seat and bed positions.
The premium economy cabin, in a 2-4-2 arrangement, sees the introduction of a brand new seat with a width of 48.8 cm, a seat recline of 130° inside a fixed shell, lumbar support adapted to different morphologies and additional legroom. The softer seat foams and wider leather armrests have also been redesigned. The footrests, leg and headrests are all adjustable.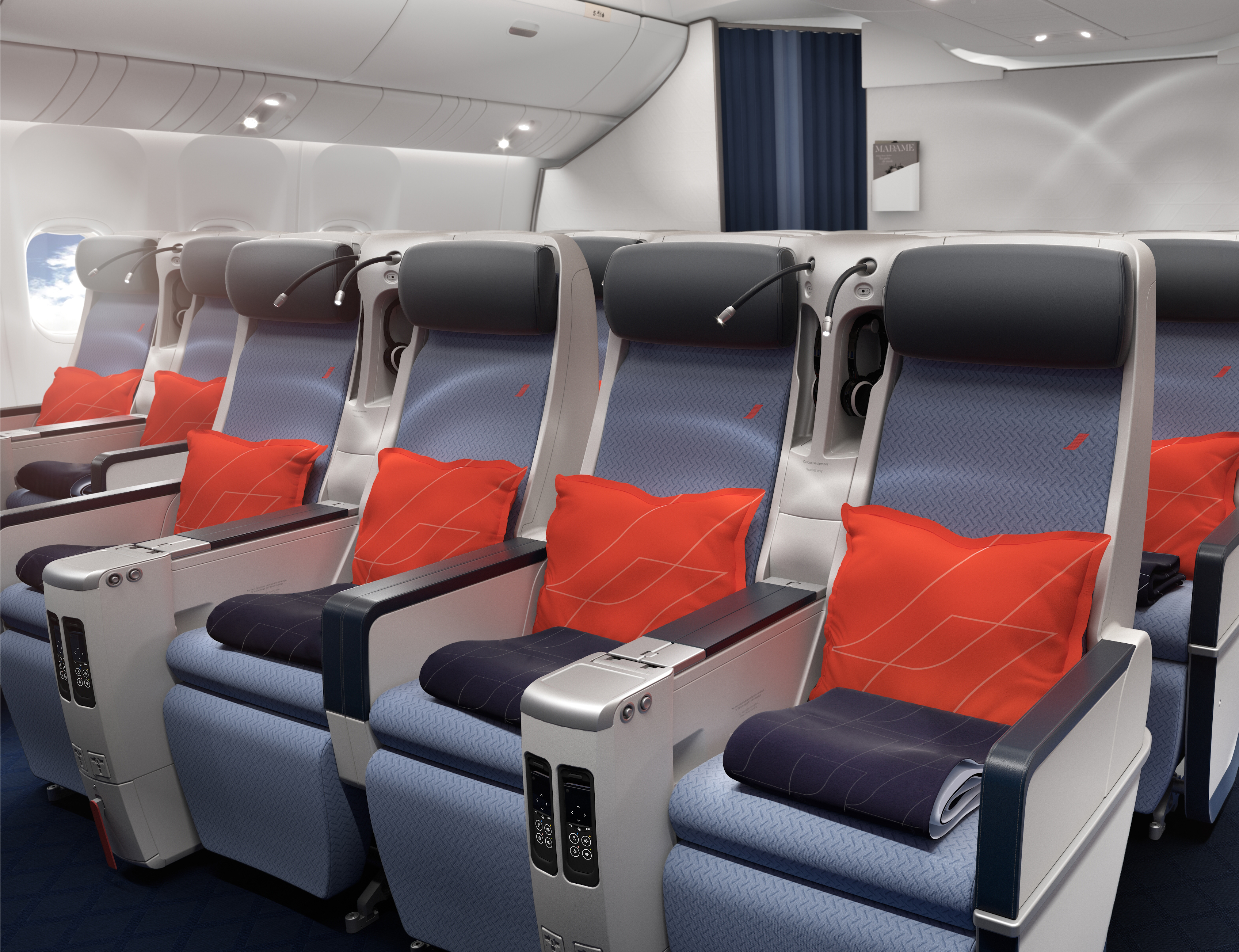 Each seat has additional storage, an individual adjustable reading light, a digital tablet stand, power outlet and two USB ports and each customer is given noise-cancelling headphones to enjoy a wide selection of entertainment accessible from their individual 13.3-inch HD screen.
The economy cabin, in a 3-4-3 arrangement, provides a seat width of 43 cm, a 118° recline, soft adjustable headrests and ergonomic seat foam. A latest-generation 11.6-inch high-definition individual screen, audio headphones and a USB port support Air France's entertainment offer, while the seat table has been designed larger, for eating or working comfortably.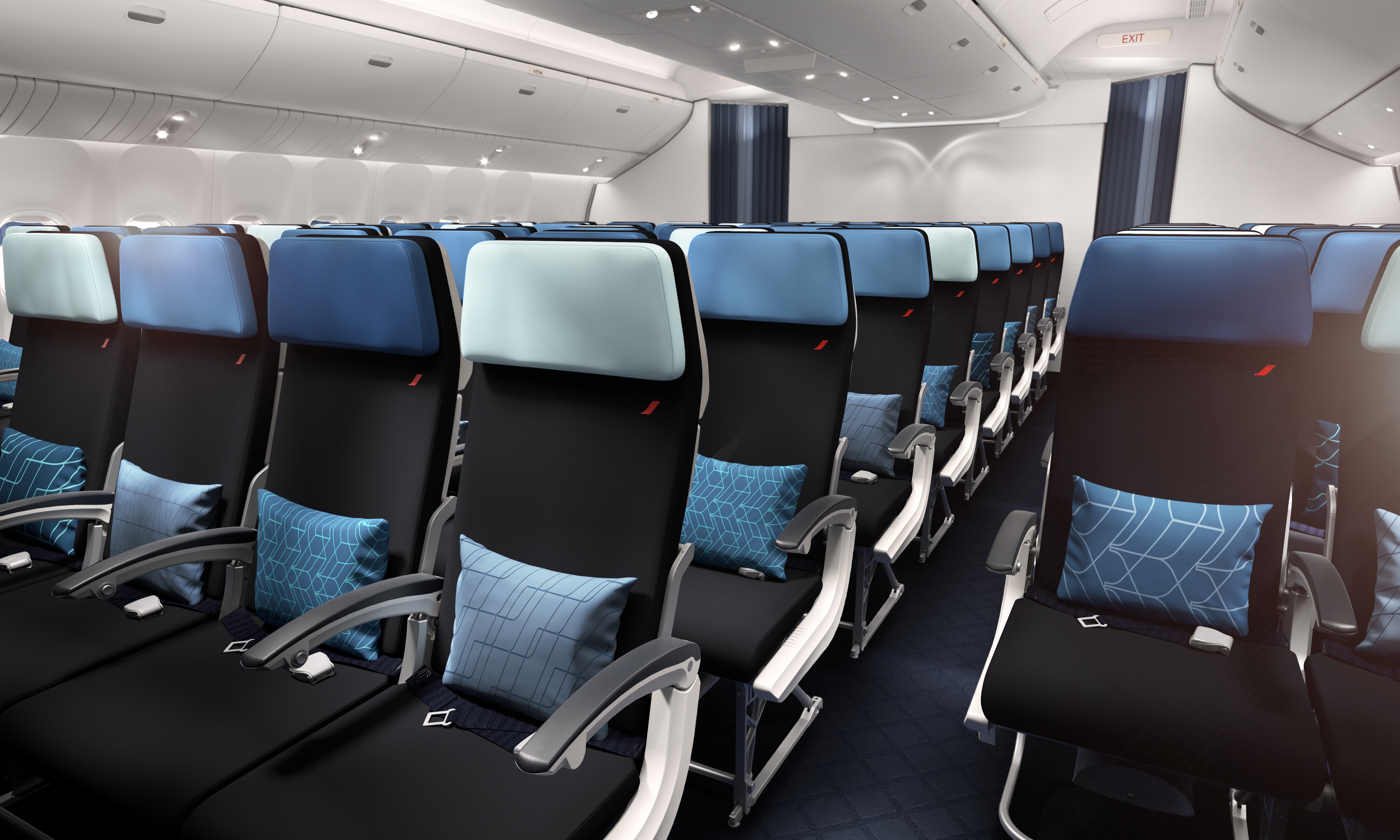 Across the aircraft and standard across the entire Air France fleet by the end of 2020, passengers will have access to onboard WiFi. Air France is providing a complimentary "Message" pass for all, to send and receive messages during the entire flight; a "Surf" pass, costing between EUR8 and EUR18 for general internet surfing and for consulting and sending emails; and a "Stream" pass, costing EUR30 to enjoy high-speed internet access, streaming and downloading.
As from 16-Jan-2020, Air France has also opened a new lounge dedicated to long-haul flights departing from terminal 3 at Paris Orly providing further benefits for its business customers and Flying Blue Elite Plus members.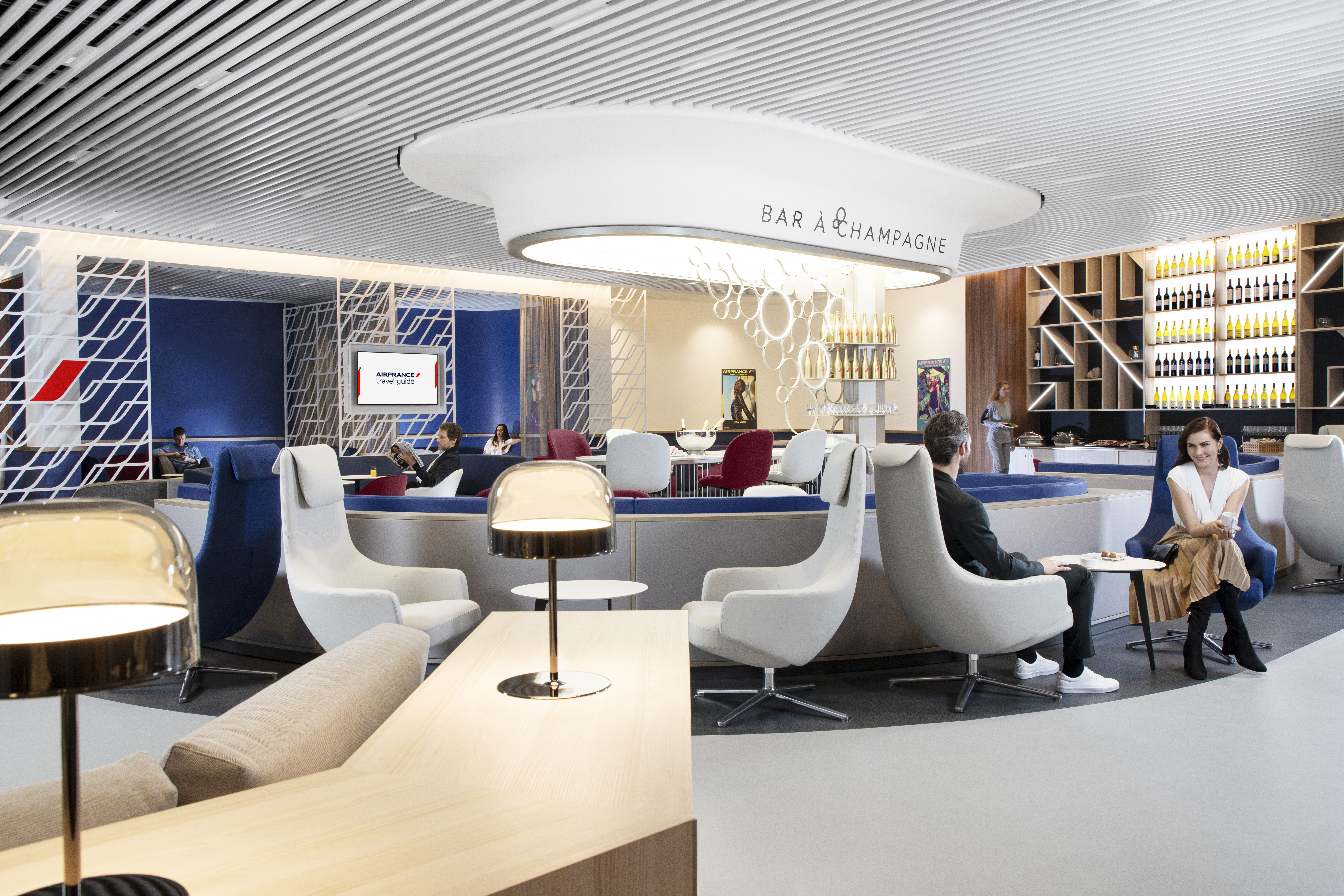 Open daily from 07:00 to 21:00 (07:00 to 17:30 on Tuesdays) and occupying an area spanning 720 square metres, the facility has a capacity for 120 guests and has been designed to support customers travelling on its long-haul flights to Cayenne (Guiana), Fort-de-France (Martinique), Pointe-à-Pitre (Guadeloupe), St. Denis de la Réunion (Reunion) and New York (USA), in addition to its medium-haul service to Algiers (Algeria).
The lounge features a welcoming relaxation area with spacious seats, numerous alcoves allowing customers to choose to spend time alone or meet others in a convivial setting, as well as a more subdued, private area reserved for Ultimate customers.
This new lounge's iconic element is a champagne bar offering a variety of renowned French signature brands all year round. This bar adopts a champagne-themed colour scheme. Customers can also take their pick from a sweet selection comprising pastries and fresh fruit. A wine bar, designed like a wine cellar, is also open to customers during their stay in this exclusive space. A rum bar trolley is also available, offering a foretaste of the destinations served on departure from Paris-Orly, namely Martinique, Guadeloupe, Cayenne and Reunion.