One major aspect Air France will look to improve is its fleet complexities. Speaking at the presentation, CEO Benjamin Smith joked to investors that at Air France "we don't have every aircraft… but we almost do". Air France has nine pilot type ratings and will look to reduce this to five or six in the coming years.
On short haul, Air France will look to replace its A318s and A319s with A220-300s. On the future replacement for its A320s and A321s, Air France could look at A321neos, or, he said, the airline would be "very interested" if Airbus decided to develop a A220-500 variant to replace its larger narrowbody aircraft.
It will look to operate two pilot type ratings between A330-200/A350-900 and Boeing 777-200ER/-300ER and 787-9 on long haul, retiring its A340s in the short term and deciding on A330-200 retirement "when it makes sense" (as an aside, KLM's fleet of 13 A330-200/-300s will also be retired in the medium term to transition to one cockpit type around the 787-9/-10 and 777). The CAPA Fleet Database shows 15 A330-200s are currently operated by Air France with an average age of over 17 years.
CHART - Air France plans to simplify its fleet over the first half of the 2020s to boost its operating performance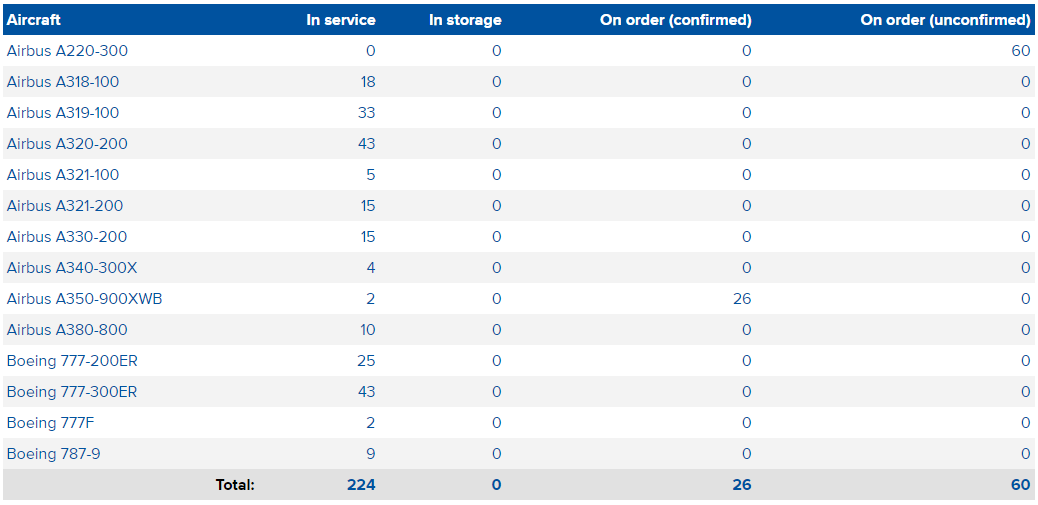 Source: CAPA - Centre for Aviation Fleet Database (as at 11-Nov-2019)
Air France has previously announced the phase out its 10 A380 aircraft out to 2022 and will decide on additional replacements for this capacity in the coming weeks. Mr Smith commented that the A380 is the "poorest operating aircraft in the fleet" with the highest rate of cancellations, and that getting them out "sooner rather than later is going to help" operations at Air France.
"More frequencies with the right product onboard is a big plus", he continued, pointing out that its new A350-900s with smaller gauge and improved business product will allow it to optimise its aircraft and cabin size in Paris and recapture market share on premium and local traffic segments.
In total, once the incorporation of its new A220-300s and A350-900s is completed and older aircraft are phased out, this will provide an improvement in operating result of EUR300 million through optimised cabins and fuel efficiencies.
Simplification of operations through transformational projects, overhead reductions, fuel savings and IT and automation is expected to contribute EUR400 million by 2024. Air France's loss-making domestic network is currently overexposed to high speed rail and LCC competition, and as such a restructuring and brand simplification on the network is expected to reduce losses by nearly EUR190 million.
In line with its aim to focus on its stronger performing segments, Air France will also launch a new business class offer, with dedicated front cabin, blocked middle seat and business catering service on its domestic network in 1Q2020. This will aim to be seamless with the business class offer across its wider network.
If all goes to plan, all these measures will allow Air France to find EUR900 million in additional contributions to the group's operating result by FY2024, compared to EUR266 million in FY2018, and raise operating margins to around 7%-7.5%.
It is a mammoth task for Air France and Air France-KLM and one that will no doubt be closely monitored by unions. Both Mr Smith and Air France CEO Anne Rigail say employees are onboard and that relations with unions have improved dramatically. However, given Air France's history with unions and the French social context, "simplification" and "optimisation" may sound a little too much like "restructuring" for pilot and cabin crew unions to go along with indefinitely.