Among these is a goal to "proactively offset" 100% of its CO2 emissions on its domestic flights with effect from 01-Jan-2020. This will be achieved through "participation in projects certified by recognised organisations". Air France says this represents on average over 450 flights per day and over 57,000 customers. Corporate customers will also be able to opt for voluntary compensation of up to 100% of the emissions generated by their short, medium and long-haul flights via a dedicated offer.
"We must step up the transition to a more sustainable form of air transport and we are voluntarily making new commitments for today and 2030, explains Anne Rigail, CEO of Air France.
As part of Horizon 2030, the airline has also decided to step up its commitments to reducing its overall CO2 emissions and aims over the next decade to reduce its CO2 emissions by 50% per passenger kilometre compared to 2005, ie, less than three litres of fuel consumption per passenger per 100km.
Air France says it has been committed to reducing its environmental footprint and deliver a responsible travel experience, through actions such as modernising its fleet, promoting eco-piloting, reducing the weight of on-board equipment on its aircraft, recycling waste, eliminating single-use plastic, and more.
Its latest actions represent a marked further step along the sustainability path. They additionally include, with immediate effect, selective waste sorting on board its flights to Paris for plastic bottles, Tetra-Pak cartons, aluminium cans and glass wine and champagne bottles.
All these materials are now being sorted by cabin crew are handled by the service provider Servair at Paris-Charles de Gaulle and Paris-Orly and recycled in France or Europe. Air France has already decided to eliminate the use of single-use plastic items (cups, cutlery, stirrers, etc.) on board its aircraft from the end of 2019, resulting in the reduction of 1,300 tonnes of plastic per year.
In a further move to support changing habits and enhance the experience for passengers, Air France has announced it will introduce larger overhead cabin lockers on its Airbus A320 and A321 airliners. This will see the use of Safran's on edge Efficient Cabin Open Space (ECOS) luggage stowage system, which permits cases to be stored on their side with wheels at the back, increasing luggage capacity by 60% compared with standard luggage compartments.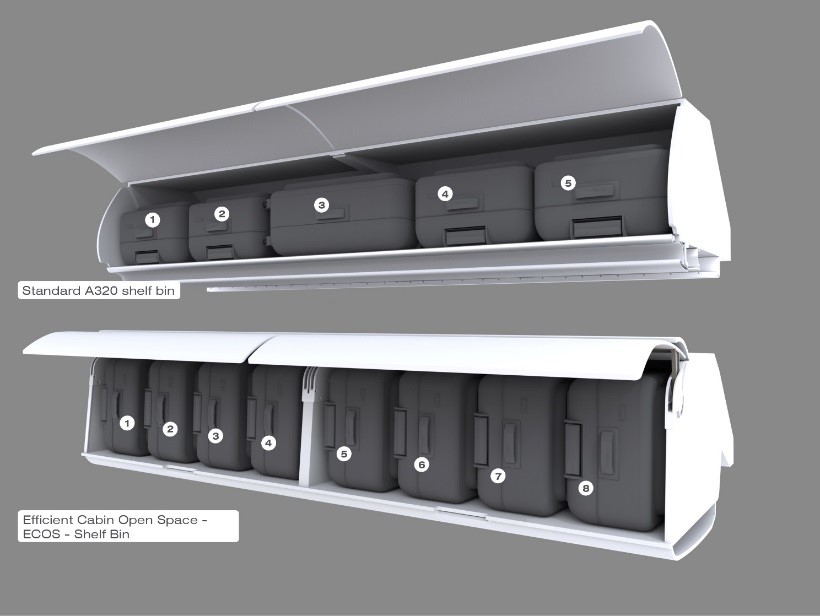 This means it will have the capacity to carry 166 full cabin size bags on the A320 (versus 104 currently) and 192 on the A321 (versus 113 with the current configuration. In total, Air France plans to gradually equip its 40 A320s and 11 A321s with 1,342 new luggage compartments between Sep-2020 and Sep-2022.
Airlines are increasingly seeing passengers being forced to check hand baggage into the hold due to space restrictions. The ECOS system consists of new bins, ceiling and cove panels that provide a lower shelf height for ease of loading and visibility.
Safran says the system is "robust, lightweight and easy to maintain" and is "simple and fast to install, requiring no aircraft modifications". Alongside the capacity improvements, Safran also highlights they provide "an easier and smoother boarding experience," greatly reducing the time spent searching for luggage space on board or the need to put certain bags in the hold. This could mean aircraft turnaround times can also be reduced to improve efficiency and on-time performance.