---
Summary:
Air Malta is exploring a move to grow its operations and perhaps bring in a smaller fleet of sub 150-seater aircraft to complement its Airbus A320s;
It is specifically looking at the Airbus A220 as it develops new strategy to provide links from the islands of the Mediterranean;
The airline has ended years of negative results to post a break-even result for the fiscal year ending Mar-2018;
It has been recognised for its efforts by CAPA - Centre for Aviation and awarded the CAPA Airline Turnaround of the Year at its annual Awards for Excellence.
---
It is early stages, but the airline's chairman Dr Charles Mangion exclusively revealed to The Blue Swan Daily on the sidelines of last week's CAPA - Centre for Aviation World Aviation Outlook Summit in Berlin, Germany that the plan is to acquire some Airbus A220s (formerly the Bombardier CSeries) to serve a number of markets that would not be sustainable with its larger A320 equipment.
"We are looking at the [Airbus] A220 for operation on shorter distances to develop a concept of Air Malta as the airline of the Mediterranean," explains Dr Mangion. "The A220s offer the opportunity for short-haul flying over one hour and one hour and a half. You can do it more frequently, connecting an island to the mainline."
IMAGE - Here's how the Airbus A220 would look in Air Malta's colourful livery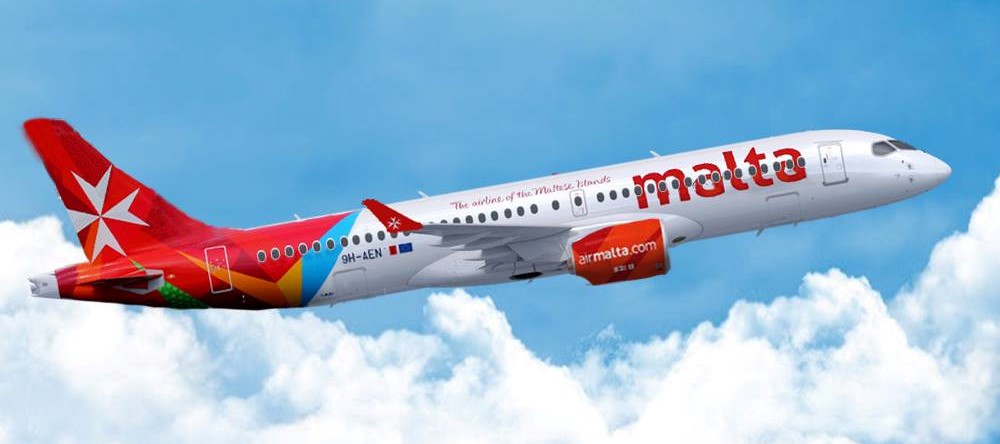 Source: Riccardo Flask - via Malta Aviation Outlook (MAviO)
The new longer-term vision is being driven by Air Malta's new CEO Captain Clifford Chetcuti, who succeeded acting CEO Joseph Galea at the start of Sep-2018. Capt Chetcuti started his career as a cadet pilot with Air Malta back in 1987, more recently serving with Emirates Airline and Qatar Airways, latterly in senior management positions.
Air Malta has yet to define its business needs with regard to the A220. The introduction of a smaller aircraft will certainly help support its network activities, especially with suggestions that it may expand into some longer-distance markets in the future. However, it will deliver some obvious complexities in terms of crewing and support resources.
It is an ambitious move for an airline that has struggled to find its own identity in an increasingly competitive market. Air Malta had been unprofitable for nearly 20 years as it has struggled to overcome multiple challenges, including increasing competition from LCCs, outdated work practices and tensions in the North Africa market, which impacted its traditionally strongest routes.
However, the airline has rebuilt its operations with a more financially viable business model and hybrid product that now allows it to compete with LCCs. It has in fact entered a partnership with Ryanair whereby the LCC is selling Air Malta flights via its own website.
Dr Mangion tells us the transformation has included a cost control mindset, a reduction in the fleet, increased aircraft utilisation, improved staff productivity and the move to a hybrid business model to serve today's increasingly price-driven industry. "If you don't change, you die," he says.
The airline has been able to maintain passenger traffic despite cutting two aircraft from its fleet as utilisation and efficiency improved (average aircraft ultilisation grew from seven hours daily to sometimes more than 13 hours during the summer 2018 season).
Air Malta is now planning further expansion in 2019, leveraging its new low cost base and the emergence of Malta as one of Europe's fastest growing holiday destinations. It took delivery of a first A320neo from Avolon in Jun-2018 and expects two further A320neos to arrive in 1H2019 as it rolls over from a ceo to neo fleet.
The flag carrier accumulated operating losses of more than USD300 million over the 10 years ending Mar-2017. But its transformation has already delivered a clear transition at it moves from a heavy loss-making business to delivering a break-even result for the fiscal year ending Mar-2018.
This has been rewarded by Air Malta being presented with the Airline Turnaround of the Year trophy at this year's CAPA Awards for Excellence, which were presented alongside its World Aviation Outlook Summit in Berlin last week.
"Air Malta is a classic example of the need to remain relevant in the airline sector," explains CAPA executive chairman, Peter Harbison. "For a long time it had seemingly ignored the competition and accepted its own slow decline. But, with some brave decisions it has been reborn and is now profitably flying the flag for Malta. The higher fuel price and volatile currency rates are dark clouds, but Air Malta is now better positioned to weather these market forces."