Chairman Tony Carter acknowledges that while the carrier is "disappointed" not to have meet the financial expectations is set at the start of the year, he says it has been operating in a "different demand environment" over the 12 months period. "To have achieved a solid result despite these headwinds speaks volumes about the extraordinary dedication and commitment of our people," he says.
Air New Zealand took "immediate steps to review network, fleet and cost base" to better position itself in this lower growth environment. "While we have made progress, this work is still ongoing," says Mr Carter.
The changes means Air New Zealand is in a fundamentally stronger position for the year ahead and it says it "will target further growth that taps into new pools of demand". In Nov-2019 it will begin flying to Seoul, South Korea, while a new seasonal service from Christchurch to Singapore will begin in Dec-2019. It will also launch additional frequencies into Chicago and Taipei, routes it describes as continuing to "outperform our expectations".
The airline will take delivery of six ATR aircraft and three Airbus A320/321neo aircraft in the 2020 financial year, which will provide continued growth, fuel efficiency and cost benefits on the Tasman and Pacific Islands network. An additional Boeing 787-9 Dreamliner will also join the fleet this year.
CHART - Air New Zealand's 2020 capacity plan is focused on stimulating demand from new markets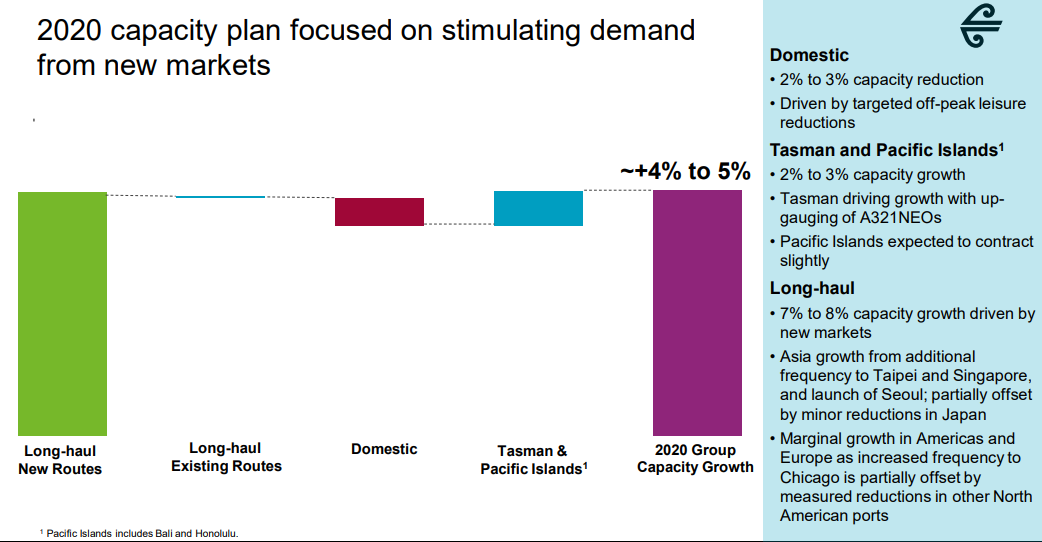 Source: Air New Zealand's 2019 Annual Result Presentation
It is expected to see enhanced fleet and network reliability with the return of its remaining Rolls-Royce engines back into service, which it is expecting to happen in the coming months. "This will enable us to bring further reliability back to our flying schedule and to utilise our most efficient aircraft in the optimum way," says its outgoing CEO Christopher Luxon. "We are focused on ensuring that Air New Zealand is fit for the new lower growth environment," he adds.
In its annual results presentation Air New Zealand announced its current forward booking forecasts support "stable demand across most markets," however the company remains "cautious about the economic environment".
In domestic skies it sees slight improvement on 2H2019 with "strong RASK growth expected"; across the Tasman there will be "increased competitive activity on some sectors"; while into the Pacific Islands demand "will be similar to 2H2019" with reduced market capacity "due to competitor Boeing 737 MAX issues".
On longer routes into Asia New Zealand sees similar levels to 2H2019 "with solid performance on second daily Singapore service and Taipei offsetting China softness; while for longer-haul services to Europe and the Americas a "softer Q1" is expected as outbound traffic is impacted "by weaker FX", but peak season bookings are "showing good momentum". For the cargo sector, the airline expects demand to be "similar to 2H2019 due to a "challenged global freight industry".