The geographic position of Auckland is such that Air New Zealand can offer a valuable hub for a significant part of the western Pacific Rim seeking to access South America. As that region's economy regathers momentum and as longer haul aircraft enter into operation, the proposition gains intensity.
In a Jan-2015 interview with CAPA TV, CEO Christopher Luxon talked of Air New Zealand's "big focus" on being to "open up South America", a market where he has considerable prior business experience.
Mr Luxon has frequently spoken of New Zealand's advantage over Australia in its ability to service Latin America. Although Qantas has a codeshare with LATAM to Santiago, its only Latin American service, the Australian flag only operates its own metal to the continent four times weekly on that route. Air New Zealand has a 3-4 times weekly Buenos Aires service but harbours bigger aspirations.
And New York becomes an achievable goal with new widebodies
Unlike Qantas, an Auckland nonstop flight to London is not operationally possible. But New York comes into range as new aircraft arrive. Air New Zealand has flagged that with new and longer-range aircraft arriving it wants to fly further in both North and South America.
Air New Zealand joins Qantas Airways in evaluating both the 777X and A350 for its future widebody needs. Air NZ is an all-Boeing operator for its long haul fleet, but Airbus has been eager to promote the A350. Air NZ's 777-200ERs are approaching mid-life, and Air NZ wants new aircraft to take advantage of the latest efficiencies and, in particular, range capabilities as it seeks new markets in the Americas.
Air New Zealand wants to fly further in North America and South America than its current routes, Houston and Buenos Aires. North America is Air NZ's largest long haul market, and is bigger for it than Asia.
Air New Zealand's international capacity by region, w/b 26-Jun-2017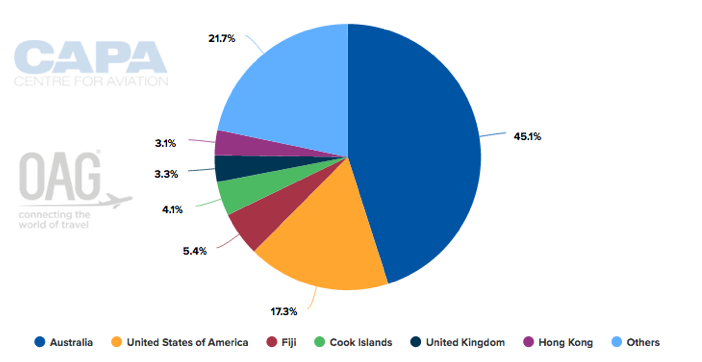 Source: CAPA - Centre for Aviation and OAG
For North America, a nonstop flight to New York is an obvious candidate. Air NZ's United partnership would be used to extend beyond the gateway and feed traffic. In the future, Air NZ's East Coast passengers who currently transit in Los Angeles, San Francisco or Houston could instead travel on a nonstop New York service. In turn, that would free up seats on Los Angeles, San Francisco and Houston flights. Air NZ would then be able to grow in those markets, with the help of partner traffic feed.
Besides local New York traffic, New York could be the transit point for other Eastern cities. Newark is another hub for United, but the more common international gateway of JFK has no United service. Auckland-New York would be an ultra-long haul service for Air NZ.
Developing other South American points are more challenging, as oneworld and Sky Team airlines dominate there, so finding the right partner is more complex.
Premium markets are the primary targets, in line with New Zealand's higher value tourism strategy
New Zealand has historically been a leisure market; incoming growth, especially from mainland China, may be visitors taking expensive holidays but they will still seek low fares. New Zealand's smaller local market means that there is a smaller pool of people willing to pay a premium to fly on Air NZ or its partners, unlike Australia, where Qantas has considerable stickiness and a yield premium.
Air NZ's international strategy appears to be pragmatically shifting away from the mass market and towards the higher-yielding segment. This is a priority for New Zealand tourism, which wants sustainable tourism and the greatest return in economic terms, not simple visitor arrival numbers.
Mr Luxon said in the airline's 2016 annual review: "Over the short term we believe we can help mitigate the stress of strong tourism growth on New Zealand, by focusing on greater value over volume".
Air NZ's 787-9s are in high premium configuration
Air New Zealand's outstanding widebody backlog consists of four 787-9s, which will be delivered in 2018 and 2019. These will be delivered in a high-premium configuration of 275 versus the current -9 fleet, which has 302 seats. The future -9s are suitable for operation to North America, as well as more blue chip Asian routes, where there is higher premium demand. North America is Air New Zealand's largest market by ASKs; it has a larger presence in North America than in all of Asia. Meanwhile, South America is its smallest international market.
Air NZ has outlined its near term growth priorities in the Americas expanding Buenos Aires (increasing frequency from 3x weekly in winter and 4x weekly in summer) and Houston, where it is now planning daily service.
Houston and Buenos Aires are relatively new services in Air New Zealand's long history. The two are also Air NZ's longest routes.
Buenos Aires was a leap for Air NZ – a new continent, working with an uncertain partner, Aerolineas – but one that the airline is pleased with. New generation aircraft may give the range to reach a further flung point in Latin America but Air NZ will need to find another partner, and could end up making another bold move on Latin America.
In the US Houston, a major hub for Air NZ's partner United, opened up a new catchment area to Air NZ and gave it stronger connections to the southern and eastern parts of the US. This applied a similar logic to Qantas' decision to serve Dallas.
Australian sixth freedom traffic is a growing segment
With the rapid recent growth of Chinese tourism there are questions about how many more visitors New Zealand can handle – or at least the pace with which they can be absorbed. There is also some concern about balancing peaks with off-peaks in several seasonal markets.
Australia has been a reliable source for off peak sixth freedom traffic for Air New Zealand, but that market is becoming more competitive, and Qantas is responding to Air NZ's sixth freedom strategy.
Air NZ has not been overly aggressive in its growth projections in recent times, but as growth continues the airline and the rest of New Zealand face the question of how better to accommodate the visitor growth they have all achieved, and where it can be expanded.