---
Highlights
South Korean start-up Air Premia has signed a lease deal with ALC for three two-class Boeing 787-9s that will be delivered in 2020;
The airline plans to configure the aircraft with a spacious economy class product along with an usually large premium economy cabin;
Air Premia will initially operate regional services within Asia before focusing on long haul services from 2021, growing to a fleet of ten 787-9s by 2025.
---
Air Premia and Air Lease (ALC) announced on 9-Apr-2019 a deal for three 787-9s, all of which are due to be delivered in 2H2020. The airline plans to launch regional services within Asia in Sep-2020 followed by long haul services in 2021. It is typical for a widebody start-up to start with short or medium haul routes due to the time required to secure the ETOPS approvals which are required for transoceanic flights.
The new Seoul-based airline has identified Honolulu, Los Angeles, San Jose and Vancouver as potential long-haul destinations. Air Premia's five-year business plan includes a fleet of 10 787-9s and several long-haul routes. Although North America appears to be the initial priority, the carrier has previously stated Australia and Europe is also a consideration.
Air Premia was one of three new proposed start-ups which were awarded business licenses last month from South Korea's Ministry of Land Infrastructure and Transport. The other two start-ups, Aero K and Fly Gangwon, are planning to launch in 2020 with A320 and 737 narrowbody aircraft – which is a more typical initial aircraft type for a start-up.
All three new Korean airlines are now preparing applications for air operator certificates, the final and most challenging step before launching services. Air Premia is aiming to secure its operators certificate in Jul-2020, which is also the month of its first 787 delivery.
Aero K and Fly Gangwon are planning to follow a low-cost airline model with high density aircraft while Air Premia has announced it has a "low density strategy" featuring 253 economy class seats with 35in pitch and 56 premium economy seats with 42in pitch. It promises to offer "best in class comfortable seats and services at reasonable prices".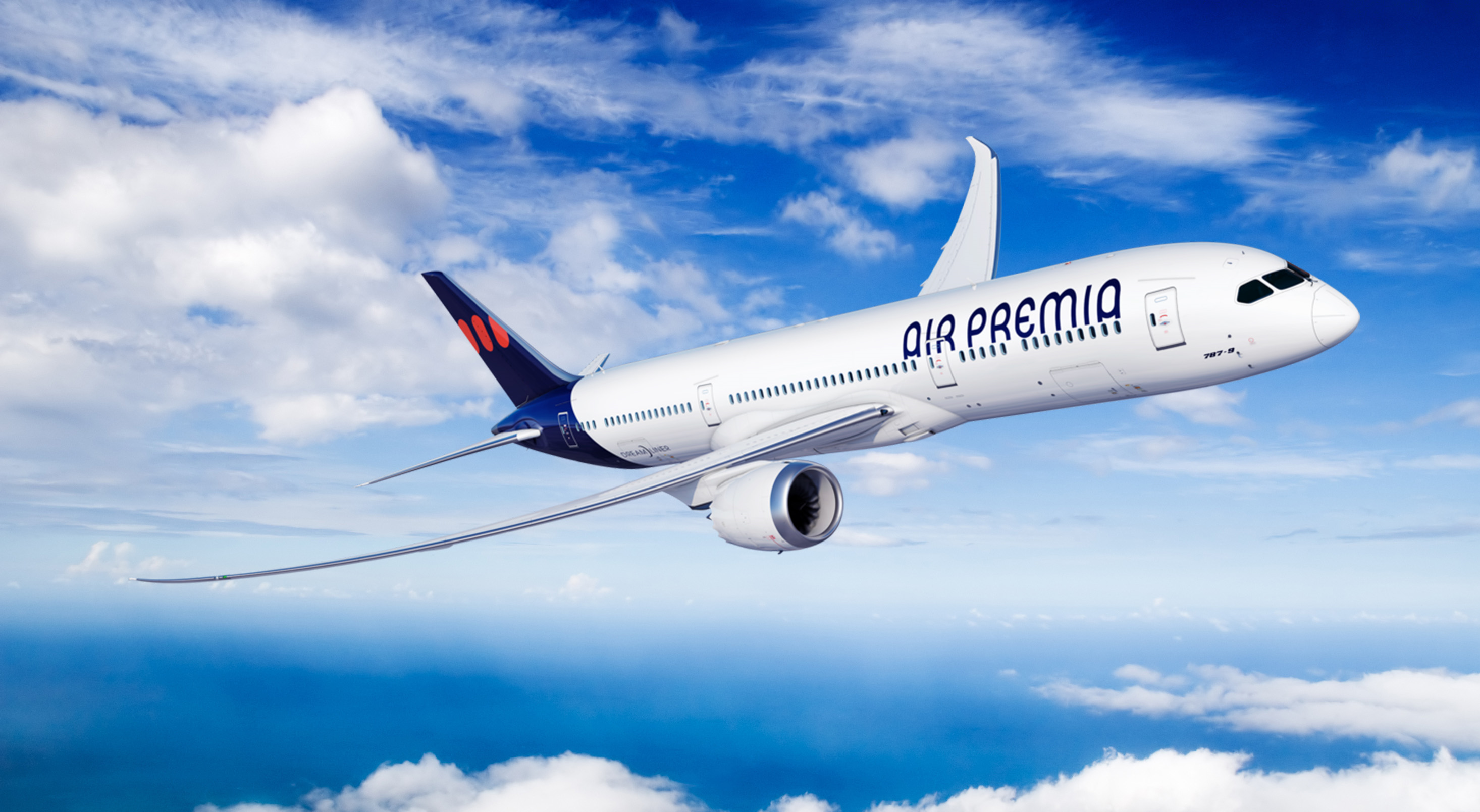 A business class product is not planned but corporates with premium economy policies (which has become common, including in South Korea and North America) should be attracted to a low-priced premium economy option. With a 56-seat premium economy cabin Air Premia will clearly need to target corporates.
However, it will be hard to sway Korean companies and its employees away from Asiana Airlines and Korean Air. Both are well established carriers with a very large presence in the South Korea-North America market, extensive global networks and alliance memberships.
Air Premia will face similar challenges as Taiwanese start-up STARLUX, which recently ordered 17 A350s for delivery in 2020 and 2021. As The Blue Swan Daily reported earlier this week, STARLUX has ambitious long-haul plan and is aiming to sway premium passengers from Taiwan's two existing full service network airlines China Airlines and EVA Air.
https://corporatetravelcommunity.com/new-taiwanese-airline-shoots-for-the-stars-it-may-be-a-bit-too-far/
It is hard to imagine Taiwan or South Korea sustaining three long-haul full service airlines. At least with STARLUX, there are also plans to operate A321neos on routes within Asia. The narrowbody services are expected to begin in 4Q2019 and feed the long-haul routes when they are launched in 2021.
Air Premia, surprisingly, is planning to operate an all-787 fleet. While the 787s could be used on some thick regional routes, narrowbody aircraft or regional jets would be needed for most short haul routes – which are in turn needed to feed the long-haul services.
All of Air Premia's intended long-haul markets (San Jose is part of the San Francisco market) are served by Asiana, Korean Air as well as North American network airlines that rely heavily on feed beyond their hubs. It will be not be easy for the start-up to carve out a niche in this extremely competitive space.