Over those almost four years under the Air Serbia brand the operation has returned to profitability (but has yet to announce its 2016 results) by reducing unit costs and realigning its network and commercial positioning. And under the direction of chief executive officer, Dane Kondić, it is continuing to evolve.
A recent review of its five-year business plan has led to a decision to increase its focus on shorter routes, specifically suspending its services from Belgrade to Etihad's Abu Dhabi hub from October 2017 (Etihad will retain connectivity on the route with its own metal) after closing its Istanbul service in March this year. It has also re-equipped its Airbus A320 family with higher density seating, migrated to Sabre and introduced an unbundled ticket offer.
One of the most significant opportunities the Etihad partnership has delivered has been the support it has offered to enable Air Serbia to introduce a single A330-200 into its fleet and establish a Transatlantic link between Belgrade and New York. The route celebrated its first anniversary in late June 2017 and has delivered better load factors than the airline as a whole, albeit with soft yields, carrying more than 63,000 passengers up to the end of Q1 2017.
CHART – Scheduled Summer International Network Capacity from Serbia (2007 – 2017)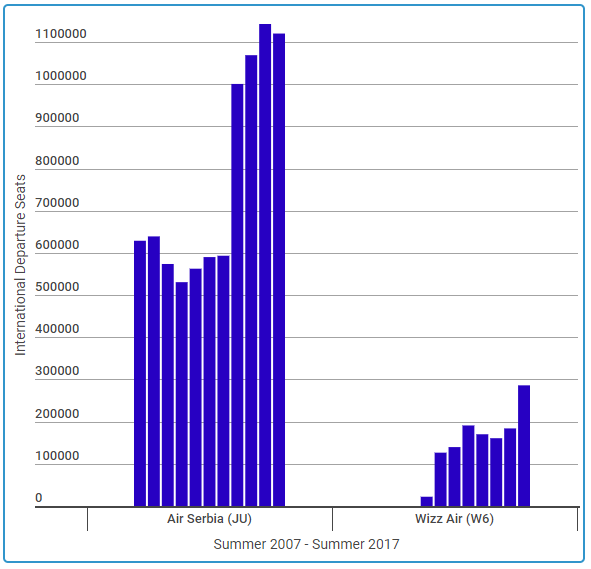 Source: The Blue Swan Daily and OAG Schedules Analyser
The repositioning of Air Serbia has come at an important time as Serbia begins to see a rise in LCC traffic, most notably from Wizz Air, the strongest performer in Central and Eastern European markets. The airline's capacity will actually shrink this year by 3.8%, based on published schedules, slipping to a levels previously recorded in 2014, but an expanded codeshare strategy will help to offset increased competition, and the threat from the growing Wizz Air. This is already eroding Air Serbia's market share, declining from 42.1% in summer 2016 to 37.6% in summer 2017 as Wizz Air's own share grows from 6.8% to 9.6%.
READ MORE… Air Serbia: the youthful 90-year old marks first year of New York service, suspends Abu Dhabi