The significant rise in the negative perceptions to the air travel sector from the UK population can be partly explained by the timing of the research. The online survey of 1,025 adults and weighted to be representative of all adults was completed on June 1-2, 2017, just after the failure of British Airways' IT systems brought its operations to a standstill and coverage around the excessive force used to offload a passenger from a United Airlines flight due to overbooking.
But, these high-profile examples were just the cause of an issue that goes much deeper in an industry Engine's co-founder Joe Heapy says that seems to be struggling to look after its customers. "It wasn't just that the incidents were bad, arguably it was their response that caused as much anger, particularly in BA's case," he explains. "In an era of rampant cost cutting, their actions and reactions can give the impression that people are more akin to cargo than passengers."
The executive describes the aviation industry as a sector that is "fundamentally challenged by the disjointed passenger experience," from booking a ticket to arriving at the destination, caused by the plethora of stakeholders and companies involved. "Most customers don't know where the responsibility of one begins and ends, and when something goes wrong they don't want to waste time tracking down the responsible party, they just need the problem solved," he says.
As such, aviation companies "need to establish solid partnerships," according to Mr Heapy, and not just see themselves as delivering a particular piece of the jigsaw but as hospitality providers instead. "If the focus shifts to welcoming, supporting and entertaining passengers as guests, people's perception will be transformed," he adds.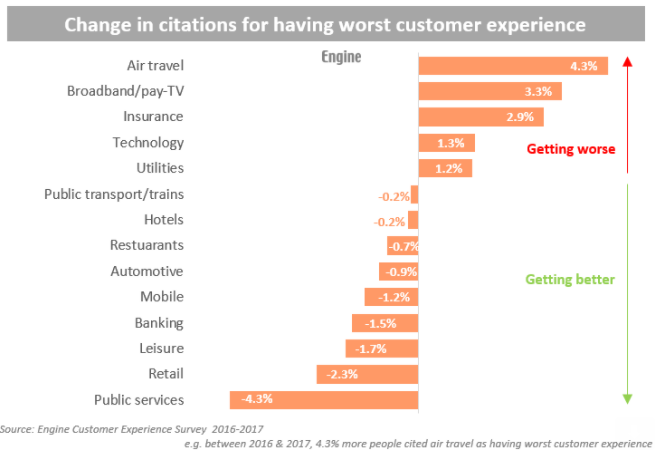 Engine supports organisations in the innovation, design and delivery of better services, working to enhance customers' experiences and to improve business performance across a wide range of industries and sectors. It includes Nordic airport operator Finavia, ANA - Aeroportos de Portugal, Dubai Airports, London's Heathrow Airport and Virgin Atlantic Airways among its aviation client base, claiming a role in delivering a 75% reduction in check-in times at the airline and a 14% increase in customer satisfaction during a pilot project at ANA.
"Passengers are looking for joined-up end-to-end experiences delivered consistently at every journey touch point. Aviation companies must therefore place passengers at the very centre of their thinking and take a 360 degree approach to designing services. Loyalty is driven by consistent, seamless and memorable customer experiences," it explains.
Despite the drop for air travel, public transport (cited by 38%) and utilities (37%) are regarded as the worst UK sectors overall for customer service. At the other end of the spectrum, restaurants (cited by 47%) and hotels (46%) increased their lead in being seen as the best sectors for service. However, when it comes to the best individual companies for service, retail dominates with Amazon leading the way followed by John Lewis, M&S, Tesco and Sainsbury's.
"The leading sectors and companies in customer service don't think of it as an add-on at the front line, they put as much effort into designing the customer experience as they do their actual products," adds Mr Heapy.
CAPA – Centre for Aviation delivers 400+ CAPA News Briefs daily, visit centreforaviation.com to find out more.