In what it describes as a "first glimpse" at its summer 2018 plans, airBaltic says its revised schedule has been based on customer demand. The growth will follow a strong 2017 performance which has seen the airline handle more than 1.5 million passengers during the first six months of the year, the second highest level for the period in the airline's history.
This growth has been supported by the continued arrival of Bombardier CS300 C Series aircraft into its fleet and the airline says "improved connectivity, efficient aircraft and a low cost base" will further enable to continue its expansion as the prominent carrier of the Baltic region.
It will introduce a twice weekly link between Riga and Lisbon, three times weekly service between Riga and Gdansk and twice weekly flight between Riga and Malaga from the end of March 2018. A twice weekly connection between Riga and Split will follow from May 21, 2018 and a twice weekly operation between Riga and Bordeaux will start from June 3, 2018.
This will grow airBaltic's network from Riga International Airport to over 60 destinations for the first time since the start of decade.
CHART - airBaltic Scheduled Network Activity from Riga International Airport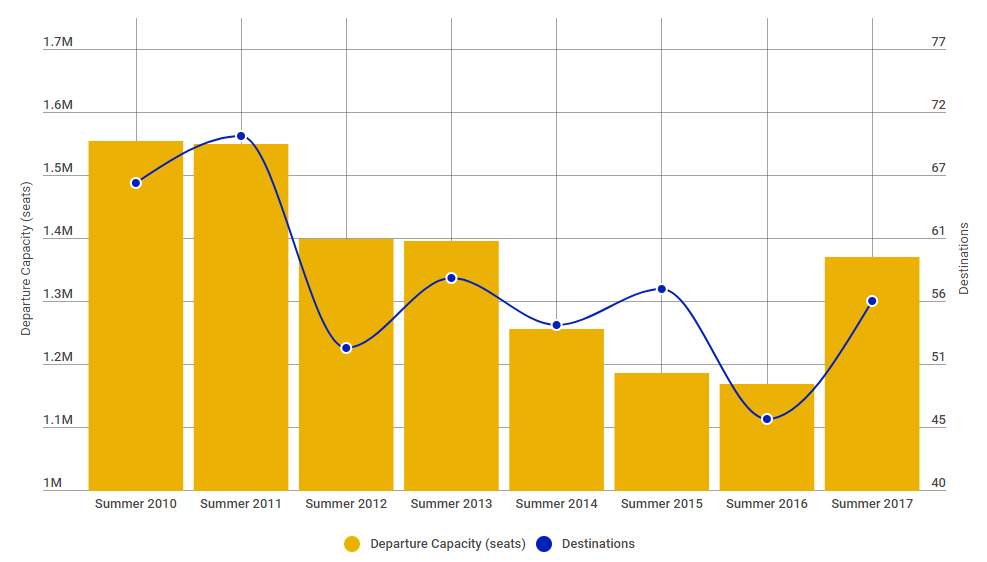 Source: The Blue Swan Daily and OAG
All of these new markets have not been linked previously to Riga these past ten years with the exception of Gdansk that was previously served by the carrier during the summer 2011 schedule using a Fokker 50. The Lisbon, Malaga and Split routes will be flown by a CS300; Gdansk by a Bombardier Dash 8-Q400 and Bordeaux by Boeing 737-500.
airBaltic is the prominent carrier at Riga International Airport with its largest competitors being low-cost carriers Ryanair and Wizz Air. As a former Soviet territory, Aeroflot also has a sizeable presence maintaining links to Moscow. Wizz Air has been increasing its presence and grew its inventory 22.2% in summer 2017 with new links to Bari and Keflavik and increased capacity into existing markets.
This increased competition and its own restructuring has seen its own share of capacity fall from 70+% at the start of the decade to 56.7% in summer 2017.
CHART - Scheduled Departure Capacity from Riga International Airport (summer 2010 - summer 2017)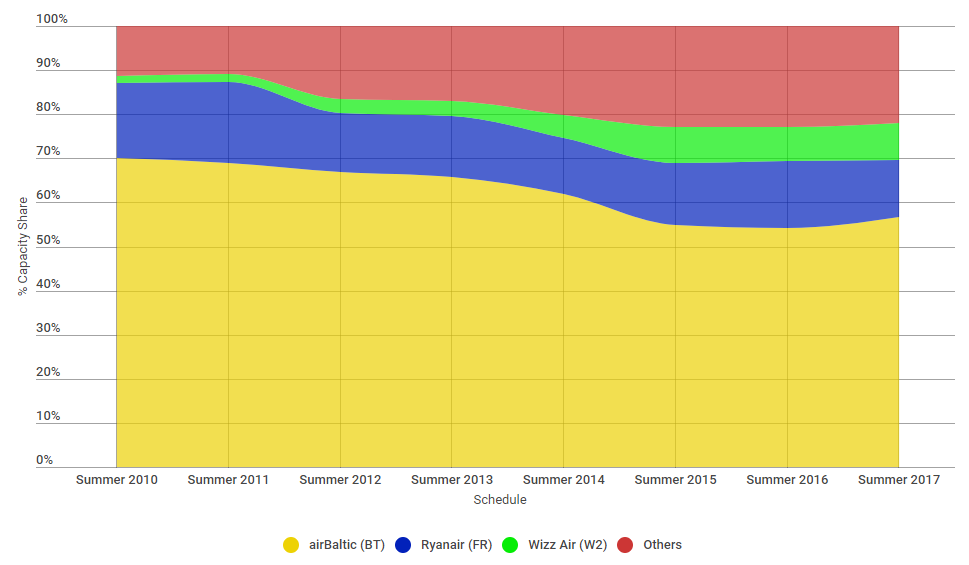 Source: The Blue Swan Daily and OAG