Despite its operational restrictions during the second half of the year, due to improved coverage, Qatar Airways makes its debut in OAG's analysis for 2017 and with OTP of 82.95% are the tenth best ranked mainline airline and 15th overall. Another airline that has faced significant challenges in 2017, Alitalia, showed a notably improved performance and returned to top 20 mainline category in 12th position and 17th place overall.
TABLE: airBaltic took the crown as the world's most punctual airline in 2017 with a further seven airlines from across Europe, the Middle East and Africa (EMEA) making it into the top 20 global airlines by on time performance (OTP)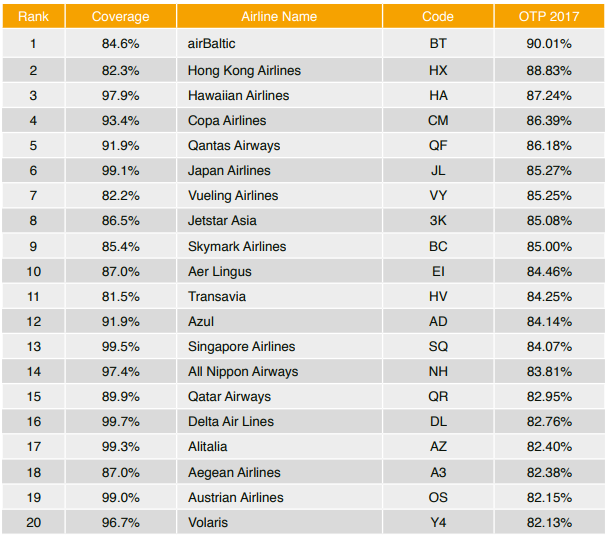 Source: OAG's Punctuality League 2018
Looking more closely at Europe and the top ten is dominated by network carriers where flight schedules are perhaps a little more padded to support flight connections. All ten airlines delivered an OTP performance of better than 80% with the gap between first and second actually larger than the gap between the second and tenth ranked airline
TABLE: The ten best performing European airlines all delivered an OTP of better than 80%, that is four out of every five flights departing or arriving within 15 of its scheduled time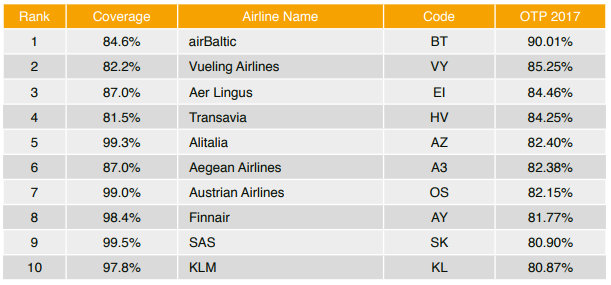 Source: OAG's Punctuality League 2018
A European airline also heads the most punctual LCC list with a marked improvement in performance at Vueling Airlines, part of the IAG Group, helping it beat Jetstar Asia and Skymark Airlines into second and third place, respectively. All three airlines recorded an OTP of more than 85% with Vueling improving its performance by over 13 percentage points. Transavia was the second best performing EMEA LCC ahead of Eurowings, which just made it into the top ten.
TABLE - A marked improvement in its punctuality performance in 2017 helped Vueling Airlines to take the top spot in OAG's LCC analysis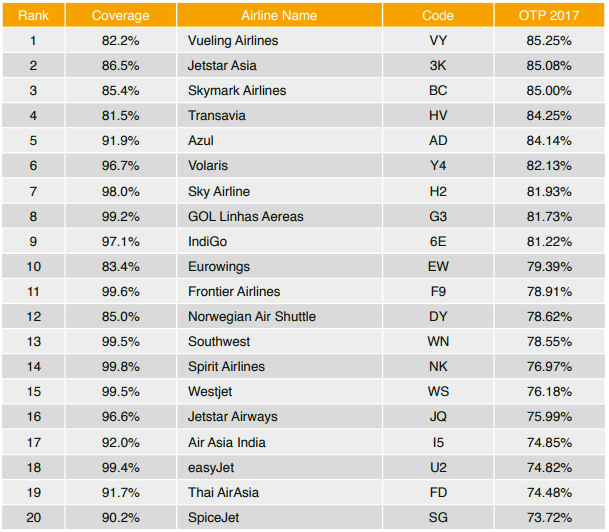 Source: OAG's Punctuality League 2018
OAG created several new categories for the 2017 report, including mega airlines, which comprise the top 20 carriers measured by scheduled flights. None of EMEA's major airlines made it into the top five, with SAS Scandinavian Airlines just missing out in sixth position, British Airways ranked joint tenth and Lufthansa, Air France, Turkish Airlines and easyJet all also among the list. This section was dominated by Japan's largest carriers Japan Airlines (JAL) and All Nippon Airways (ANA), with Delta Air Lines, Indian LCC IndiGo and Alaska Airlines completing holding the remaining top five positions.
TABLE - No EMEA based airlines made it into the top five mega airlines ranking with SAS Scandinavian Airlines the best placed in sixth position in the rankings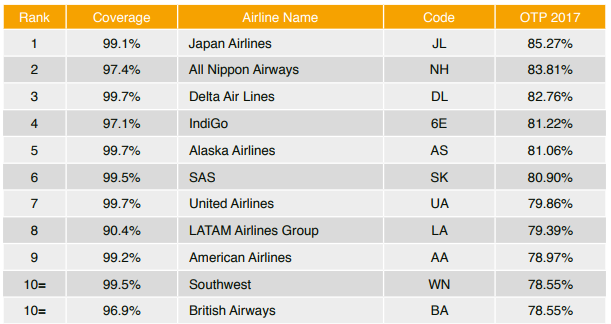 Source: OAG's Punctuality League 2018
Mega Airports were also measured for the first time, which included airports with 30 million or more departing seats per annum. The top 20 airports in the mega airports category on average recorded 76.6% of arriving and departing flights operating under 15 minutes of their scheduled arrival and departure times in 2017. With the strong performance from JAL and ANA in the airline category it is no surprise that Tokyo Haneda ranks in first place having headed up the previous category of airports (over 20m) for the past two years.
EMEA has six airports in the list with Adolfo Suárez Madrid–Barajas Airport the highest ranked in second position (83.63% OTP), with Amsterdam (77.09% OTP), Frankfurt (76.35% OTP), London Heathrow (74.80%), Istanbul Ataturk (73.86% OTP), Paris CDG (71.22% OTP) and Dubai International (70.19% OTP) trailing behind from the region.
TABLE - Four of Europe's leading hubs were among the most punctual mega airports in 2017 with Adolfo Suárez Madrid–Barajas Airport the best performing from the region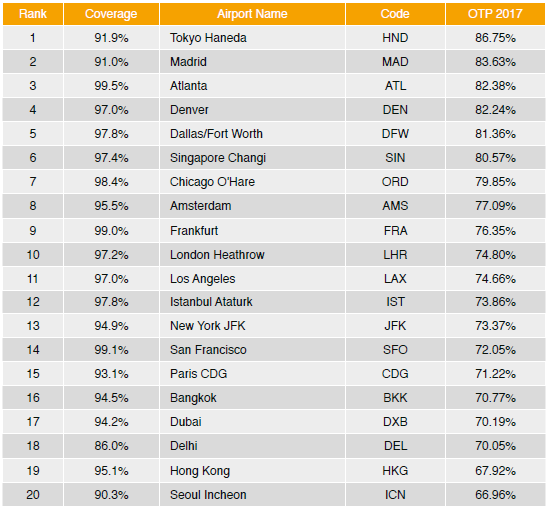 Source: OAG's Punctuality League 2018
Airports from across EMEA also performed well across OAG's other size categories. In the small airport ranking (2.5–5 million departing seats per annum) Tenerife-North Airport was ranked first and the only airport in the world to achieve OTP of over 90% in 2017. Hannover Airport was ranked second, Stavanger Airport third and King Shaka International Airport in Durban, South Africa fourth, while Brussels South Charleroi, Liverpool's John Lennon, Bergen Flesland and Gdańsk Lech Wałęsa airports also made it into the top ten.
In the medium airport ranking (5–10 million departing seats per annum), the UK's Birmingham Airport took top spot with Cologne/Bonn in Germany also among the podium places. However, in the large airports ranking (10–20 million departing seats per annum) EMEA's highest placed airport was Greece's Athens International in seventh, while in the major airports category (20–30 million departing seats per annum), Qatar's Doha International and Russia's Moscow Sheremetyevo had to settles for second and third positions behind Minneapolis St Paul in the United States of America (USA).
This year OAG was also able to produce its first ranking for the Middle East and Africa thanks to improved data coverage in these areas. For OAG to fairly calculate the OTP it requires data for at least 80% of scheduled flights operated by an airline, which must be ranked among the Top 250 operators globally in terms of ASKs and have operated a minimum of 18,000 flights in 2017 to qualify for regional ranking. Nine airlines from the Middle East and Africa qualified under this criteria with Qatar Airways leading the way ahead of Royal Jordanian and Gulf Air, all with an OTP above 80%. Middle East giants Emirates Airline and Saudi Arabian Airlines follow ahead of the first African representatives Egyptair and Ethiopian Airlines.
TABLE - Qatar Airways delivered a better OTP than its rival Emirates Airline in 2017 and was the best performing airline in the Middle East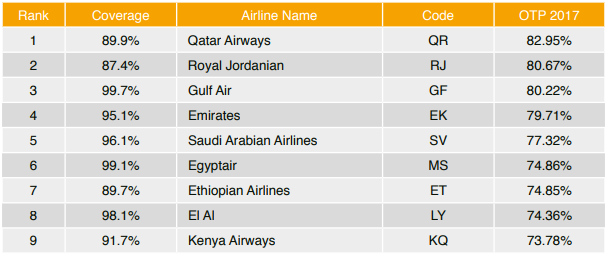 Source: OAG's Punctuality League 2018