The airline's CEO Martin Gauss told CAPA TV on the sidelines of IATA's AGM in Seoul, South Korea that airBaltic expects to carry 5 million passengers in 2019. This represents nearly 20% growth compared to the 4.1 million passengers carried in 2018 and is nearly double the 2.6 million carried in 2015.
The airline resumed growth in 2016 after contracting in the four previous years. Growth accelerated in 2017, reaching 22%, driven by the delivery of new Airbus A220s (known at the time as Bombardier CSeries). Passenger traffic grew another 17% in 2018 as more A220s were delivered.
CHART – airBaltic passenger traffic has grown rapidly since 2015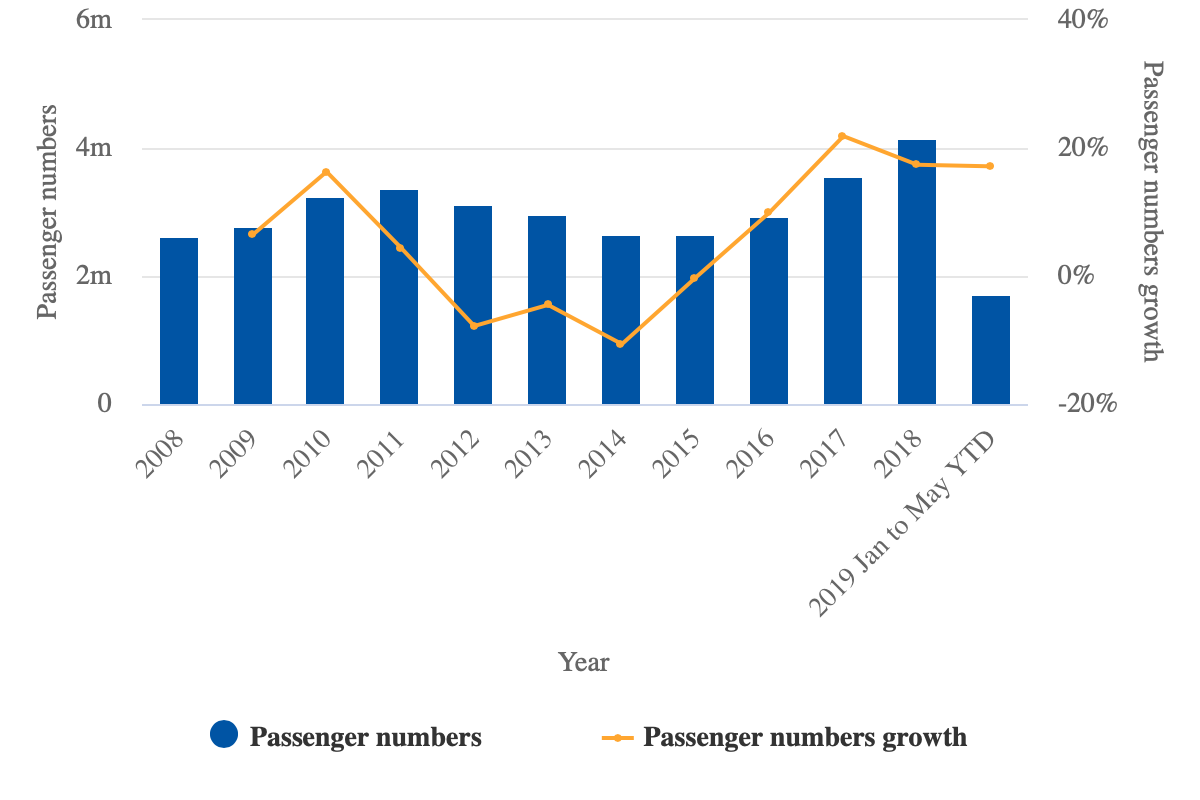 Source: CAPA – Centre for Aviation and airline reports
airBaltic took delivery of its first A220 in late 2016 followed by another six in 2017, seven in 2018 and five in 1H2019, according to the CAPA Fleet Database. The 19 A220s delivered so far have been used to replace five 737s while the other 14 have been used to pursue rapid growth across all three of its bases.
The airline has eight remaining 737s (six -300s and two -500s), which will be phased out over the next year as more A220s are delivered. It also has 12 Dash 8 Q400s which will be replaced with A220s as their leases expire in 2022 and 2023.
Therefore, of the 31 A220s airBaltic still has on firm order, 20 are replacements and 11 are for growth. The replacements also drive some capacity growth as airBaltic's A220s have 145 seats compared to 120 seats for the 737-500s and 76 seats for the Q400s. Its 737-300s have 142, 144 and 146 seats depending on the aircraft.
Mr Gauss said the growth aircraft will be spread across all three of its bases but the overall rate of growth will slow compared to the very high levels the last three years. For example, 10% growth is planned for 2020. "In the long-term business plan, we are taking care and are not overdoing it," he said.
airBaltic currently operates 68 routes from Riga, 12 routes from Tallinn and six from Vilnius (based on OAG schedules data for the week commencing 15-Jul-2019). It recently became the largest airline in Tallinn, where it currently has 27% share of seat capacity. The airline already has a dominant 65% share of seat capacity in Riga but only a 12% share in Vilnius, where it now bases just one aircraft but this will change as more A220s are delivered.
The current business plan envisions all 50 A220s to be based in the Baltics. However, airBaltic also holds options for another 30 A220s, which if exercised will be used to open new bases outside the region. "If we exercise options we have a plan of basing and doing the same what we do in the Baltics also outside the Baltics," Mr Gauss explained. He added any new base would be in Western Europe but airBaltic is not yet ready to say what cities are under consideration.
Any expansion to the west would be on its own rather than potentially feeding a larger airline. "We go out on our own and fly exactly what we do today," Mr Gauss said. "That model which we fly is well accepted and we continue doing it. It's a hybrid model. We have found our way of doing it and it's liked by the market so we will continue to do that."
HEAR MORE… airBaltic CEO Martin Gauss discusses the airline's rapid growth the last two years, its fleet plan, network expansion opportunities from its three existing bases and the possibility of opening new bases outside the Baltics in this exclusive CAPA TV interview recorded at the IATA AGM in Seoul, South Korea in early Jun-2019.