It is clear there is a market for a high capacity single-aisle airliner, after all the Boeing 757 has proved its value for airlines since the early 1980s. The so-called 'middle of the market' hole could ultimately see Boeing go back to the drawing board with a brand new 797 design to fulfil airline needs in this area, but Airbus believes the solution has already taken to the air.
The Airbus A321neoLR flew for the first time on 31-Jan-2018 and is now set to undergo a nearly 100 hour flight test programme, including transatlantic missions, for (European Aviation Safety Agency (EASA) and Federal Aviation Administration (FAA) Type Certification in Q2 2018. Entry into service is targeted for Q4 2018.
The new variant accommodates the baseline changes adopted by the A321neo and adds further customised solutions to boost the aircraft's range to around 7,400 kilometres (4,000 nautical miles) and deliver true long range capabilities. The could allow new links to be established across Asia-Pacific markets and new trans-Atlantic city pairs not currently accessible with current single-aisle aircraft. Its 'long legs' are signified by the depiction of a New York-to-Paris route on the fuselage of the prototype aircraft, represented by illustrations of Paris' Eiffel Tower and the Statue of Liberty in New York.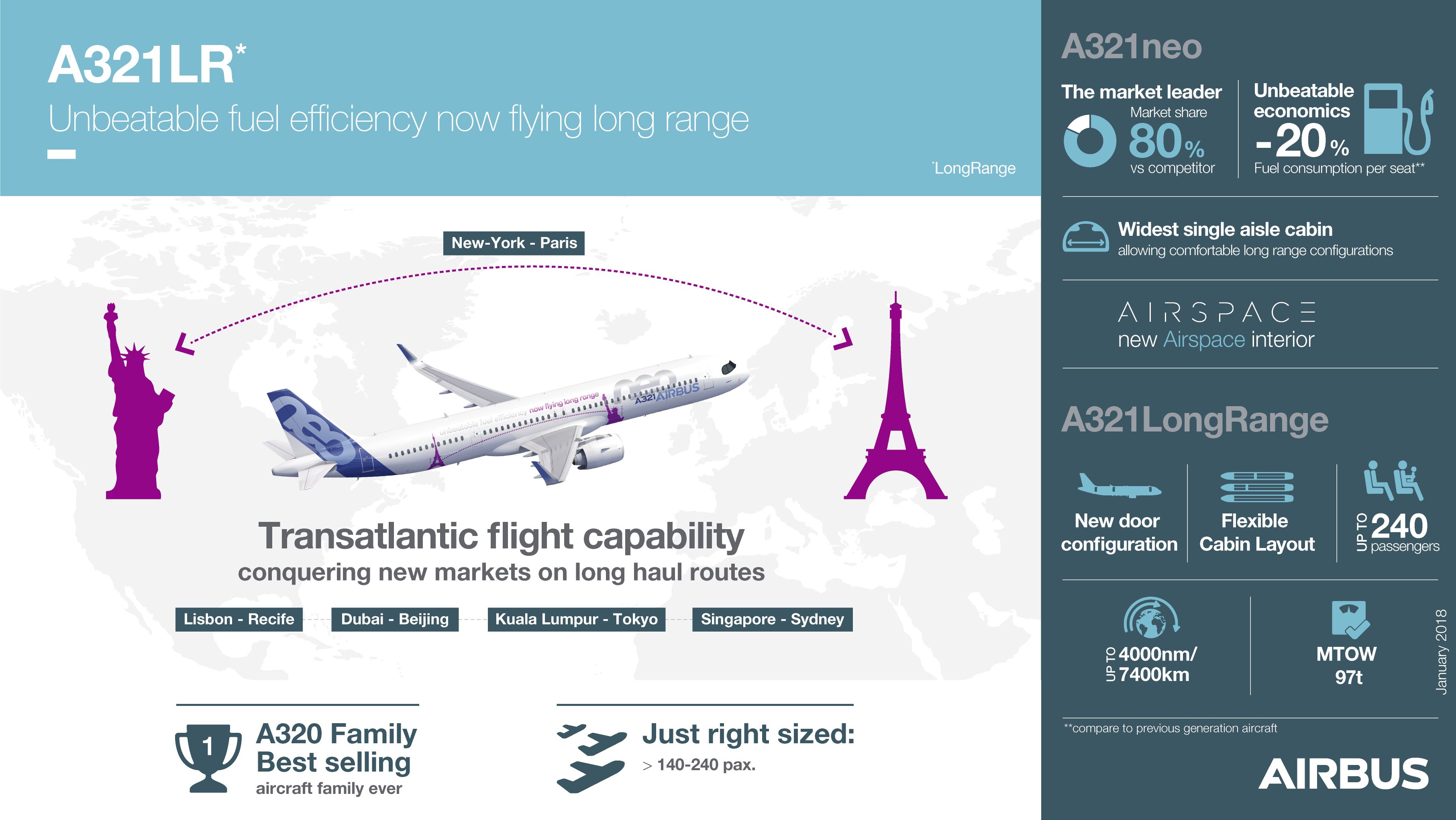 The A321neoLR's interior is based on the A321neo ACF, or Airbus Cabin Flex configuration, itself an evolution of the twin-engine A321neo. This incorporates a new centre fuselage section and modified passenger door/emergency exit arrangement, allowing seating for 206 passengers in a two class layout or up to 240 passengers in single class layout. The 'LR' also features an increased maximum take-off weight 0f 97 tonnes and an additional third centre fuel tank.
According to the CAPA – Centre for Aviation Fleet Database, Airbus has already secured more than 1,900 orders for the A321neo from over 50 customers. There are more than 115 firm commitments for the 'LR' version with confirmed customers including Aer Lingus, Air Arabia, Air Astana, Air Transat, Azores Airlines, Norwegian, Primera Air, TAP Air Portugal and lessor Air Lease Corporation, which under the stewardship of Steven F Udvar-Házy played a fundamental role in the aircraft's arrival into market.
Many others across the world are considering the aircraft and Airbus is already working to develop the aircraft for longer missions. A 244-seat high-density version is already under development, while with an absolute range of just short of 5,000 nautical miles (albeit with obvious seat sale penalties), there is clearly an opportunity for a low density version serving routes with high premium passenger loads in perhaps a 100-seat Business Class only arrangement.
Airbus believe the aircraft is a real game changer. "It's a real game changer because it combines the super efficiency of the single aisle segment with the capabilities of the widebody segment while combining seat fuel burn with range capability and comfort," says Klaus Roewe head of the A320 Programme at Airbus.
As the manufacturer notes, such routes as New York – Paris, Dubai – Beijing; Lisbon – Recife, Kuala Lumpur – Tokyo and Singapore – Sydney would be easily within its flight envelope. It may be a little bit too early to say the A321neoLR will be a game changer, but it is certainly grabbing airline interest.
Willie Walsh, chief executive officer of International Airlines Group (IAG) is a big advocate for the aircraft and has already suggested that other airlines within the group could join Aer Lingus in ordering the aircraft. Alongside the likes of British Airways, Iberia and Vueling (all current A321neo cutomers) this also includes its low cost long haul brand LEVEL. Other majors showing interest include Lufthansa Group for possible deployment with Austrian Airlines, Lufthansa and SWISS.
"Today we can see potential from secondary cities to hubs or secondary cities to secondary cities where you would need range and where today only legacy aircraft are operating and providing lower costs 30% lower costs than the competition," explains Amaya Rodriguez-Gonzalez, head of A320 Family marketing at Airbus.
The A321neoLR certainly has the potential to change the market and open up significantly more thinner medium and long haul point to point markets. We are already seeing this to a degree with the operations of WOW air into the Middle East and North America using the baseline A321 and Primera Air will soon transition from short haul leisure operator to long haul low cost carrier when it debuts its A321neo aircraft on trans-Atlantic routes from the spring. In fact WOW air recently deployed an A321 on its Reykjavik – Los Angeles route a distance of 7,045km and flying time of eight hours and 43 minutes.